Five Victories for OTK Products at Challenge of the Americas 2022 Starter
Opening west coast major event sees OTK drivers and teams rack up 23 podium finishes at Musselman Honda Circuit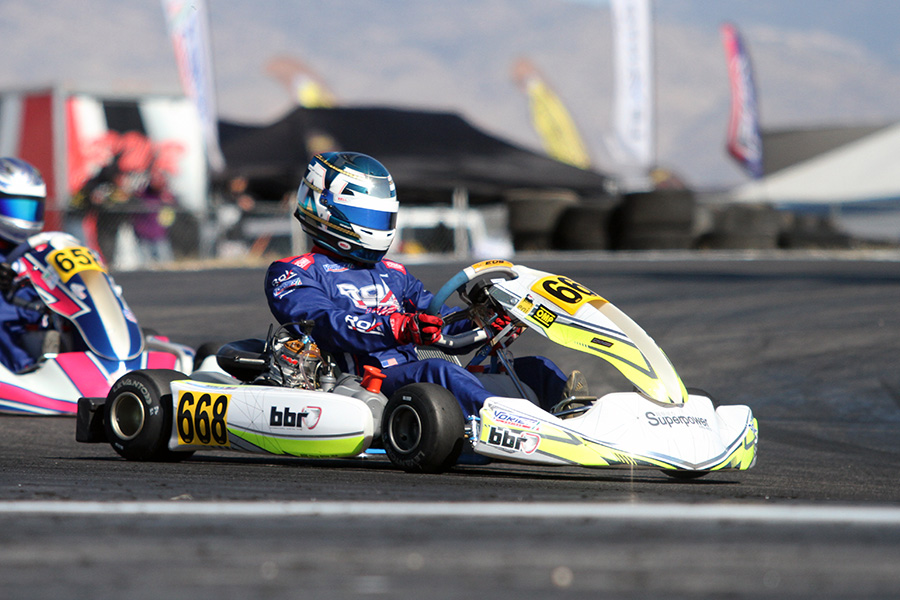 Maximum points was earned over the opening two rounds of the series by Derek Wang in Masters ROK (Photo: eKartingNews.com)
The west coast karting season is underway with the ROK Cup USA Challenge of the Americas hosting their 2022 opener at the Musselman Honda Circuit. A record entry total for the Tucson, Arizona facility over the January 28-30 weekend as competitors battle strong winds over the opening two days before a picture-perfect day of racing concluded the first two rounds of the 2022 championship program. OTK product was at the front in nearly every category with racers and teams earning a total of 31 top-five finishes, including 23 podiums and 5 victories.
A perfect weekend was put in by Derek Wang (Full Throttle Karting / EOS) in the Masters ROK division. Wang led every session on the weekend, earning a perfect score for both Round One and Round Two to begin his quest for a fourth straight championship. Christopher Mann (Ruthless Karting / Kosmic) drove to second while Paul Bonilla (JH Motorsports / Redspeed) joined them for an OTK sweep of the podium on Saturday. Sunday was a top-four sweep for OTK with Wang leading Billy Cleavelin (Rolison Performance Group / Kosmic) and Mann. David Pergande (JH Motorsports / Tony Kart) improved to fourth.
The weekend was a breakout performance for Micro ROK driver Cason Hodge (SpeedSense Motorsports / Exprit). Hodge had a perfect weekend of his own, sweeping the category both days and earning maximum points over the two rounds. Runner-up both days was Luca Popescu (Nash Motorsportz / EOS) in his series debut.
Earning the fifth victory of the weekend for OTK was Alexander Gonzalez (Nash Motorsports / EOS). Gonzalez was able to win in a drag race in the Round One main event for his second career series victory. Christian Cameron (Alex Keyes Racing / Tony Kart) was fourth with Parker DeLong (Ryan Perry Motorsport / Tony Kart) classified fifth. DeLong led the way for OTK on Sunday, placing runner-up with Gonzalez finishing third. Cameron put a third driver in the top-five, finishing fifth.
Four drivers helped to combine for six top-five finishes in the Senior 100cc division. Kyriakos Sioukas (Alex Keyes Racing / EOS) drove to a runner-up finish with teammate Jacob Hoover joining him on the podium in third. Cole Schroeder (Ryan Perry Motorsport / Tony Kart) completed the top-five. Ryan Vincent (Nash Motorsportz / EOS) improved on Sunday, placing second with Sioukas and Hoover following him to the checkered flag in third and fourth.
David Pergande and Brett Harrelson represented OTK in the Masters 100cc class. Pergande (JH Motorsports / Redspeed) led a majority of the Final but finished in the second position. Harrelson (Nash Motorsportz / EOS) drove to a third-place podium finish. Both returned on Sunday to earn two more top-five finishes as Pergande was on the podium once again, this time in third while Harrelson was fifth.
Matteo Quinto drove to his first podium finishes at the Challenge in the Mini ROK category. Quinto (Ryan Perry Motorsport / Tony Kart) drove to a third-place finish in Round One and improved to the runner-up spot on Sunday to leave the event as the championship leader after two rounds.
The top OTK driver in the ROK Shifter division was Kyriakos Sioukas (Alex Keyes Racing / EOS). Sioukas nearly reached the podium in his class debut, placing fourth on Saturday and ended up sixth on Sunday. Cliff Kujala (Pure Karting / Tony Kart) was the top OTK driver in the ROK Shifter Masters category. Kujala stood on the podium in third for Round One and finished seventh in Round Two.
The Challenge of the Americas program returns to action on February 25-27 for Round Three and Four at the Phoenix Kart Racing Association in Glendale, Arizona.
Drivers looking to compete with the most popular kart brand in the world or purchase OTK karts and components can contact their local OTK USA dealer. Head to www.otkusa.com for a complete list of dealers and details on the entire brand roster.