EKN Trackside: 2022 Challenge of the Americas – Tucson Preview
15th season of premier winter west coast program begins at Musselman Honda Circuit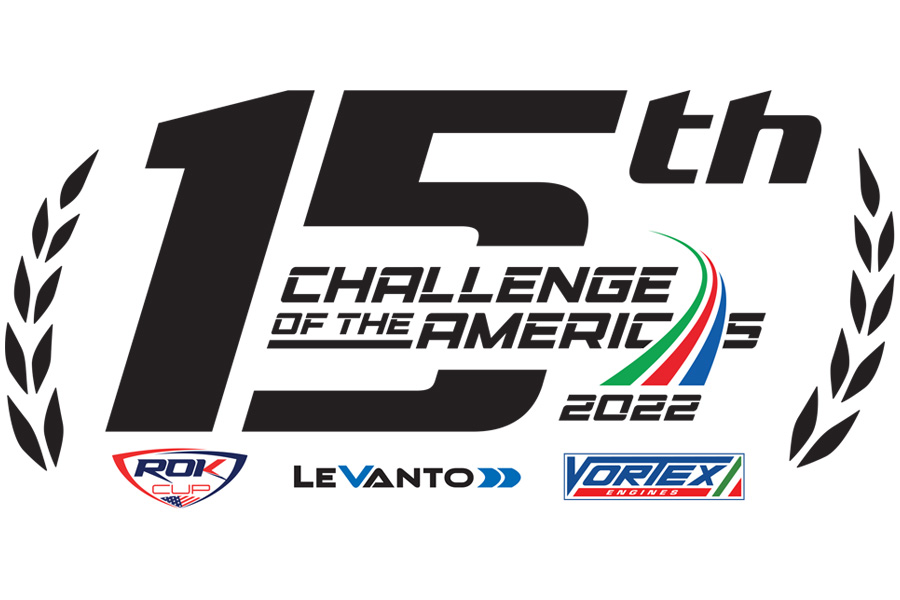 For a 15th season, Challenge of the Americas is set to provide another year of the best winter series on the west coast. Established for the 2008 season, the Challenge has offered the perfect opportunity for karters all along the western half of North America to kick off their racing season with a fun, friendly atmosphere that FTK Promotions provides at each and every event. The 15th year of the Challenge begins this weekend (January 28-30) at the Musselman Honda Circuit in Tucson, Arizona. This year also celebrates the fifth season under the ROK Cup USA banner with tickets to the famed ROK Cup Superfinal on the line once again in 2022. A total of 120 pre-entries surpasses the event total from the last time the Challenge was in Tucson, back in 2020.
The Musselman Honda Circuit is one of the most rewarding layouts in North America for producing great racing. A replica of the Suzuka circuit in Japan, it measures out to 8/10-mile and 13 corners, contested in the counter-clockwise direction. The Challenge first visited the Tucson facility in 2012, making its eighth visit in total. Five rounds of practice on Friday officially kick off the event before Round One and Two are contested on Saturday and Sunday. Each round features a warm-up, qualifying, Prefinal and Final.
eKartingNews.com is proud to be entering the 11th season of Trackside Live program with Challenge of the Americas. EKN's own Rob Howden will be calling the action all weekend from Tucson. Those unable to attend can listen in to the live broadcast. Bookmark www.ekartingnews.com/live and follow the EKN social media channels for more throughout the weekend in Arizona.
The quickest category and among the more competitive divisions across North America is the ROK Shifter class, featuring 14-drivers pre-registered. Among them is defending champion Kyle Wick (Trackmagic), who leads a trio of top shifterkart pilots under the GFC tent. Hunter Pickett (GFC) is the 2020 champion, and a race winner in 2021 with Jacob Gulick (GFC) now holding a full season of six-speed competition on his resume. The field features three female drivers, including SKUSA Pro Tour champion Hannah Greenemeier (MSquared / Tony Kart), Senior 100cc race winner Macy Williams (CB Motorsports / EOS) and Charlotte Cheung (GFC / Trackmagic) making her series debut. Also jumping up to the shifterkart ranks includes Kyriakos Sioukas (AKR / OTK).
A full roster of contenders is in the ROK Shifter Master field, featuring 18 drivers. The top-two drivers from 2021 are returning, including defending champion Kevin Woods (RWR / CRG) and Cliff Kujala (Pure / Tony Kart). Michael Guasch (Italkart) and Nick Firestone (GFC) are among those with previous success with Team Visalia / Aluminos drivers Jimmy McNeil and Nick George back to the Challenge. Fernando Diaz (FW / GFC) is a familiar name in the Master ranks, making his series debut in Tucson.
Liam Letzsch is another driver looking to defend his championship from 2021 season, including the Senior 100cc class. Letzsch also won the Senior ROK title last year, becoming the first driver in series history to earn two championships in the same season. Letzsch made the move to GFC at the end of last, hoping that helps in the title defense. Kyriakos Sioukas (AKR / OTK) is pulling double duty, coming off the vice-champion finish in this class last year. Two female drivers are making the jump up from Junior to Senior in 2022, both winners last year. Lanie Benjamin (SF / Redspeed) won the series championship with Lydia Small (RPM / Tony Kart) placing fifth, as they will make their Senior debuts this weekend. GFC is coming in loaded with talent, including SKUSA SuperNationals 24 top qualifier Jake Drew (GFC) – a winner in this category last year – along with Eddie Shimmon (GFC). Josh Campbell (RPM / Tony Kart) is slated to run double duty in addition to Senior ROK, as the lone entry in that category.
Junior 100cc is the largest class after pre-registration with 24 drivers set to battle. Stephen Eisert (SSM / Exprit), Alexander Gonzalez (Nash / EOS) and Cooper O'Clair (J3 / CompKart) are three of the six different winners from last year returning to the category, leading the way as the early title contenders. The field however has a number of drivers moving up from the Mini ranks, including two winners from the class at last year's program. 2021 Mini ROK champion John Antonino (DeltaSport / Race Factory) won five of the six main events, making his Junior debut this weekend. Rocky Moran (RPM / Tony Kart) is the only driver to beat Antonino in 2021, also making the graduation up to Junior for this season. Tristan Young is the 2021 Junior ROK champion, set to compete in both Junior classes with Mini graduate Alexander Jacoby moving to Junior ROK for 2022.
A new champion will be crowned in the Masters 100cc class for the 2022 season with last year's title winner Mike Smith focusing on the California ROK Championship. Leading the way as early championship contenders include 2021 race winner Brett Harrelson (Nash / EOS) and Ian Koentges (FDM / CompKart) – who finished last year with two podium finishes. Mike Weatherman and Preston Newberry – both under the FDM / CompKart tent – should be among those fighting for podium finishes along with Luke Tracy (VemmeKart), pulling double duty on the weekend.
Master ROK features three former series champions, including the three-time defending champion Derek Wang (FTK / EOS). Wang won three of the six main events last year, with 2017 series champ Billy Cleavelin (RPG / Kosmic) taking one victory, returning for another shot at the title. Paul Bonilla (JH / Redspeed) – the 2012 and 2015 champ – returns to the Challenge for the first time since 2019 in Tucson. David Pergande (JH / OTK) and Mike Giles (JH / Kart Republic) along with Tracy and Christopher Mann (Ruthless / Kosmic) will be among those fighting for podium positions as well.
No former winners are in the 16-driver Mini ROK field, with a number of new names to the series. One familiar name is Nico Sarphati (GFC) with the most experience in the field. Ashton Woon (DDW / Nitro Kart) and Braylon Underwood (Race Factory) are graduating up from the Micro class, and could be fighting right away for podium positions.
Only four drivers make up the Micro ROK class, featuring defending series champion Jaxon Porter. He won three of the six feature races last year, going up against three COTA rookies. Rocco Simone (VemmeKart) has been busy already this winter, picking up wins and podiums in Florida at WKA, SKUSA, Florida Winter Tour, and Rotax. This will be his fifth race weekend in as many weeks. Cason Hodge (SSM / Exprit) and Luca Popescu (Nash / EOS) are making their COTA debuts as well.
Tune in to the EKN Live broadcast on Saturday and Sunday, featuring audio from qualifying to the final checkered flag on the day. Watch the EKN Social Media outlets for updates, notes, results, photos and videos all weekend long, including the second episode of Tent Talk LIVE from the paddock on Friday evening, streamed on EKN Facebook and YouTube pages.