Speed but Bad Luck for Ayden Ingratta at Florida Winter Tour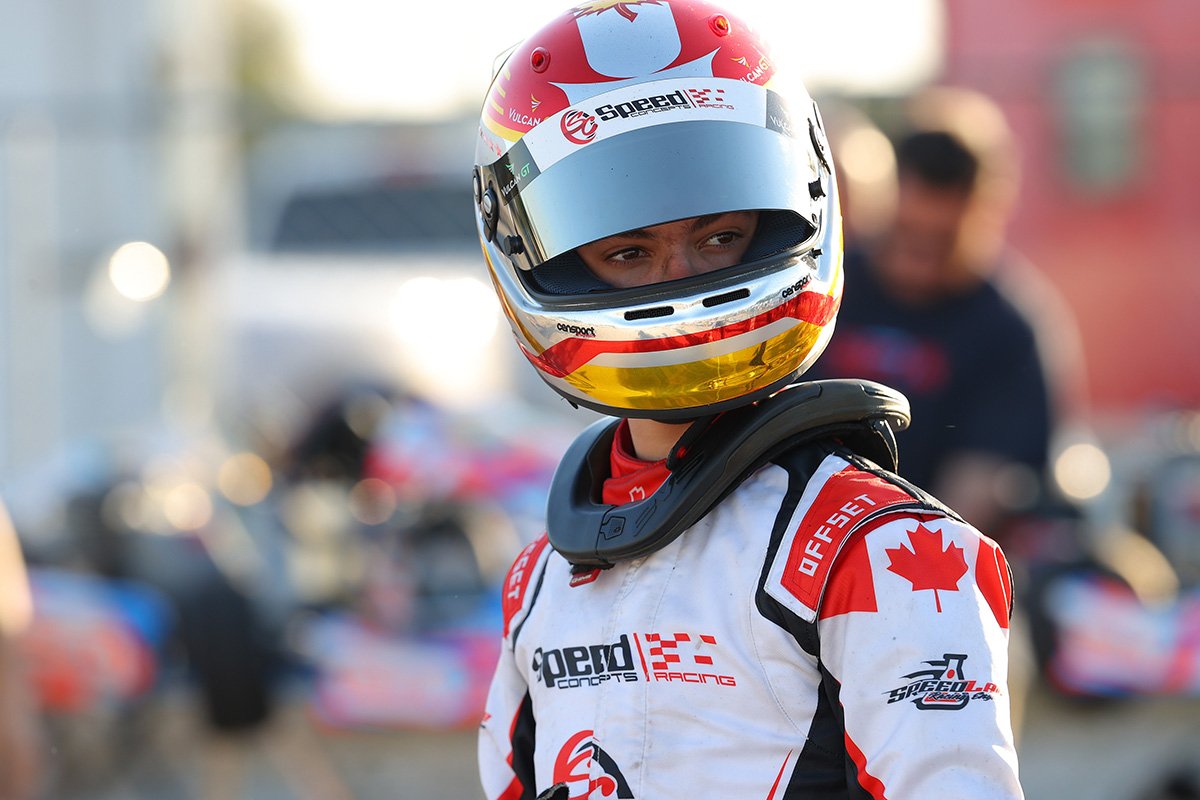 Ayden Ingratta kept his ROK Junior championship hopes alive with a fourth place result
(Photo: Canadian Karting News)
It was the opening weekend of the 2022 ROK Cup USA Florida Winter Tour as Ayden Ingratta was looking to start his Vortex ROK season off right. Competing in both the VLR Junior and ROK Junior classes, Ingratta would double up on his chances at the temporary circuit on the grounds of the Isle Casino in Pompano Beach, Florida and despite a pole position, two heat race wins and fast laps, the Canadian was only able to leave the weekend with a best result of fourth in the main events.
Ingratta's best results came from the ROK Junior class as a solid qualifying effort netted him the prestigious pole position and inside front row starting spot for the heat races. Taking advantage of the preferred line on the starts, Ingratta jumped out to the lead claiming both heat race wins and pole position for Saturday's prefinal. Looking to continue his success at the front of the field, the Speed Concepts Racing driver drove to a second-place finish as he would like to climb up one further in the weekend's main event.
"It was a hard-fought battle in the final as there were three or four of us battling for the win," explained Ingratta. "I led a lot of the race but was passed two laps from the end and when doing so, lost all my momentum. Falling to fifth or sixth, I was lucky to be able to get by a few on the final lap to finish fourth and score good points towards the championship."
The VLR Junior class provided a different challenge for Ingratta as he would need to recover from a fourth-place effort in qualifying to try and challenge for the win. Finishing fourth and third in the heat races, an outside row two starting position was awarded for the Canadian for the prefinal and he took advantage of that to finish third. The main event proved to be an exciting one as Ingratta took charge of the field and was the first to receive the checkered flag on track as he celebrated his victory. The celebration was short lived as a technical infraction was found following the race and Ingratta was stripped of his results pushing him to the bottom of the results sheets.
Ingratta added, "Disappointing to not be rewarded with something that the team and I worked so hard for this weekend. The only thing we can do is keep our heads high and look forward to the next opportunity. A huge thank you to my family, mechanics, Speed Concepts Racing and SpeedLab Racing Engines for all of the help, hard work and support during the start of a new season."
Ayden Ingratta will enjoy less than one month off before returning to Florida to take part in back-to-back event weekends at the AMR Motorplex and another temporary circuit at Tropicana Field in St. Petersburg.