Three Podiums and Ten Top-Ten Results for Birel ART North America to Open 2022 Season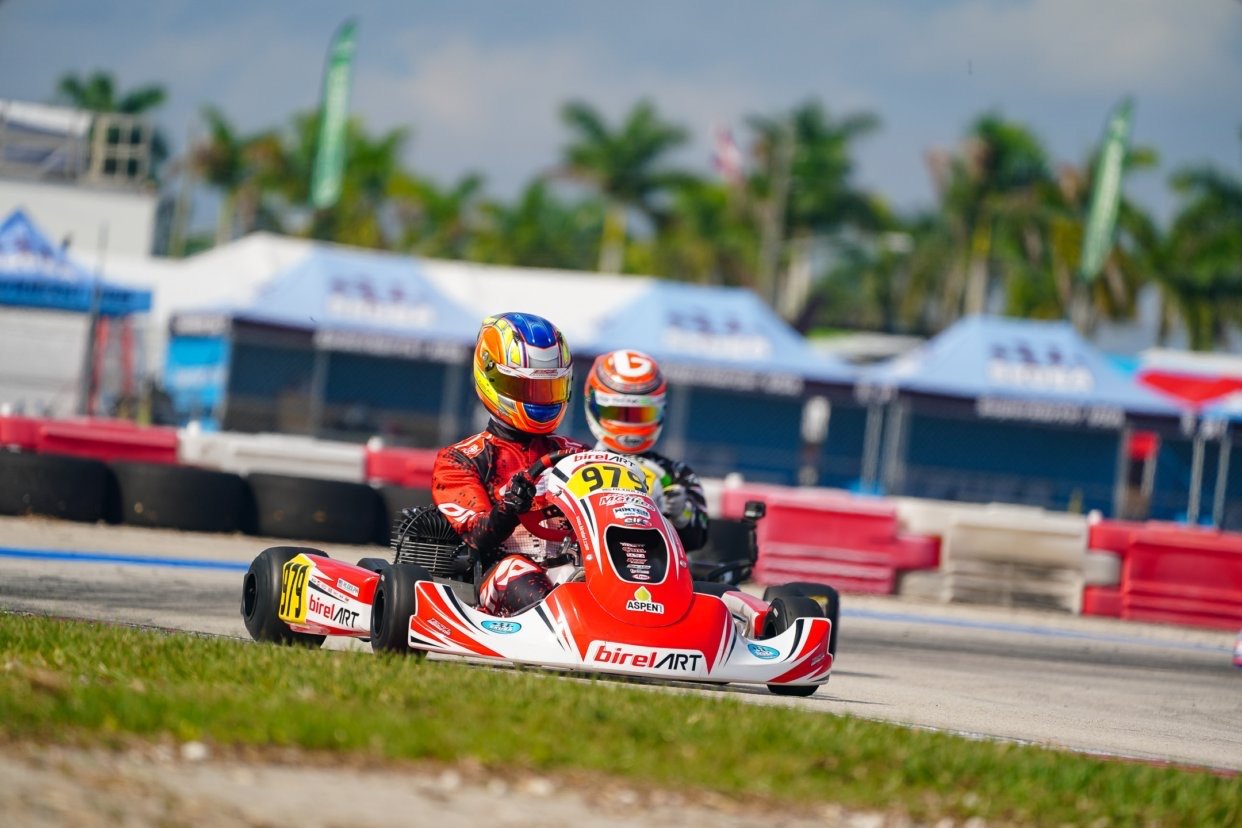 It was a battle of not only other teams and competitors, but the elements this past weekend at the AMR Motorplex in South Florida. Competing in mixed conditions for the first event of the 2022 season, Birel ART North America took on the Superkarts! USA (SKUSA) Winter Series for in the shadows of the famed Homestead-Miami Speedway. With over two-hundred drivers racing, the Birel ART North American program walked away with three podium results and multiple top-ten finishes.
Two podium results came on Saturday at the hands of KA100 Senior driver Aden Rudolph [PSL Karting], and Pro Shifter competitor Slavik Putiatin [PRO]. Putiatin earned the best result of the weekend for the multi-driver squad as he was able to stand on the second step of the podium while Rudolph took home P3 in his first KA100 Senior event. Proving that Saturday's success was deserved, Rudolph returned Sunday to earn another podium position and starts what he hopes is a long string of podium results.
Competing in the Mini Swift class, Max Cristea [PSL Karting] improved on his ninth-place efforts on Saturday to narrowly miss the podium with a P4 result on Sunday to keep his championship hopes alive. Noah Rosser [Mottaz Sport] garnered a pair of tenth place finishes in the X30 Junior class to remain consistent over the weekend while fellow Birel ART North American driver Cooper Beasley [Mottaz Sport] was three positions better in Saturday's main event to finish seventh. Tyler McIntyre [Mottaz Sport] nearly added an additional podium result for the contingent with an impressive drive to fourth in Saturday's X30 Senior ranks while Ragan Saville [Speedsportz] crossed the stripe in eighth in KA100 Junior. Drew Walz [RDX Karting] added a seventh-place finish to the squad's resume as he greatly improved from his results from Saturday to drive into the top-ten.
"While the results were not what we had hoped due to the weather playing a huge factor, as a team we did manage to claim three podium results and gain knowledge that will help us for the rest of the season," noted Raphael St. Charles. "Thank you to our drivers, dealers and supporters for all the hard work and efforts in a challenging weekend. There is no time off as we are back at it again this weekend for the opening round of the ROK Florida Winter Tour."
Traveling north to Pompano Beach and the temporary circuit at the Isle Casino, Birel ART North America will enter another large contingent of competitors to kick off the ROK Cup USA portion of their season. Stay tuned to the Birel ART North America social media pages for news, information, photos, and results from the event weekend.
Are you interested in any of the Birel ART line of products or joining one of their dealer race teams? Contact Birel ART North America today.
For more information to become part of the Birel ART, Ricciardo, Charles Leclerc or TM Racing dealer networks or information on how to join the PSL Karting / Birel ART North America Race Team for the 2022 season, please contact Dominic@PSLKarting.com.
Birel ART North America (PSL Karting) is the National Importer and Distributor of Birel ART products and accessories, including Ricciardo Kart, Kubica Kart, and Freeline accessories. Birel ART North America is also a new North American importer for the TM Racing line of products. Visit www.pslkarting.com to find a retailer near you. Follow our racing team and product updates via our social media @pslkartingofficial.