Randy Fulks Honored as 'Mr. Daytona' at the Motorsports Hall of Fame of America Prior to WKA Daytona KartWeek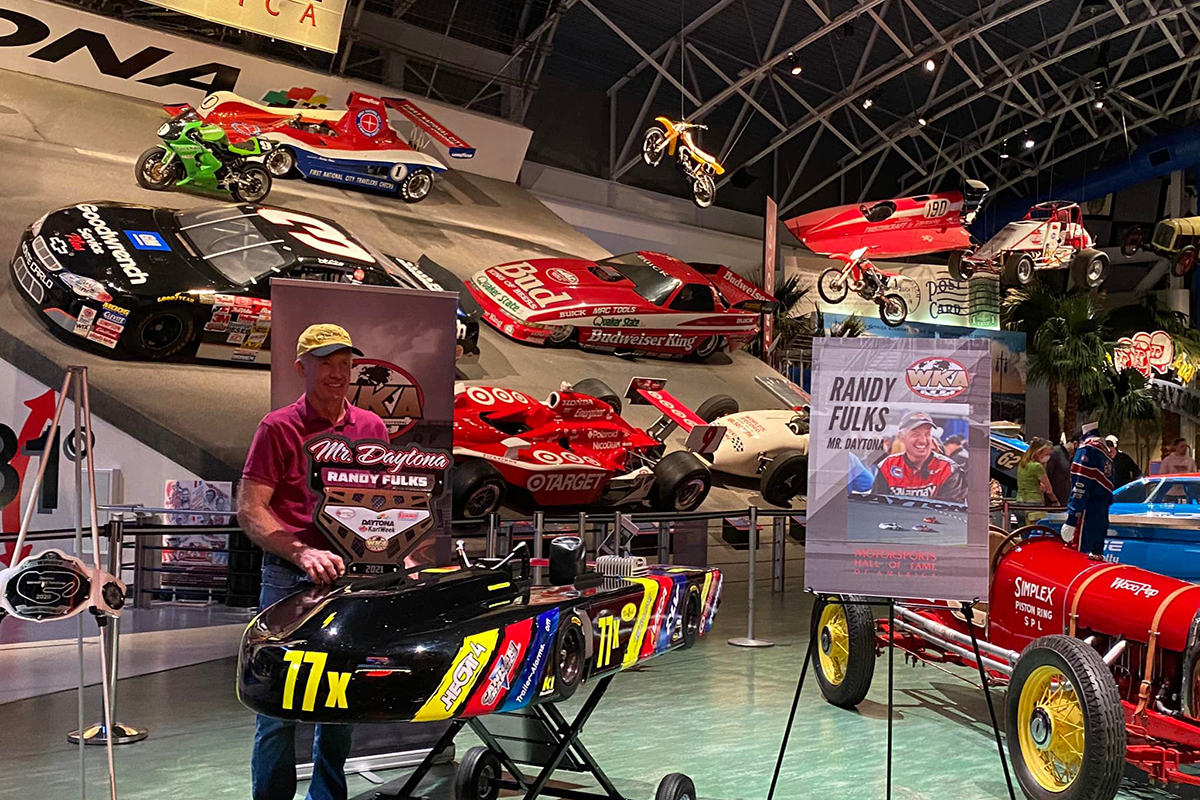 Randy Fulks receiving his 'Mr. Daytona' award from WKA along with providing his kart on display at the Motorsports Hall of Fame of America (Photo: Jennifer Henry - Fade to Black Photography)
The World Karting Association, which is holding Daytona KartWeek at Daytona International Speedway this week, honored its all-time Daytona winner inside the Motorsports Hall of Fame of America (MSHFA) on Monday.
WKA President Kevin Williams presented Randy Fulks with a "Mr. Daytona" trophy, which will be on display with the kart in the museum through March.
"We are celebrating our 48th year at Daytona," Williams said. "We came to the Motorsports Hall of Fame of America to celebrate a go-kart driver who has won more races at Daytona than anybody we can find on record. He's up to 59 so far, all on the road course.
"We wanted to display the accomplishments of the driver as well as the karts that are current now compared to what you've seen in history. We wanted to applaud the efforts of a grassroots racer, who has done so good here at Daytona."
The award came as a surprise to Fulks, 67, who hails from Springfield, Illinois. He attended the inaugural KartWeek in 1974 at the age of 20 and has been back most every year since his Daytona debut.
"This is really awesome," Fulks said. "I had no idea. I had no clue. I was told they wanted me to bring a kart here. I said 'Sure, I'd love to lend them a kart for display.' Then, all this happened. It was quite a shock. If we wreck our other kart, I told them I would have to come back and get this one. We can have this one race ready in about 90 minutes."
Daytona KartWeek started Dec. 28 and will run through Dec. 30. Williams said he expects more than 2,000 go-karts to compete on three separate tracks.
"WKA and Daytona have a very special place in the karting community," Williams said. "We keep that going every single year."
MSHFA President George Levy was delighted to welcome the WKA into the museum for the "Mr. Daytona" celebration. The MSHFA had two go-karts on permanent display.
"The WKA wanted to have the ceremony here and we could not be happier and more proud to do it," Levy said. "Karting is the wellspring of so many forms of motorsports. It's only appropriate that Randy Fulks' great achievement be celebrated here at the Motorsports Hall of Fame of America."
"With all this fantastic racing equipment on display at the museum, it's a way to show that karting is involved as a foundation of motorsport," Williams said. "Most every racer you see now started in WKA. The foundation of motorsport starts with karting and we thought we fit in with the rest of the equipment here on display."
Fulks has missed only two KartWeeks since it became a mainstay event for the WKA. "I had to work," he said. "So I changed jobs." While some use go-karts as a stepping stone to other forms of motorsports, Fulks said he was content to stay in this mighty-mites division.
"This is the event to be part of every year," he said. "You strive to win Daytona. We race at a lot of other tracks around the country, but you want to be the Daytona winner because of the history here. If you win Daytona, you are a Daytona winner. If we go to another track, it's just another track. They know Daytona. We want to win Daytona because we think it's the most prestigious race of the year.
"We start thinking about Daytona as soon as we leave Daytona, what we need to change, how we can be better. We have been physically working on our Daytona stuff for the last four months. We built two new go-karts for Daytona. Hopefully, they will be faster. We have the older backup karts in case the new ones don't' pan out."
Fulks hopes to leave at the end of the week with more wins. He has two events during KartWeek.
"I want to get to 60 (wins)," he said. "Getting to 61 would be even better."
The MSHFA is housed in Daytona International Speedway's Ticket & Tours Building located in front of the famed 2.5-mile DIS tri-oval. Access to the MSFHA is included with every Daytona International Speedway tour, which run throughout each day, or as a museum-only ticket. The museum is open daily 10-5 nearly year-round except major holidays.
For more information, visit the MSHFA at www.mshf.com or contact George Levy at (248) 895-1704 or glevy@mshf.com. For tickets call 1-800-PIT-SHOP.