eKartingNews.com Driver of the Month: November 2021 – Nate Cicero
Rolison Performance Group driver steals victory at ROK Vegas on last lap pass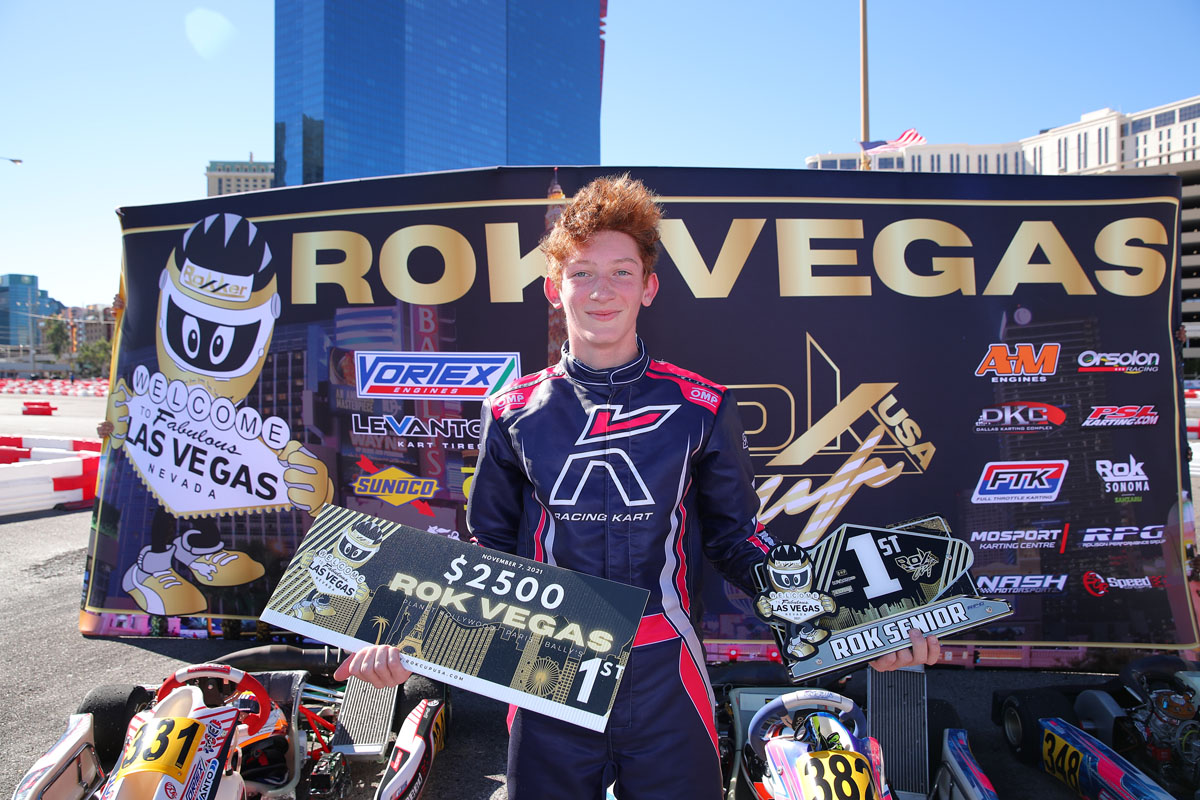 Nate Cicero won the Senior ROK division at the ROK Vegas event (Photo: ROK Cup USA)
In a continued effort to highlight the many outstanding performances by drivers around the country, eKartingNews.com is proud to introduce the 'Driver of the Month' program. Each month, the staff at EKN will determine the one driver who stood out above the rest and give the viewers a chance to know exactly what they accomplished and who they are.
The lone major event for the month of November was ROK Cup USA ROK Vegas at a new location, partnering up with the Planet Hollywood Las Vegas right on the strip, utilizing a parking lot to the east of the facility. Among the near 350 entries in the 10 categories was Rolison Performance Group driver Nate Cicero, making his first temporary circuit start of his career competing in the Senior ROK division. The 2020 SKUSA Winter Series KA100 Senior champion moved to the 125cc TaG level this season, finishing fourth in the SKUSA Pro Tour standings. The ROK Vegas event was his first in the Senior ROK division.
Cicero became comfortable with the walls that made up the circuit for ROK Vegas very quickly and was able to qualify fourth overall, just behind four-time SKUSA Pro Tour champion and RPG teammate Ryan Norberg. He kept pace through the two heat races on Friday of the event, placing fifth and fourth. Cicero matched those results on Saturday for the final two heat races, placing fourth and fifth in the two 12-lap sessions. The consistent results helped to keep him in the hunt, starting the main event from the fifth position.
From P5, Cicero jumped up to the third position behind Norberg with polesitter Alessandro de Tullio leading the way. Also into the mix was Senior rookie and top qualifier Jack Jeffers, pushing forward to work past both Cicero and Norberg. Cicero jumped on the bumper of Jeffers as they ran down de Tullio. By lap nine, Jeffers was into the lead and a few laps later, Cicero was into the second spot. Trailing Jeffers by just over one-second, Cicero was able to reel in the leader by five laps to go. It came down to the final circuit with Cicero pulling off a last lap, last corner move. Jeffers tried to run a defensive line, however, left enough space for Nate to slip to the inside. Contact happened as they reached the apex with their sidepods took place as they fought for the same piece of real-estate all in the final corner. Cicero was able to muscle through with the lead and reached the checkered flag first by four tenths of a second.
Prior to heading to Las Vegas, Cicero was among the nine finalists to take part in the Mazda Motorsports Spec MX-5 Shootout at the Sebring International Raceway. Nate was selected as one of two winners, alongside Westin Workman to compete in selected Spec MX-5 events in the 2022 season as one of the teen factory drivers for Mazda.
In addition to the car racing, Cicero is gearing up for another full season of karting as long as the races do not conflict with his car schedule. Among the programs he hopes to follow include the SKUSA Pro Tour, United States Pro Kart Series, while also competing in the ROK Orlando and ROK Vegas events.
---
Face2Face with Nate Cicero along with Westin Workman on their Mazda Motorsports Spec MX-5 Shootout scholarship
---
Nate Cicero among the guest of winners from the ROK Vegas event on another episode of Face2Face
---
November 2021 EKN Driver of the Month – Nate Cicero
Bio
Born: 11/23/2004
Hometown: Pound Ridge, New York
Parents: Frank Cicero, Sonja Cicero
Siblings: Gia Cicero, Reed Cicero
Height/Weight: 5'9.5" / 142lbs.
Education: Fusion Academy Westchester (11th grade)
Job: Coach For McAleer Karting team
Racing Resume
Chassis: Kosmic
Engine/Engine Builder: IAME X30 / AVP
Sponsors: None
Series You Compete In: Superkarts! USA, United States Pro Kart Series, ROK Cup USA
Years Karting: 5 ½
How did you get started in karting? Always loved cars, went to an indoor karting track and fell in love with racing.
What has been the high point in your racing career? Winning the 2021 Spec MX-5 scholarship
What are your goals in racing? To be able to make a career out of doing what I love, Racing.
In a few words, how would you describe your driving style? Smooth, slow hands. Patient but aggressive when needed
Funniest moment at the race track? (From 2021) Biggs Tiner and I running over each other while battling in Oregon during one of the test weekends
Likes
Favorite Track: Road America (karting)
Favorite form of professional motorsports: IMSA, IndyCar, F1/F2/F3
Favorite karting driver: Ryan Norberg
Favorite professional driver: George Russell
Favorite website: YouTube
Favorite movie: Ford vs. Ferrari
Favorite actor/actress: Jeremy Clarkson
Favorite music/group: 60s – 80s rock
Favorite vacation/activity spot: Florida
Favorite food: Too many to choose from
The Real Deal
What do you do when not at the track? A lot of sim racing and gaming
What are your goals outside of karting? Decide what I want to study further in school
What type of street car do you drive? None
What type of street car would you like to drive? Audi s3/ Volkswagen Golf GTI would be an amazing first car
What are your pet peeves or things that irritate you? Having to wake up early
What do you think could be done to improve the sport of karting? (For senior) 1 of 3 things; 1. More power, 2. Less weight, 3. Less grip. If we made it more challenging, I think it would be better for the sport, it would make it easier to see who the best drivers really are. Also, I think any of these would make the karts more enjoyable to drive and would possibly bring in more people to the events. If we did less grip for example, we could use MG reds (which I have tested in senior and it's very fun to drive) which would bring the cost down as well.
What are your favorite aspects about the sport of karting? How professional the events are, everyone giving 100% to be at the front is amazing. It's good to have so much competition at the entry level of racing.
November 2021 Driver of the Month – Honorable Mention:
* Danny Formal: ROK Vegas – ROK Shifter
* Keelan Harvick: ROK Vegas – Micro ROK winner
* Jack Iliffe: ROK Vegas – Mini ROK winner
* Ayden Ingratta: ROK Vegas – Junior ROK
* Jordon Musser: ROK Vegas – ROK Shifter Master winner
* Blake Nash: ROK Vegas – VLR Senior winner
* Scott Roberts: ROK Vegas – Master ROK
* Martin Stone: ROK Vegas – VLR Master
* Jesus Vasquez Jr.: ROK Vegas – VLR Junior