Birel ART North America Earns a SKUSA SuperNationals Title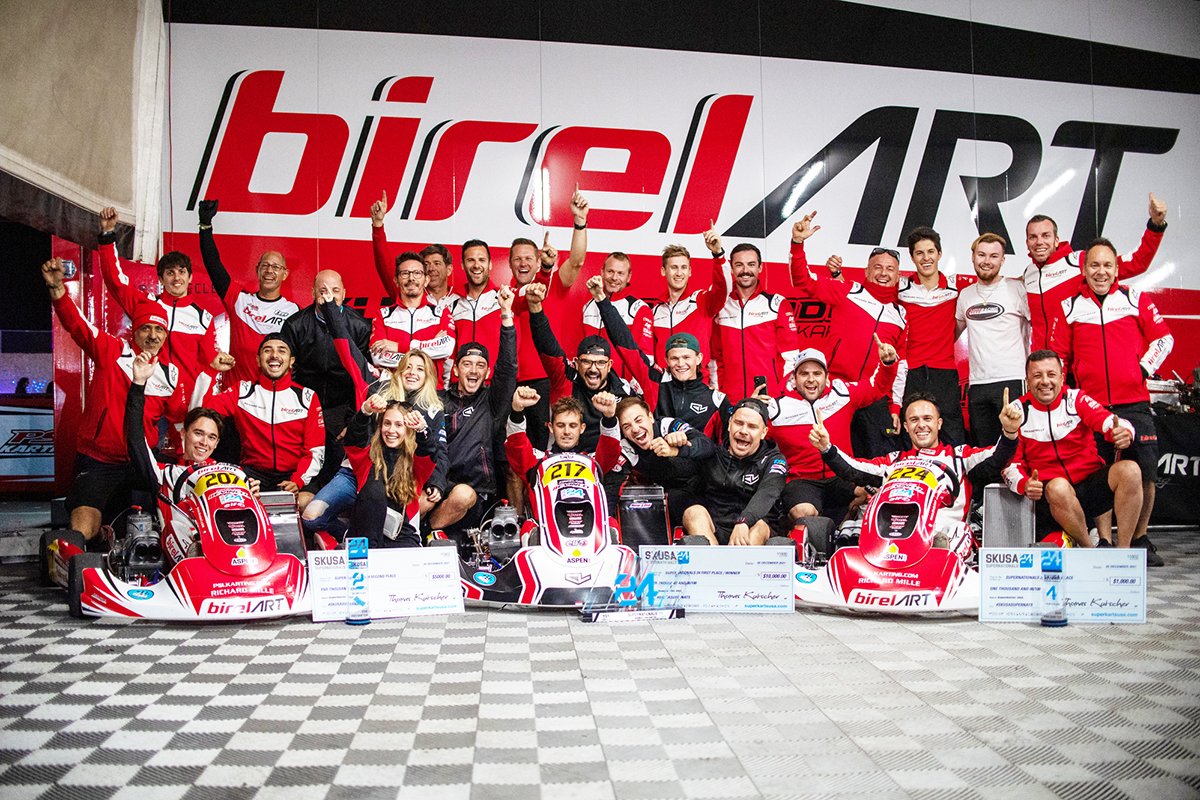 It was a winning weekend for Birel ART North America at the Superkarts! USA (SKUSA) SuperNationals. Taking on the temporary circuit of the grounds of the famed Las Vegas Motor Speedway, Birel ART North America and their dealer network scored a SKUSA SuperNational victory and several additional podium results to cap off an excellent 2021 race season.
Leading the way on the results sheets was Pro Shifter standout Matteo Vigano as Birel ART drivers claimed four of the top-six positions in Super Sunday's main event. Vigano improved from his off pole qualifying effort to lead the way ahead of fellow European Marijn Kremers in a Birel ART one – two finish, with Riccardo Longhi putting three in the top-five in the fourth position. Jake French added his second top-ten event in as many Las Vegas events he has had this year as he crossed the stripe in sixth. Red Bull Junior Driver Jak Crawford had a strong showing in one of his very few karting events this year as he ran inside the top-ten throughout the weekend including a solid P8 in qualifying Thursday afternoon.
Pedro Hiltbrand added a podium finish in the X30 Senior main event as he was able to put his Birel ART close to the front of the field and finish his weekend with a third-place finish. Patrick Woods-Toth qualified fourth in KA100 Senior but was unable to hold on as the weekend progressed. Marco Filice came to the forefront in the main event and salvaged a third-place finish for the Red Army in the 100cc category.
Jordon Musser scored Birel ART North America's lone SuperNationals pole position as he and Ryan Kinnear were able to go first and third in Master Shifter qualifying ahead of fellow team driver Ben Shermerhorn in eighth. Kinnear would get the best of the trio in the weekend's main event earning the SuperNationals Vice-Championship while Musser earned a top-five result with a valiant fourth place effort. Shermerhorn was able to maintain his P8 qualifying effort to finish eighth on Super Sunday.
Both Micro Swift driver Jesse Philips and Mini Swift competitor Roman Kamyab improved throughout the weekend to add two more top-ten results to the Birel ART North America results resume. Philips turned his tenth-place qualifying efforts into a P6 finish while Kamyab converted his sixth-place qualifying result into a top-five and fifth place result.
"The SKUSA SuperNationals is one event that we strive to do well at and win every season as it builds momentum and sets the tone for the following year," explained Birel ART North America's Dominic Labrecque. "Congrats to Matteo on his first SuperNationals victory and a huge thank you to our dealer network for bringing more than fifty Birel ART drivers to the annual event in Las Vegas."
With the 2021 race season now complete, Birel ART North America will shift their focus to the 2022 campaign that begins in one month time. Set to take part in the SKUSA Winter Series and ROK Cup USA Florida Winter Tour, the Birel ART North America program has openings under their team tent. Contact us today.
For more information to become part of the Birel ART, Ricciardo, Charles Leclerc or TM Racing dealer networks or information on how to join the PSL Karting / Birel ART North America Race Team for the 2022 season, please contact Dominic@PSLKarting.com.
Birel ART North America (PSL Karting) is the National Importer and Distributor of Birel ART products and accessories, including Ricciardo Kart, Kubica Kart, and Freeline accessories. Birel ART North America is also a new North American importer for the TM Racing line of products. Visit www.pslkarting.com to find a retailer near you. Follow our racing team and product updates via our social media @pslkartingofficial.