Caleb Gafrarar Stands on the Podium at the SKUSA SuperNationals
Caleb G makes it four podiums in four races with RPG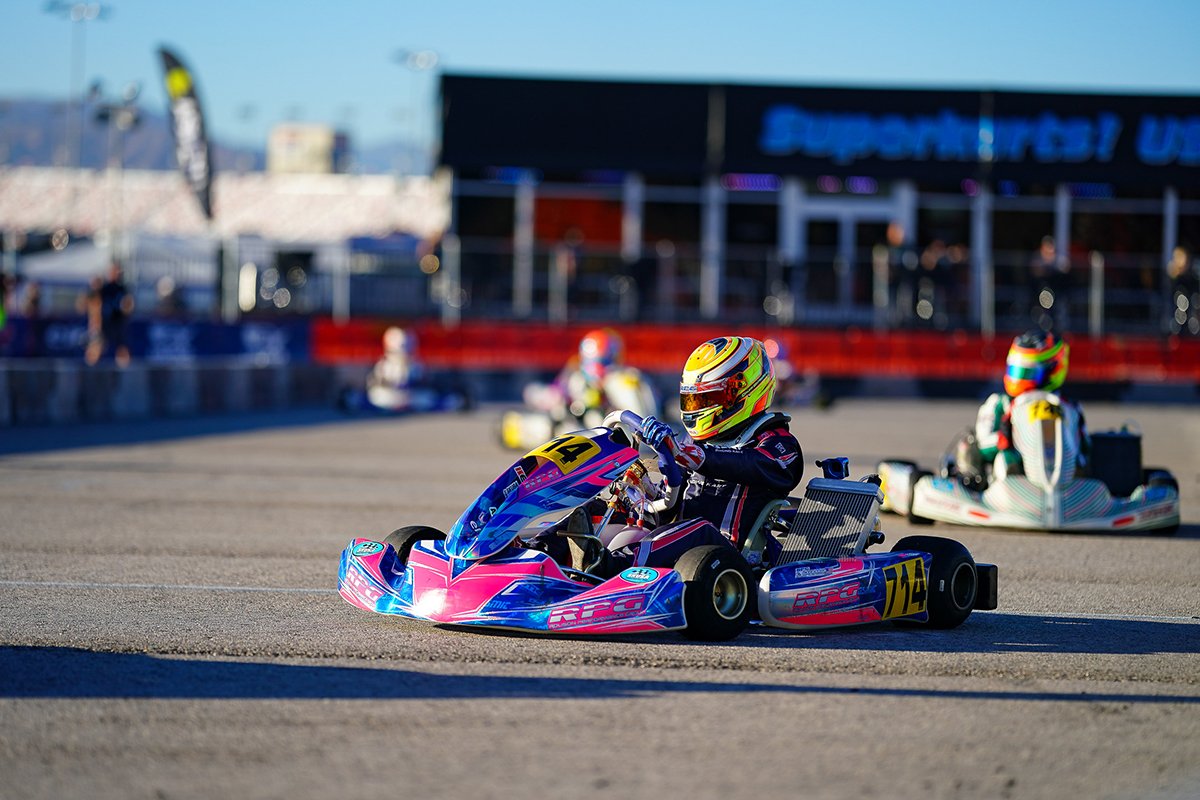 Caleb Gafrarar worked hard for a fourth place podium finish to keep his streak alive
(Photo: On Track Promotions)
The biggest karting event in North America took place this past weekend and Caleb Gafrarar battled hard for the win. Taking on the Superkarts! USA (SKUSA) SuperNationals on the temporary circuit at the Las Vegas Motor Speedway, the Rolison Performance Group driver netted his fourth podium result in his fourth race with the team since making the switch to the Kosmic chassis by OTK only a few months ago.
"What a weekend! The heat races went well as we were close to the front of the field and the top of the results sheets in all three," explained Gafrarar. "Unfortunate contact in heat two saw me well down the results order and my heat three win, which was taken away due to a penalty because of contact, would affect my main event starting position. I did not let that faze me as I knew what the end of the weekend goal was."
Overcoming penalties, contact and hard racing in the three heat races, Gafrarar would start the main event in the ninth position. Determined to move his way forward early and give himself a chance at a SuperNationals title, Gafrarar advanced three positions in the first ten laps as he aimed to set himself up for a late race charge.
With the front of the X30 Junior field so evenly matched, making passing difficult, it was a matter of forcing others into mistakes and capitalizing when opportunities presented themselves. Running lap times similar to the leader but stuck in the train of competitors, the Rolison Performance Group driver continued in the sixth position as the race began to wind down. Moving to fifth with five laps to go and more than two tenths faster than the leader, the race was on for the SuperNats podium. Reaching the checkered flag in P5, Caleb G was elevated one position to fourth due to a push back bumper penalty from a driver in front of him.
Gafrarar continued, "It was definitely a battle out there. I bent my tie rod during contact in the first corner but had to race on to see what we could achieve. To score four podiums in as many races since making the switch to the Rolison Performance Group shows the strength of this team. I am so happy to be part of it and can't wait to see what the 2022 season has in store."
With the 2022 season kicking off in less than one month, Caleb Gafrarar will finish the year with a test session with the RPG team before heading to Florida in January for a second straight season in the junior ranks.
Caleb Gafrarar would like to thank Rolison Performance Group, OTK USA, Kosmic, Bell Helmets, Minus 273, and CPI Security for the continued support throughout the 2021 racing season.