EKN Trackside: Superkarts! USA SuperNationals 24 – Friday Report
Opening round of heat races sets the stage for the event outside Las Vegas Motor Speedway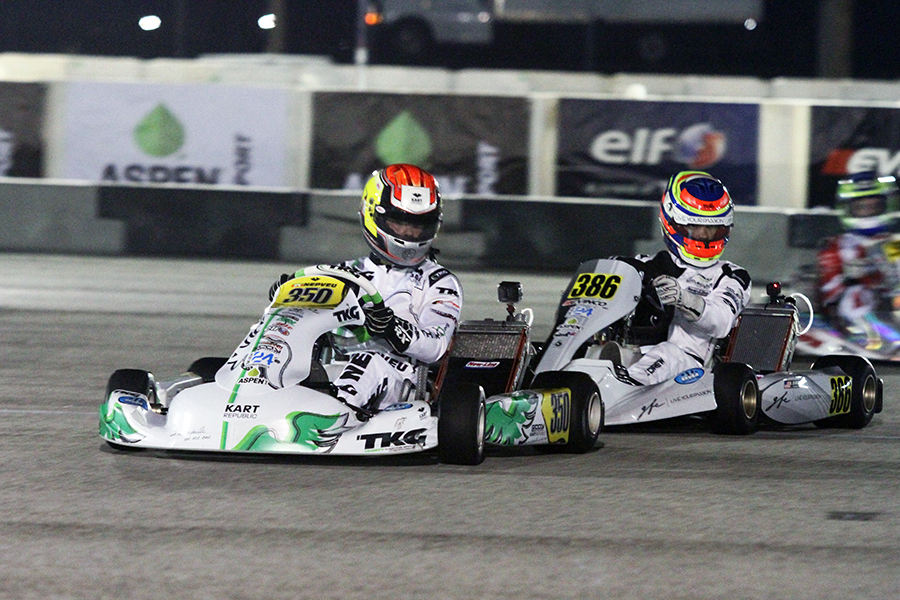 Two wins in X30 Senior have Canadian Thomas Nepveu as the driver to beat (Photo: EKN)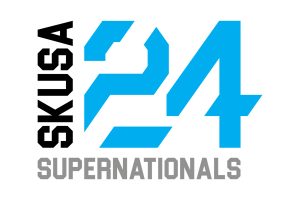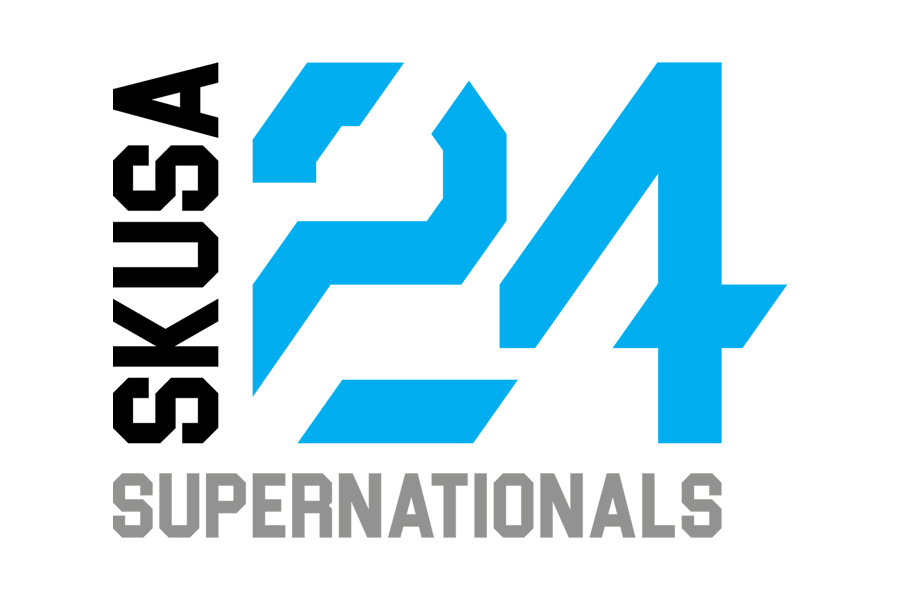 Racing is underway for the Superkarts! USA SuperNationals 24 at its fifth different location of the Las Vegas Motor Speedway. Following the qualifying sessions on Thursday, heat races began on Friday with the opening two rounds contested for both the morning and afternoon categories. The weather was perfect all day, with not much of a temperature drop when the sun set behind the Las Vegas mountains to the west. There were no major surprises in the heat races, as drivers finally tackled the temporary circuit with wheel-to-wheel racing.
KA100 Senior was all the Morgan brothers on track, taking three of the four heat races on the day. Both won the opening heat races with top qualifier Cole Morgan (RPM / Tony Kart) securing the win in AvsD by three seconds with Carson Morgan (RPM / Tony Kart) named winner in a red flag shortened BvsC. Carson was penalized three seconds for a pushback bumper penalty, giving the win to Thomas Annunziata (MDR / Kosmic). The second round was a Morgan sweep with Cole winning AvsC and Carson taking the checkered in BvsD. The two will face off in the their final heat Saturday to decide the pole position for SuperSunday.
Jeremy Fletcher was credited with both wins in the KA100 Junior division on the day. Fletcher (TF / Tony Kart) won the opening heat outright by one tenth over top qualifier Jesus Vasquez Jr. (Nash / EOS). The second heat, Vasquez crossed the line first but ended up back in ninth with a pushback bumper penalty. That handed the win to Fletcher, who now goes into the third heat races with two wins on his record. Noah Baker (Supertune / Tony Kart) recorded a DNF on the final circuit in the opening heat after running at the front, coming back to finish second. Cole Kleck (Arcane / Tony Kart) has two third-place finishes to start out the racing at his first SuperNationals.
Three different winners came out of the Mini Swift heat races. Swedish driver Oliver Kinnmark (Parolin USA) drove up from seventh in the AvsD and AvsC heat races to double up in the win column, setting himself up as the driver to beat in Heat #3. Oliver Wheldon (JC / Kosmic), in his first SuperNationals, drove to the win in BvsC heat race ahead of Mini rookie Asher Ochstein (Supertune / Tony Kart). It was Oschstein that came away with the win in BvsD in a last lap battle against Christian Costoya (Parolin USA). Costoya was dropped down to 14th after a five-second penalty for contact, moving Ragan Saville (ARRA / Birel ART) to second. Top qualifier Vivek Kanthan (Parolin USA) finished fourth and third in his two heat races.
Keelan Harvick (Nitro Kart) started out his first SuperNationals with two wins in the heat races on Friday. Harvick was able to fight to the win, holding off Lucas Palacio (FDM / CompKart) in both races. Top qualifier Ethan Tovo (Nitro Kart) slipped down to seventh in Heat #1 and third in the second heat.
Penalties sorted out the opening heat race for X30 Junior, which opened up the afternoon categories. Top qualifier Noah Baker (Supertune / Tony Kart) won the Heat #1 on track, but was penalized three seconds for a jump start, handing the win to Jorge Ortiz (Supertune / Tony Kart). The penalty only put Baker to second, just ahead of Caleb Gafrarar (RPG / Kosmic). Ortiz won the second heat on track, driving away to a to victory with penalties shuffling up the order behind him. Baker was second, but a five-second penalty dropped him to fifth, moving Max Garcia (MPG / WPK) to second with Justin Adakonis (MDR / Kosmic) in third.
Renato Jader David won the SuperNationals in 2016 due to the provisional winner receiving a penalty. The Brazilian is looking to avoid that scenario with a clean sweep of the racing on Friday in X30 Master after setting fast time in qualifying on Thursday. RJD (Orsolon / Tony Kart) drove wire-to-wire in the two heat races, winning both over former SKUSA Pro Tour champion Derek Wang (Crosslink / Exprit). Former Pro Tour champion Matt Johnson (Nash / EOS) was third in Heat #1 with Brit Martin Pierce (FDM / CompKart) placing third in Heat #2.
Canadian Thomas Nepveu (TKG / Kart Republic) has two wins in the X30 Senior class to lead the chase to pole position for SuperSunday. Nepveu won the opening heat (AvsD) ahead top qualifier Jake Drew (GFC), who was pushed down to sixth after a pushback bumper penalty. That promoted Ryan Norberg (RPG / Kosmic) to second with former world champion Danny Kierle (TKG / Kart Republic) in third. Nepveu won his second heat (AvsC), holding off Drew once again with 2016 SuperNationals winner Jake Craig (Tony Kart) advancing six spots to third. Diego Contecha (Orsolon / Tony Kart) and Frankie Mossman (Team Benik / Kosmic) led the youth charge with wins in the other heats. Contecha held off SKUSA Pro Tour champion Hannah Greenemeier (RPG / Kosmic) in the BvsC heat race with Braden Eves (MPG / WPK) in third. Contecha was leading early in the BvsD run, but fell back as Mossman emerged as the top driver in the final heat for the day. He held off former world champion Pdero Hiltbrand (PSL / Birel ART) with Connor Zilisch (Team Nitro Kart / Tony Kart) in third.
Five-time SKUSA Pro Tour champion Jordon Musser (PSL / Birel ART) and 2013 S1 SuperNationals winner Joey Wimsett (DRT / DR Kart) split the two heat wins in the Master Shifter class. Top qualifier Wimsett was leading the opening heat race until a broken shifter lever put him on the sideline. That allowed Musser to drive away to the win ahead of Ryan Kinnear (PGR / Ricciardo) and Joe Ruch (HMG / Race Factory). Wimsett came back in the second heat to lead all 10 laps of for the win, holding off Musser with Kinnear in third.
Two different drivers came away with win in the Pro Shifter category, featuring 47 drivers. Italian Matteo Vigano (PSL / CL) drove to the opening heat race win ahead of 2019 KZ SuperNationals winner Danny Formal (LEM / Formula K) with Jake French (PSL / Birel ART) in third. The second heat saw top qualifier AJ Myers (Magik Kart USA) hold the top spot in the 10-lap race, despite a full course caution slowing things down. Myers fell to sixth on the final circuit of the opening heat, but was penalized to 46th for missing the front bumper following contact on the last lap. He made up for that in Heat #2, leading wire-to-wire for the win ahead of Formal with Vigano in third.
Morning and afternoon categories will complete one more round of heat races on Saturday, with KA100 Senior, Mini Swift, and X30 Senior holding Last Chance Qualifiers to finalize the grids for SuperSunday, here at the SKUSA SuperNationals 24.