EKN Exclusive: Superkarts! USA SuperNationals 24 – Predictions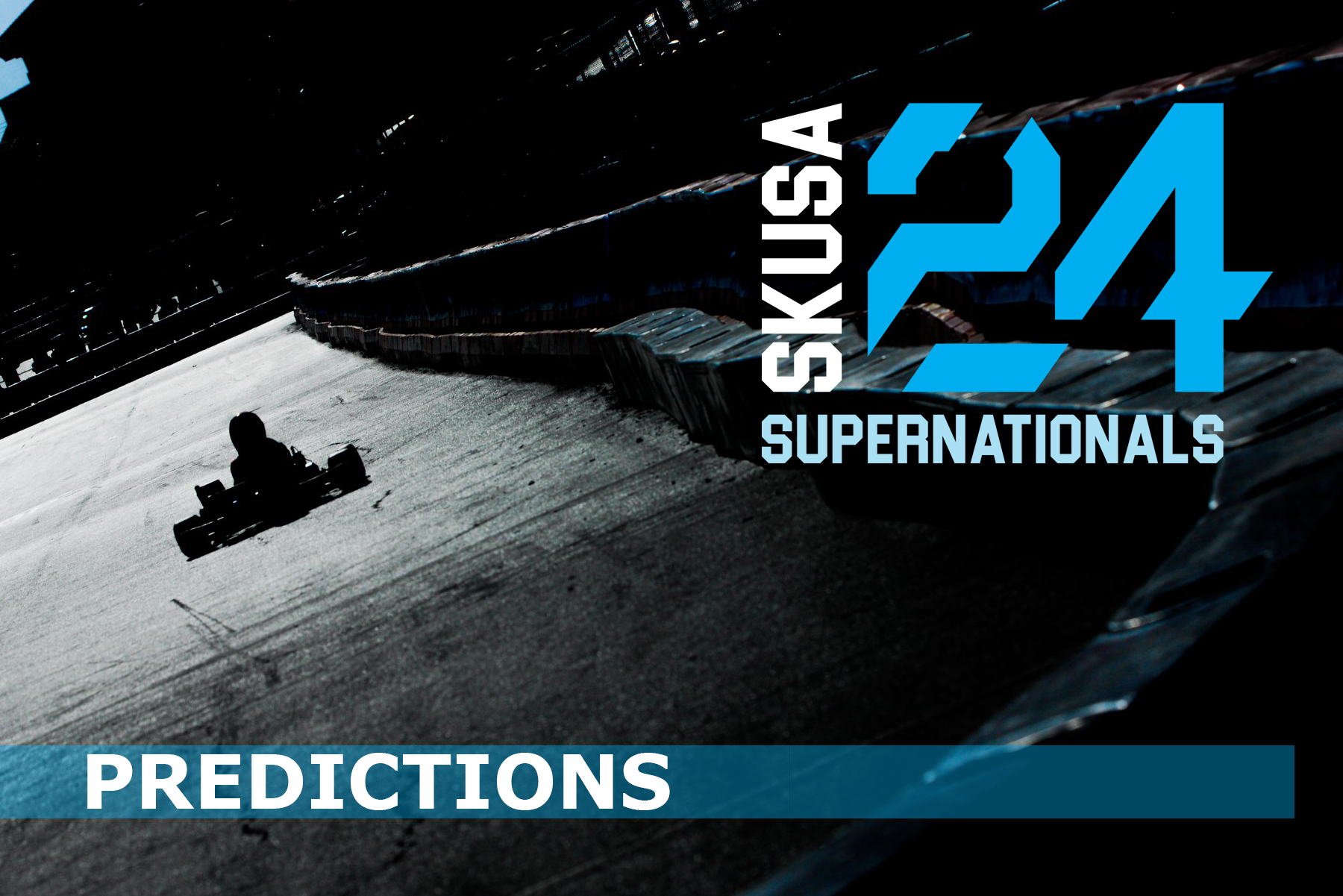 eKartingNews.com, the Official Media Partner of Superkarts! USA, is proud to present our Preview Series for the SKUSA SuperNationals 24. Leading up to the on-track action of the 24th edition of the marquee SKUSA event, EKN will preview each of the nine categories over six days that will compete on the temporary circuit located just outside the Las Vegas Motor Speedway from December 1-5.
Trackside coverage is set to begin on Tuesday, November 30 as we set up our SuperNationals 24 home, roaming the LVMS grounds with Paddock Insider and social media content. Our coverage continues into Wednesday as karts hit the track for the first time. EKN Live begins on Thursday, December 2 as qualifying is conducted for both the morning classes and the afternoon divisions. Listen LIVE to the heat races throughout Friday, December 3 and into Situation Saturday, December 4, including the three Last Chance Qualifiers held on the day. That sets everything up for SuperSunday, with the main events for SuperNationals 24 streamed live on eKartingNews.com/live.
Complete coverage of the Superkarts! USA SuperNationals 24 can be found at the EKN EVENT PAGE.
---
Predictions
Las Vegas is home to many of the world's top sportsbooks, setting the lines in sporting events all over the globe. For karting, the odds for the top-five finishers have been set by the eKartingNews.com duo of Rob Howden and David Cole. During the OutLap preview podcast broadcasts, they eached shared their top-five predictions for the upcoming Superkarts! USA SuperNationals 24, set to take place outside the Las Vegas Motor Speedway over December 1-5. Nine different divisions are set to battle over five days of competition, all gearing up to the SuperSunday main events to crown this year's winners. Below is a link to the two OutLap broadcasts along with the selections in stone for the 2021 edition of the SuperNationals.
---
---
Micro Swift
David Cole
1. Keelan Harvick
2. Gianmatteo Rousseau
3. Jackson Gibson
4. Tristan Murphy
5. Phaethon Saradpon
Rob Howden
1. Keelan Harvick
2. Tristan Murphy
3. Marco Romero
4. Gianmatteo Rousseau
5. Lucas Palacio
Mini Swift
David Cole
1. Oscar Iliffe
2. Jensen Burnett
3. Jack Iliffe
4. Diego Ardiles
5. Enzo Vidmontiene
Rob Howden
1. Jack Iliffe
2. Diego Ardiles
3. Luis Umana
4. Oscar Iliffe
5. Enzo Vidmontiene
KA100 Junior
David Cole
1. Chase Hand
2. Helio Meza
3. Jesus Vasquez Jr.
4. Ayden Ingratta
5. Aden Rudolph
Rob Howden
1. Chase Hand
2. Ayden Ingratta
3. Jeremy Fletcher
4. Parker Delong
5. Noah Baker
X30 Junior
David Cole
1. Kai Sorensen
2. Vinnie Phillips
3. Ayden Ingratta
4. Caleb Gafrarar
5. Max Garcia
Rob Howden
1. Kai Sorensen
2. Jeremy Fletcher
3. Ayden Ingratta
4. Caleb Gafrarar
5. Max Garcia
Master Shifter
David Cole
1. Joey Wimsett
2. Jordon Musser
3. Ryan Kinnear
4. Skitchy Barnes
5. Joe Ruch
Rob Howden
1. Jordon Musser
2. Ryan Kinnear
3. Joey Wimsett
4. Skitchy Barnes
5. Joe Ruch
X30 Master
David Cole
1. Matt Johnson
2. Scott Kopp
3. Bonnier Moulton
4. Renato Jader David
5. Mario Barrios
Rob Howden
1. Matt Johnson
2. Renato Jader David
3. Danilo Ramalho
4. Derek Wang
5. Bonnier Moulton
KA100 Senior
David Cole
1. Connor Zilisch
2. Alex Powell
3. Alex Stanfield
4. Brandon Lemke
5. Pauly Massimino
Rob Howden
1. Paul Massimino
2. Connor Zilisch
3. Brent Crews
4. Cole Morgan
5. Brandon Lemke
X30 Senior
David Cole
1. Lorenzo Travisanutto
2. Hannah Greenemeier
3. Connor Zilisch
4. Danny Kierle
5. Ryan Norberg
Rob Howden
1. Ryan Norberg
2. Lorenzo Travisanutto
3. Connor Zilisch
4. Nate Cicero
5. Danny Kierle
Pro Shifter
David Cole
1. AJ Myers
2. Jake French
3. Danny Formal
4. Brent Crews
5. Kyle Wick
Rob Howden
1. Danny Formal
2. AJ Myers
3. Jake French
4. Marjin Kremers
5. Brent Crews