Reggie Fulks Memorial Enduro Karter Support Award Winners Announced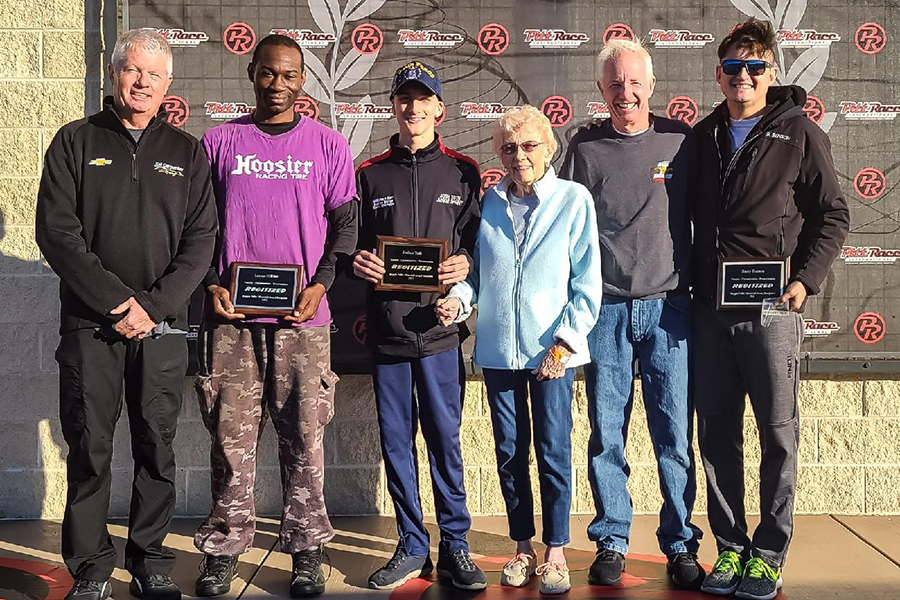 Rick, Barbara, and Randy Fulks with three of the five recipients of the Reggie Fulks Memorial Enduro Karter Support Award
Established following the passing of karting hall of famer Reginald E. Fulks, the inaugural Reggie Fulks Memorial Enduro Karter Support Award winners were announced during the Dart Kart Club's Pittsburgh International Race Complex event held over the September 24-26 weekend. The Fulks Award was established by the Fulks family – including Barbara, Reggie's wife of almost 70 years, along with three of his children Randy, Rick and Rene, with the purpose of helping deserving winners with their racing budget.
The term 'Regitized' was not only used to describe the preparation and innovation of his own equipment, it also came to symbolize the help that Reggie gave to competitors. That help continues with the 'Reggie Fulks Memorial Enduro Karter Support Award'. This award is to be presented to a competitor in the road racing laydown divisions based on nominations from fellow karters for a one-time monetary award. A four-person independent selection committee was established to select the winner, along with a GoFundMe page to facilitate donation to help raise funds for the program.
Due to the amount of money raised, the committee was able to select five different drivers to honor as the 2021 recipients of the Reggie Fulks Memorial Enduro Karter Support Award. Each of the five award winners receive $1,500 toward their racing budget, along with a plaque to commemorate their selection.
---
Rusty Benson
Age: 31
Hometown: Overland Park, Kansas (now living in Columbus, OH)
Current Kart: Hatcher Enduro / LAD Yamaha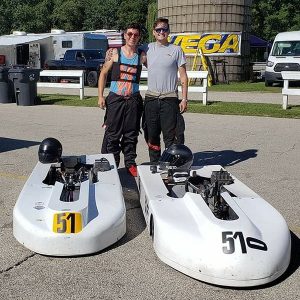 It has been nearly 25 years of karting for Benson. He began sprint racing at the age of eight in 1998. By 2002, he moved into road racing, piloting a full bodywork sprinter with a Yamaha Can. His first road races included Lake Afton in Goddard, Kansas and the KART/CES race at the now World Wide Technology Raceway in St. Louis. It took only four years before he moved to a laydown Yamaha Sportsman kart and progressed to Yamaha Senior about four years ago. Benson has also competed in the KART popular Animal laydown division in the past.
The highlights for the 2021 season were finishing top-10 in the '50 Kart Challenge' at Daytona and competing at three new tracks – Summit Point, Nelson Ledges, and Blackhawk Farms. Racing with his two best friends – Josh Rohlk and Matt Stallcup – has also been very special to Benson. They grew up racing together and he provided them with rides in his extra kart throughout the season.
Benson will use the award money to purchase a new helmet in order to continue racing for the next decade. Rusty stated that is something he thinks Reggie would appreciate. His plans for the 2022 season are not confirmed yet, aside from missing Daytona KartWeek to "relax a little". Rusty is looking forward to seeing everybody this spring to begin his 2022 season.
---
Dusty Dean
Age: 34
Hometown: Harrisonburg, Virginia
Current Kart: CKI laydown / Yamaha – CKI laydown twin / IAME Reedjets (B-Stock)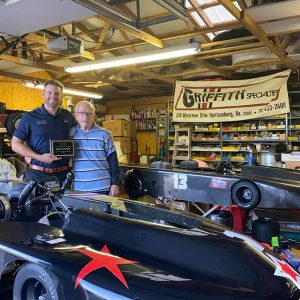 Dusty Dean was one of a few who are born into the sport of karting. Dean comes from a long lineage of karters, going all the way to the WKA Hall of Fame. Ben Ray and Audrey Griffith are the grandparents of Dusty. For decades, Griffith Specialties – located in Virginia – served the karting community as one of the top kart shops in the region. Ben Ray was inducted in 1988 with Audrey in 1997. Their son's Aaron and Dennis Griffith have decades of karting accolades from the 70's, 80's and 90's. Dusty is the son of Zanda Griffith-Dean, who attends every race. Dennis' daughter, Kristina Griffith races, as do both of her girls Madison and Caitlin Ulm.
Dean began driving himself at the age of seven in dirt racing around the house before he began competing regularly at the local track in Harrisonburg at nine. As he grew older, he dedicated more time to ball sports, which did not allow him to get behind the wheel as much. In the end, it helped pave the way to college through football. Dean went to the University of Richmond, playing football from 2004-2008.
His first road race was at Summit Point Motorsports Park in 2005, right before he began college. It was with an Elite vintage kart with a 91 McCullough – as part of a high school mentorship class. The kart is still with the family and looks fairly the same with Dennis behind the wheel.
His highlight of the 2021 season was Ben Ray Griffith returning to the Summit Point facility for the first time in a long time, attending the Woodbridge Kart Club Jack Foster Memorial Vintage Cup race. Add in racing in the Daytona 50-Kart Challenge, getting a new friend into karting with Hal Spurlock, and watching his cousins race their first full year road racing, bringing the family to four generations in the sport.
"Normally, I spend my racing budget before I've even earned it, but I feel a sense of responsibility with the Reggie Fulks Memorial Award. I've spent some time thinking about it, and while it is tempting to go buy a new gadget, I don't think that's what I'm going to do. I might change my mind, but right now, I think the best way to honor Reggie and the people that donated is to continue to race and maintain my kart in a way that is worthy of being "Regitized" and to help others continue to race."
2022 includes trips to Charlotte, Summit Point, Mid-Ohio, and Pittsburgh.
---
Lamar Hilliard
Age: 43
Hometown: Laurel, Maryland
Current Karts: RWC 7 laydown, Emmick laydown, Anderson Honda CR250 Superkart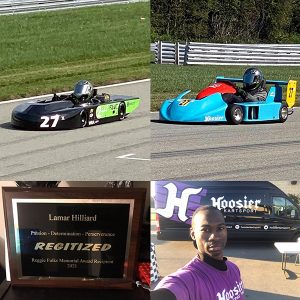 Family is what karting is all about. For Lamar Hilliard, it is a chance for him and his father – Oscar Hilliard Jr. – to enjoy the sport together. Oscar enjoyed attending the local drag strip and built his own motorcycle. It was a co-worker (Marlon Dibble) who raced karts that sparked his interest. Lamar began with concession karts in 1988, and after two years of that, they purchased a Hornet laydown kart in 1990 from Robert Harris, making his first race at Summit Point Motorsports Park. They would go on to purchase more karts, sharing them together to compete in multiple categories.
Following the 1998 season, Lamar had just finished college, got married and took time away from the sport. It ended up being a 17-year span absence from the seat aside from rental karts while on vacation at kart tracks around the country and spectating a few selected events. It was in 2015 at Virginia International Raceway that Lamar would make his return to karting. That same season, he captured his first road race win in Yamaha Sportsman. The following year, he ended up winning the WKA and WKC championships in Yamaha Medium.
In 2020, Lamar was involved in a serious incident during the Dart Kart Club Mid-Ohio event over Father's Day weekend. He had kidney issues due to heat exhaustion and suffered a broken left foot in the accident. Today, Lamar has multiple karts, including a few laydowns and a Superkart. His 2021 highlight was returning to the track after the accident, and racing his own Superkart. His best result of 2021 was fourth in Unlimited at the Pittsburgh event.
Hilliard plans to use the award money for a new helmet and the rest toward the Daytona KartWeek event. His plans for 2022 include getting more seat time in the Superkart, along with staying competitive in the laydown divisions. One thing he will miss is Reggie asking him to sit and talk for a few minutes with him at every race they saw each other.
---
Amanda Holewski
Age: 41
Hometown: Waterford, Michigan
Current Kart: CKI / TS Racing Yamaha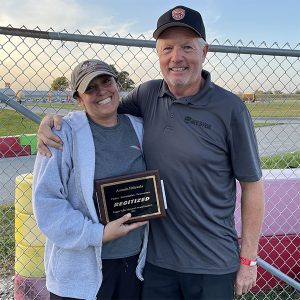 The Holewski family is among the 'lifers' in terms of road racing. Amanda's father George (Randy) was a long-time karter, and brought his daughter into the driver's seat by 1992. She began sprint racing at Palmyra and Flat Rock Speedway in Michigan and traveled to Indiana street races during her early years. Her first enduro experience was in 1993 at Daytona KartWeek. When she first began on the big tracks, she didn't enjoy it and in fact, it scared her. With her family's support, she kept trying and now is a laydown veteran.
The Holewski family will continue in karting for the future with Amanda's son Carson Benjamin serving as the third-generation driver. Carson began racing in 2018 racing Kid Kart, and continues to compete today in the Briggs 206 Sportsman division at Cup Karts North America, Buckeye Karting Challenge and at his home club of East Lansing Kart Track.
Since Carson began karting, much of her focus has turned away from her racing and toward his young career. Thus, her highlight from the 2021 season was overcoming all the challenges with kart prep. The Mid-Ohio event in June was the target, and Amanda was worried the kart would not make it past turn 1 at the start due to all the last-minute thrashing that had to be done. That included tearing down the kart to get welded, rebuilding the clutch and reassembling the kart. She accomplished the goal of getting the kart ready for the weekend, placing 11th after starting in the back of the 30+ field.
"I am thankful my dad had started me in karting. It truly is a family sport and the memories are priceless. I am so lucky to have met so many karters from all over and call them my racing family. I am having a blast sharing this experience with my son Carson and can't wait for the day when we can road race together."
When presented with the award at the CKNA Grand Nationals 5 while wrenching for her son, Holewski stated the money was going toward her racing at Daytona KartWeek in December.
---
Joshua Toth
Age: 13
Hometown: Cleveland, Ohio
Current Kart: Coyote laydown / LAD Yamaha, Margay sprint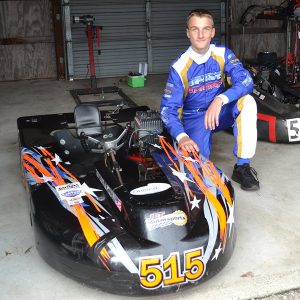 One of the categories that has seen growth over the last couple of years is the laydown enduro Junior division. Many of today's road racing veterans began their karting years looking between their feet in Junior enduro karts. Recently, there was a massive decline in numbers to the category with no influx of new drivers into the class. Today, the WKA enjoyed seeing nearly double digits, including the series finale at the Pittsburgh International Race Complex.
Among those is 13-year-old Josh Toth from Cleveland, Ohio. He began karting at the age of five around sprint tracks. He felt the need to want to try and compete at the big tracks. His first road race was at Grattan Raceway in Grattan, Michigan. That trip changed his mindset, as he fell in love with the road race program and the larger tracks. Toward the end of 2020, he moved to the laydown kart and has enjoyed the transition.
Toth will take much of the money toward Daytona KartWeek, which was not on the schedule until now winning the award. The rest is going toward parts and tools that are needed for the 2022 season includes Daytona, Mid-Ohio, Pittsburgh and Nelson Ledges.