Birel ART: Victories and Title in the WSK Open Cup in Adria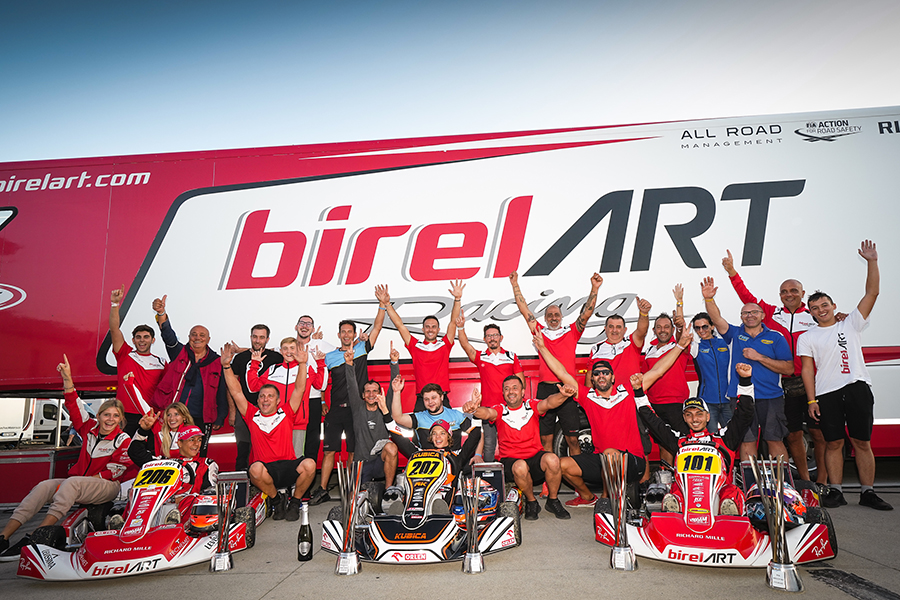 At the conclusion of the WSK Open Cup in Adria from 1st to 3rd October, the Birel ART Racing Team had several reasons to be satisfied. Tymoteusz Kucharczyk's total domination and Cristian Bertuca's top performances in OK were accompanied by Giuseppe Palomba's superb victory in KZ2 which earned him the Championship.
Riccardo Longhi Team Manager Birel ART Racing:
"The team worked very efficiently to be rewarded with major successes in KZ2 and OK. The level of performance was generally excellent and no incidents disrupted our progress. In KZ2 Giuseppe Palomba was more successful than in Lonato. Present in the top three at the beginning of the meeting, he increased the pace in the final stages with success. Winning another title at the end of the season motivates everyone. Tymoteusz Kucharczyk had an exceptional performance in OK. After his pole position in Qualifying, he won everything: three victories in the heats, victory in the Prefinal and in the Final with 100% of the fastest laps, he was unbeatable. The Final was interrupted for a long time by an accident and our thoughts are with the injured drivers and their families. Cristian Bertuca was also very competitive. He regained 12 places from the Qualifying session and finished 2nd in the Final for a fine Birel ART double. These results are particularly important in view of the important competitions to come before the end of the month."
WSK Open Cup Adria – Birel ART Racing
KZ2
Giuseppe Palomba: 3rd in Qualifying, 2nd after the heats, winner of the Prefinal and Final, WSK Open Cup Champion.
Moritz Ebner: 11th fastest time, 6th after the heats, retired in Prefinal and Final
OK
Tymoteusz Kucharczyk: Pole position, three heat wins with fastest laps, winner of Prefinal A (fastest lap), winner of Final (fastest lap), 2nd in WSK Open Cup Championship (+7 places)
Cristian Bertuca: 9th in the heats (+5 places), P3 in Prefinal A, P2 in Final, 4th in WSK Open Cup Championship (+6 places)
OK-Junior
Egor Melentev: 1st OK-J experience in WSK. +5 places in the heats