BRP-Rotax to Crown First Ever E-Kart Champion of the RMCGF in Bahrain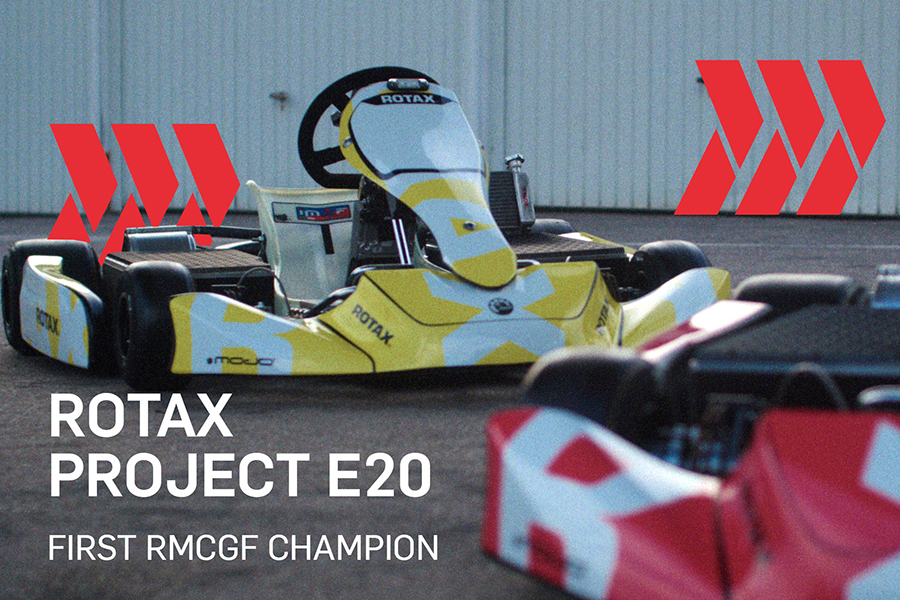 This year's Rotax MAX Challenge Grand Finals will crown the first ever E-Kart champion in the history of this prestigious racing event. 18 drivers from all over the world will have the chance to compete for the E-Kart title at the 21st RMC Grand Finals in Bahrain which will take place from December 11th to 18th, 2021 at the Bahrain International Karting Circuit in Sakhir.
There is still some place on the E-Kart grid for interested drivers who would like to take this unique chance to race against the E-Kart champions of the race events in 2021 and to be crowned with the Grand Finals title in this category.  Experience the thrill of racing in the Rotax Project E20 E-Kart which impressed racing enthusiasts as well as professional racers throughout the year with its unbelievable performance from a faster, lighter and more balanced electric race package than ever before.
There is a limited number of 'Arrive & Drive' packages available, including technical support from the dedicated Rotax E-Kart Team. Using the regulation Sodikart DD2 chassis, the Rotax Project E-20 will join the ranks of the Rotax racing classes at the 2021 edition of the RMC Grand Finals to crown the first ever RMCGF E-Kart champion.
Reserve your place on the grid to compete in the Rotax Project E20, enjoy the sporting spirit and join your national team members who qualified for this memorable event.
The E-Kartwinners 2021 who will compete in the RMC Grand Finals in the new E-Kart category are:
DEKM champion: Oscar Pellemele
Winners of the Project E20 races at the RMC EuroTrophy: Theo Kekati and Hannes Morin
Rotax Danish E-Kart Champion: Malte Ebdrup
Wild card winner of all E20 events: Ellis Spezia
The event regulations and further details are available via your local distributor (https://www.rotax-kart.com/de/Find-a-Dealer) or on our website.
Check out our Social Media channels and find out about the experiences of the drivers who took the e-powered opportunity to test or race the Rotax Project E20 throughout the events in 2021.