Pole Position and Top Five for the Kosmic Kart in Lonato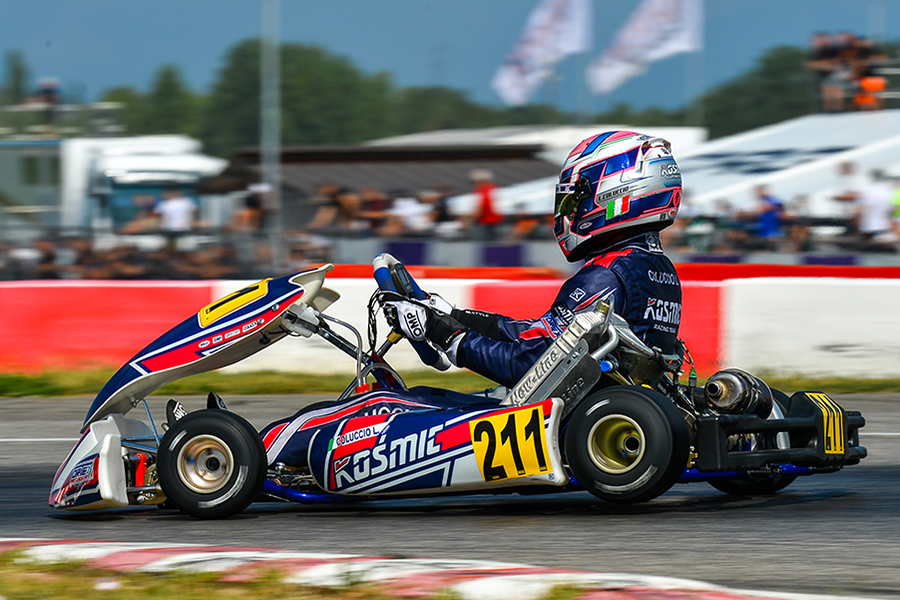 On the occasion of the first round of the WSK Open Cup, at the South Garda Karting, our Racing Department achieves a pole position and a fifth final position in OK with the Kosmic Mercury R driven by Luigi Coluccio. Good performances also in OKJ with Ean Eyckmans.
Green lights for the WSK Open Cup. The Kosmic Racing Department is at the starting grid of the first round of the season at the South Garda Karting in Lonato with our Kosmic Mercury R chassis, European champion in OKJ category, once again confirming to be fast and competitive in the single-gear categories, OK and OK Junior, always powered by the Vortex engines: the DJT for the OKJ and DST for the OK.
In OKJ, Ean Eyckmans has a good chance to run for a position on the podium in Sunday's final. The Belgian driver, third in the European Championship with our Kosmic Mercury R, jumps from the fourth position on the starting grid of Lonato, also thanks to a second place in the B pre-final, and for the whole race he runs in the Top 5. Eyckmans crosses the finishing line in seventh position, the best among the drivers running with Kosmic Kart material. Menyhért Krózser starts at his second presence with our official colours and, despite several recoveries between qualifying heats and the prefinal, he cannot take a position allowing him to proceed towards the final.
In OK, Luigi Coluccio shows to have a very good feeling with the South Garda Karting since the qualifying session, where he signs the pole position with a timing of 45.918. The Italian driver continues his path with a win and two podiums in the Saturday's qualifying heats and gets a second place in his own prefinal. From the second row of the final, Coluccio loses some positions at the start, but during the race he climbs up to the Top 5 and finishes a few seconds from the four ahead of him.
Liu Ruiqi faces his second race with our sports division and, despite a withdrawal in the eliminatory heats, he easily reaches Sunday's final. Good results also on the dry lap, as shown by a Top 15 in qualifying. Difficult weekend for Jakub Rajski, stopped in the prefinal due to a premature retirement; a pity, because the Polish driver has the necessary speed to aspire to the final.
Short break for the Kosmic Racing Department: in two weeks (30th September – 3rd October) the second and last round of the WSK Open Cup will be staged at the Adria Karting Raceway and our team will attend, once again, the OK and OKJ categories.