SimCraft 24 Hours of NOLA: September Update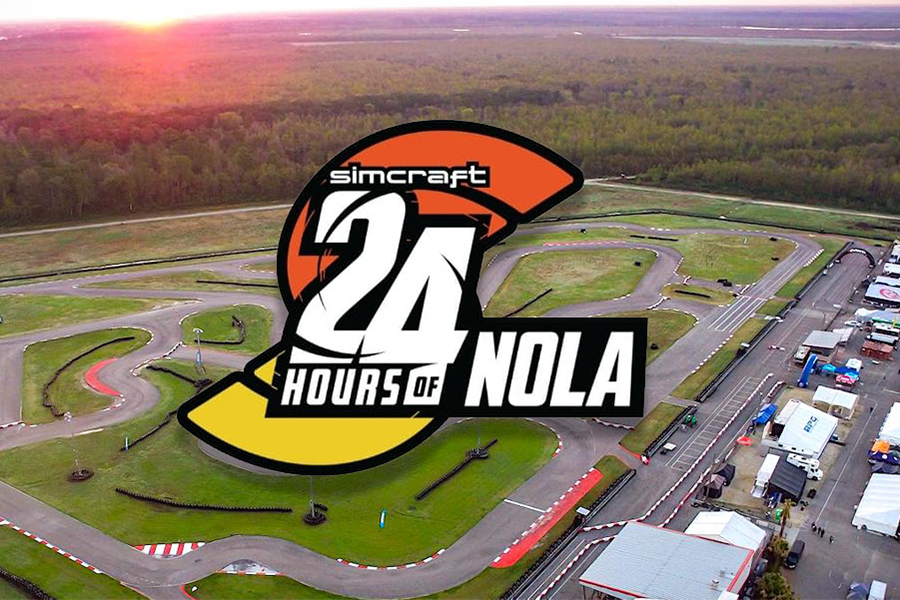 The following is a message regarding the SimCraft 24 Hours of NOLA on December 2-5 at the NOLA Motorsports Park in New Orleans.
Good afternoon teams! Reaching out to give everyone a post Ida update and go over a few items at the same time vs sending multiple emails.
The track is still there, however the staff at NOLA Motorsports Park took a beating. Please give them space as they work to rebound and get their feet back underneath them. I've received many requests asking how we can help as a group for those in Louisiana. Over the last couple of days we've partnered with the Cajun Navy Relief to fundraise for ongoing recovery efforts through the event in December. We will post the donation link on the website and social media once it is ready.
Speaking of the team at NOLA Motorsports Park. They were kind enough to shoot the below video prior to Ida showing the layout we will be using for the race. They have provided us a starting ratio 3:35…if the kart is really free, maybe a 3:30 with a 17-57 being a good starting point.
I hope this helps narrow down the gearing needs for the race, with a mix of high speed corners with tighter hairpins it'll be interesting to see who compromises where around the track.
Hotel Blocks

Candlewood Suits and Suburban Extended Stay have made available room blocks for our racers this December.
Candlewood Suites is $99 per night – Suburban Extended Stay is $79 per night
Pit/Paddock Selection
Teams are given the option of selecting their pit spaces by the timestamp of being fully paid. The map of what is still available is shown below. All teams will have access to a 10×10 area behind their pit box as well to work on the kart and make adjustments. As a reminder, please bring anchors for your tents should you put one up. We are still working on having power hookups available, but with the recent hurricane plan on running off generator power.

Engines & Pipes
It has come to my attention many teams are still looking for new Lo206 engines vs rebuilding. For 2020 out of the 33 entries, only 6 needed engines from us. Going into the 2021 race it was not our plan to source engines. However….
Please fill out the below form if you are indeed looking for a new engine. We cannot guaruntee availability but will do our best to work with our partners to have a couple available at the event. These engines will not be broken in, if we can get any. *Pricing to be determined. *
Pipes are the same RLV Silencer and Briggs and Stratton header combo used in 2019 and 2020. The RLV SKU EXF5954 and the Briggs and Stratton Exhaust SKU BAWF557164
Sunday Breakfast
I had a team in the last week ask about making a run to Cafe du Monde for some beniet in the middle of the night for the USAC Staff. In looking into it, they have a food truck which could bring them to the event for only $8 per serving (2 Beniets and a Cup of Coffee). I've attached the form below to get a head count as they do require a minimum to book.
Final Items
We currently have two entries available for the race. If you have friends who wanted to race but didn't get in when we sold out in January they have an option to do so. With an event of this size, please make payments regularly as we budget off the current entries. From this we will be able to determine what we can donate to the Cajun Navy Relief as an event in December. One of the two spots is a team who is selling their early bird entry ($2,800 vs the late entry of $3,400).
Lastly we will be working on a spotter guide and bios again for this year's race. With 50 potential teams there is many stories to be told and shared among your friends and competitors over the next few months. Please send your bios and pictures of your karts to the my email at TJ@24hrsofNOLA.com and I'll begin adding them to the website.
The SimCraft 24hr of Orlando – Spotter Guide
Thank you again. If you have any questions you may call me directly at 770-851-8175 or email me at tj@24hrsofNOLA.com
If I don't hear from you, I will look forward to seeing you in December and talking with you then!
Regards,
TJ