Prince Carl Philip Test Drives the Rotax Project E20 EKart in Sweden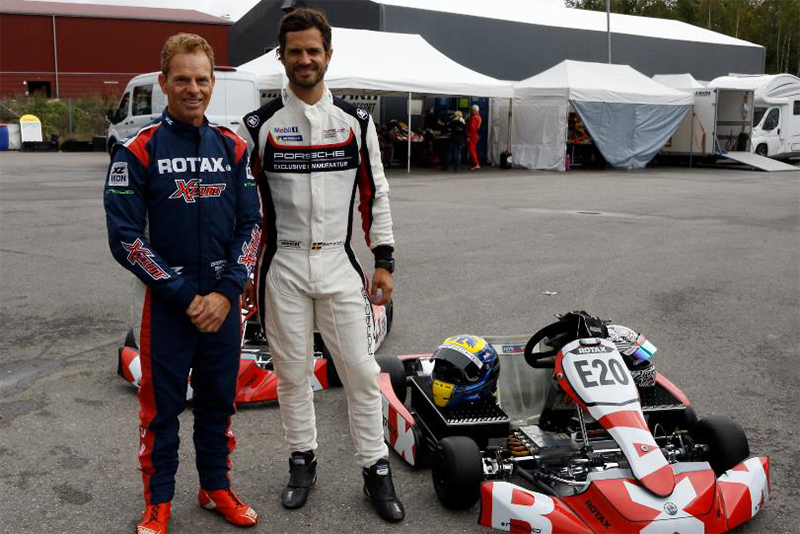 The Rotax Project E20 eKart was demonstrated last weekend at the request of the organisation of Prince Carl Philip's Racing Trophy & combined Rotax MAX Challenge Sweden at GTR Motorpark in Eskilstuna, Sweden.
Prince Carl Philip took the Rotax Project E20 out for a test drive during the lunch break on Friday and was pleasantly surprised, immediately pushing the eKart to the limit on the slightly wet circuit, following the earlier rain showers.
The prince said he was very impressed with the performance and the handling of the Rotax Project E20. He added that he was appreciative of the opportunity to drive the eKart and quite excited to have the Project E20 here at his own annual Swedish karting event.
The event is organised with the support of Porsche Carrera Cup Scandinavia, SBF (Swedish ASN) and the KAK (Royal Automobile Club of Sweden).
Thomas Johansson, Sporting Director at Porsche Carrera Cup Scandinavia and event organiser for Prince Carl Philip's Racing Trophy was also extremely excited to welcome the demonstration from BRP-Rotax in Sweden.
"We have been anticipating the arrival of the Rotax Project E20 eKart here in Sweden and are grateful of this opportunity to introduce this exciting new concept from BRP-Rotax. I'm honestly very impressed by the performance of this unique package and now we are looking forward to including Rotax eKarting in our own program in the near future. It was especially a real honour to have Prince Carl Philip driving the Rotax Project E20 eKart on track here at GTR Motorpark at his personal race event this weekend. It has created a lot of positive interest so we are very pleased to see the response from so many competitors."
The press conference took place last Wednesday, August 25 and was streamed live by Camp Company on YouTube, with an introduction of the Rotax Project E20 by Darrell Smith, BRP-Rotax Test & Development Driver,  and Stefan Radne, BRP-Rotax distributor for Sweden, followed by test drives for licenced competitors eager to put the Rotax eKart through its paces.
Press conference direct link on YouTube – https://youtu.be/c9MtqxPh_Bs