EKN Driver Diary: Caleb Gafrarar – FIA Karting Academy Trophy – Italy
North Carolina driver hits middle event of 2021 international program
Caleb Gafrarar secured a solid 14th place result after an issue in qualifying and a heat race penalty
(Photo: Sportinphoto)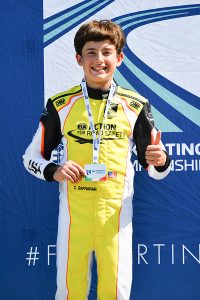 The EKN Driver Diary has returned in 2021 as we once again follow the progress of the United States representative at the FIA Karting Academy Trophy. The program is in its ninth season, welcoming drivers from all over the world to compete in the three-race program alongside the KZ/KZ2 European Championship and World Cup events.
Representing the USA in 2021 is North Carolina driver Caleb Gafrarar. The now 13-year-old is into his rookie Junior season having found success in both the Kid Kart and Cadet levels since he began karting in 2014. Gafrarar has victories and championships in WKA, USPKS, ROK Cup USA and SKUSA competition over the eight-year career. Caleb will represent the USA at the three FIA Academy Trophy events in Germany, Italy and Sweden.
Gafrarar is providing eKartingNews.com with a look into his travels and weekends competing at the FIA Karting Academy Trophy. His first entry of the Driver Diary was from the opening event at Pro Kart Raceland facility in Wackersdorf, Germany. This is the second installment reviewing the second event of the series from the Adria Karting Raceway in Adria, Italy.
---
Sunday, August 8, 2021
Today's the day we depart for Italy for the second round of the FIA Academy Trophy. Leading up to this day, Jack Jeffers spent the past week at my house.  We went to the mountains to kayak and now it's time for my trip to Italy and for him to fly back home to Texas.  We arrive at the airport early because the TSA lines were reported as being really long.  Fortunately, the line wasn't too bad.
We boarded our flight to New York with no problems.  Our connection is to London and that was easy too.  We arrive in London the next morning and then must board the flight to Venice.
Oh, and Jack got home on time too.
Monday, August 9, 2021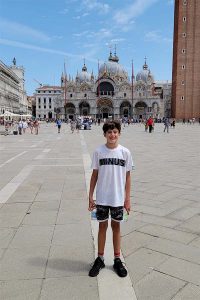 We arrive in Venice at 1:00 p.m. local time.  After getting the rental car, we head over to Venice to sight see.  It was like a scene out of the movie "European Vacation".  We tried 3 times to gain access to Venice, only to learn we needed to park across the water and take a ferry.  Once we finally arrived, we were hungry and headed to a pizzeria for lunch that ended up being our dinner.  We went back to the room for a power nap.  After our nap, we walked over to the Ponte di Rialto.  It was really hot, so we found a spot to buy a slushy to cool us down.  We walked around a bit more and then it was time to go back to bed.  #jetlagged
Tuesday, August 10, 2021
On Tuesday morning, we got up and had breakfast.  We were checking out that day, but we were able to leave our luggage at the hotel.  We did more sightseeing and went to the famous Piazza San Marco.  Another hot day, so we walked and grabbed a pasta lunch.  Then it was time to catch the ferry back to the car, but not before we put a lock on a bridge like you see all over Venice.  It's engraved with the year and has our names on it.  If you're ever in Venice, I'll let you know where to find it.
The ferry ride was a little rough, so thankfully my Dad took Dramamine.  Next stop, Adria and the B&B Corte Burchio.
We had dinner at Brasserie, along with all the mosquitos.
Wednesday, August 11, 2021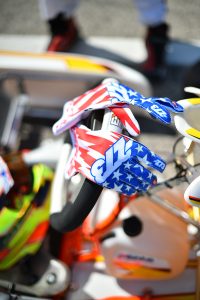 Today, we checked in at the track.  We showed our COVID tests and received our armbands.  We visited with the Lennox Team and found our pit area.  After a few hours, we headed back to our B&B for Dad to work.
I first came to Adria in 2017, running Mini 60 for the first time. It was my first experience with fields of 80+ kids narrowing down to 36 for the final. We have been to Adria every year since then. Last November, we came and ran our last race in Mini where I placed 15th in both finals. This is a very nice track, but not my favorite.
Dinner that night was at Le Magnolie…our FAVORITE restaurant in Adria.  Of course, they asked for our green cards and after some discussion, they let us come on in for dinner.  You have to try the steak with truffles, the pasta pockets with green peas and the tiramisu.  Delicious!!
Thursday, August 12, 2021
Thursday after breakfast at the B&B, we arrived at the track to pick up my kart and components and started assembly with the help of my mechanic, Danny.  It was a calm, easy day.  Since I've raced at this track many times, I didn't do a track walk.  Another day down and we went to a sushi go round restaurant.  If you've never been to a place like this, you need to.  Sushi, rice, chicken, all their menu items are on a conveyor belt that runs the tables of the restaurant.  It's a really cool concept.  I did try a piece of sushi, but didn't like it, so I had a salad, rice and chicken.
Friday, August 13, 2021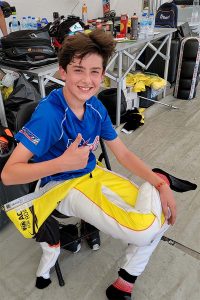 Friday was the first day of practice and qualifying.  It was another really hot day, at over 100 degrees.  Here are my results:
Session 1:  P6
Session 2:  P10
Session 3:  P4
Qualifying:  P15 / P29 overall
To say it was Friday the 13th, that's an understatement.  Not a good qualifying run at all.  After a crazy shuffle on the grid, I ended up by myself and with no one to draft with. Definitely not the way to qualify at Adria.
Adria is a high-speed track, and the little amount of air in qualifying could boost you three to four tenths. As tight as qualify is, this would have made for a better weekend. We learned from the mistake and now I put my focus on the heat races.
Saturday, August 14, 2021
On Saturday, we had a warm-up and two heat races. I was in the A group following the qualifying session and started every heat in P15.  In the first heat, I finished 10th but a 10-second penalty pushed me back to P21. After getting brake checked on the last lap, causing a nose penalty for me, I decided to take matters into my own hands.  Probably not the right thing to do but I knew I was the only one getting penalized otherwise.
The obvious penalty after a session, just like in the USA, is when you come to scales and the nose is down, but then you have penalties that come from the Race Director. They have 'Runners' who deliver the notification to you, make you sign it, then take you to the stewards office. The stewards read the issue and the penalty, and give each person the opportunity to talk. You can protest if you want. I am not sure how much to protest.
In the second heat, I had a great run, finishing P7, only to get a five-second nose penalty and ending up P14.
That night, we went back to Brasserie and had a steak dinner. For some reason the ladies that work there remember my Dad but not me…hmmmmm!
Sunday, August 15, 2021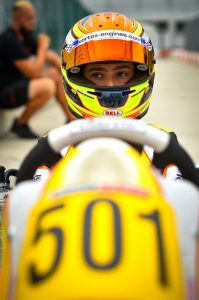 Today's the day!  One more heat and it determines the 36 competitors for the final.  With my unlucky finishes and penalties, I know I have to do well in heat 3.  Fortunately, I had a strong run and drove up to finish fourth.  This result secures my spot in the final, starting 25th.
It was another cool moment with the opening ceremonies where they introduce each driver and their home country and are presented with a medal. Then, it was time to race!
I had a really great start, moving up 10 spots on the first lap.  I moved up each lap, all the way up to P9.  But the last few laps I failed to keep the pack behind me and ended the day in 14th. Still a good run, moving up 11 positions from where I started.
We really didn't make many chassis changes. I just really worked on my braking and got very good as the weekend went on. Sunday, we were really good in the hot 100 degree weather.
Usually, you get a motor to start on Friday, use it all day and qualify with it. Then after qualifying, the do a motor swap. That was not in our favor, and then Saturday, we in particular got left off the motor swap in the two heat races. The Academy technicians and officials do all they can to help if situations happen.
This places me 11th in the championship standings with one race to go. After cleaning and tearing down the kart, we returned everything to the FIA team.  We then headed to Milan to get on an earlier flight home.
Thanks again to my Dad for taking me back to Italy, my Mom for cheering me on from home at really early hours in the morning and my mechanic Danny.  I also can't thank Keith Freber and Mike Burrell of USAC Karting enough for selecting me to represent the USA.  This has been a great experience.
To be continued after the final round in Sweden…