Begin Again: The Traffic Jam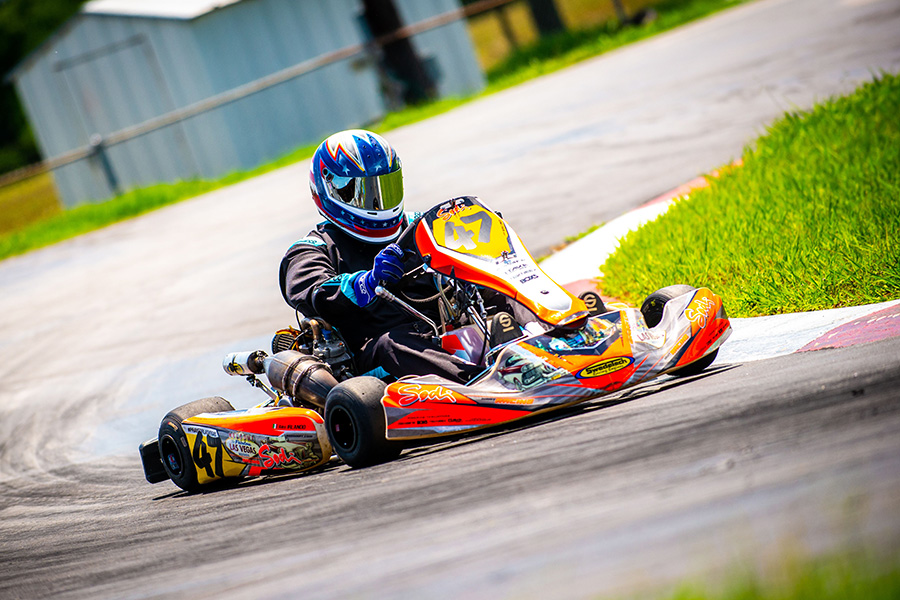 (Photo: Amy Westfall)
The following is a continuing series 'Begin Again' written by R.K. Siler. The series began with Going Back to My Karting Roots in early 2020, followed by Strains, Rains and Pandemics in April. The third column was offered in October 2020 with Support Your Local Kartshop and return in 2021 with Where Did Everybody Go?. The following is his next edition to the series.
---
Pretty much anyone would agree that 2020 had to have been one of the weirdest years on record (a good argument can be made that 1968 "wins" the trophy for weirdest) but I am starting to think that 2021 is giving 2020 a run for its money. Let me explain.
My year started off with me catching COVID-19, closely followed by the rest of my family of four. I had the worst symptoms, and I was very fortunate to have what amounted to a mild-ish sinus infection and low grade fever.  I was sick for about four or five days, and then I began recovering.  Both of my kids tested positive for COVID multiple times but were always asymptomatic, and my wife was somewhere in between the rest of us.  Because I work from home, I never missed a day of work.  So, my immediate family was very fortunate.  Then my mother-in-law got it (she didn't catch it from my family), and thankfully she fully recovered from it after a several months long battle with the illness and its aftermath. Then, my brother-in-law sadly lost his battle with cancer (he was only 59), so, 2021 has been a lot!  And, as you can imagine, the "aftershocks" with each of these episodes have consumed a lot of my time.
All that said, I have managed to get some racing in with my trusty SodiKart Honda, and I wanted to share something very cool that is happening with the Shifter class in North Texas with the readers of EKN.  The results are not fully in, but a small cadre of shifter pilots here in North Texas have decided to take on the task of rebuilding the shifter class back to the participation levels that it enjoyed just five years ago or so.
It started almost by accident, really.  In early May, one of my fellow competitors, Justin Hrbacek, made a post on the North Texas Karters Facebook page asking, "Hey, are there any shifters coming for the race at NTK on May 15?"  Well, a couple of guys responded in the affirmative, and then I replied that I would be there, and then my buddy Jack McLemore kind of gently threw down the gauntlet by sort of challenging the guys sitting on the fence to jump in, and before we knew it, Rod Clinard, Landon Wilkins, Juan David Gomez, and a host of other bad-fast shifter pilots were chiming in to say that they were going to be there…the next thing we knew, we had 15 shifters entered for a club race! We had not seen that many shifters at NTK in several years, and in fact, there have been shifter participation levels on the Pro Tour with barely that many entries.
Shortly before the weekend of the big race, I got a message from Jack McLemore. It kind of went like this:
Jack:  Guess who just entered our race this weekend?
Me:  I give up.  Who?
Jack:  Jordan Musser!
Me:  Great…Let the butt-kicking begin!
Jack:  Naw, Jordan is probably saying, "Man, I'm gonna have to deal with both McLemore and Siler this weekend!"
Me:  I'm pretty sure Jordan is NOT saying that!  It's more like "Who?"
NTK holds their races on Saturdays, starting their events in the early afternoon in the Spring and Fall, and in the evening during the summer under the lights to sort of beat the Texas heat.  While the weather was somewhat questionable that morning, the clouds eventually burned off and we had a beautiful day for an afternoon of racing.
This was only my fourth race since starting my comeback (I use the word "comeback" very loosely), so I must say that the first practice session was very intimidating…there were so many really fast guys on track that were blowing past me like I was stopped every few seconds.  The majority of the guys were driving either KZ, SSE175 or Rok powered karts; in the entire field, there were only five Hondas entered.  A couple of the Hondas driven by Dylan Towne and Juan David Gomez were pretty quick (towards the front of the mid-field) but predictably, the rest of us were congregating towards the back of the pack.  Things were not being helped for me personally as my kart just didn't seem to have any grip, so I decided after the second practice session, having understeered straight off the track twice, to make a pretty big change to my chassis…I took the "go big or go home approach", figuring I had nothing to lose and everything to gain.
So, I added a bunch of caster, going from about 19 degrees of caster to around 22 degrees; my thinking was that since this race was really a glorified practice session for me, I may as well throw a big change at it and see if it works.  After the caster change, I reset the camber and toe to the setting that I had been running prior to the caster change (0 camber and 2mm of toe out per side) and finished the changes just in time to literally push my kart up to the hot pits at a jog for qualifying.  Winded and sweating from the jog up to the hot pits, and my brain still thinking about the thrash I had just undertaken to make those chassis changes, I was stuffing my helmet onto my head while the other guys were rolling out to qualify.  Not the best way to go out for qually!
I felt I had rolled the dice on the change I made, because while I am not yet sensitive enough-and, let's face it, my driving is still too inconsistent as well –  to feel small chassis changes, it felt to me like I was not getting enough lift from the inside rear tire while cornering, which was causing an entry push that was then leading to either driving straight off the track or an eventual switch to significant oversteer on corner exit.  All this was rolling through my head when I snapped my visor down as I rolled out of the hot pits and onto the track.
As soon as the tires warmed up, it was obvious that I had gone in the right direction, and I was able to lap faster than I had ever gone.  With only five minutes to set a time, there was no way I was going to fully adapt to these changes, at least at my current skill level, so I was confident that I had left more time on the table.  Still, setting your personal best lap is never a bad thing, and in the race, even though I was racing at the back, I was actually racing somebody and not just driving around having my own personal practice session, and the result was another personal best lap time, so mission accomplished.  What happened in the race itself?  To no one's surprise, Musser smoked the field, winning by about 7 seconds over Landon Wilkins, who was followed by Kieran Broderick, who did a great job of recovering after stuffing his kart into the tire bundles outside of Turn 2 in Qualifying.
Back to re-growing the shifter class…while we have not had 15 entries since that race in May, we have seen an uptick in entries from roughly 4-5 shifters per race to 6-7 per race, so I am liking the trend.  We are also seeing way more shifters coming out for practice days, especially on Friday evenings after work…that has not translated into more race entries just yet, but I'm confident that is coming.
Our next step is to have an informal "Championship within a championship" for shifter kart pilots living in North Texas…we'll have three races at North Texas Kartways that are just a part of their regular club racing series, and then three races at the Dallas Karting Complex that, again, is just a part of their club racing series.  Hopefully each track will see an uptick in entries and spectators as a result, and for the shifter kart pilots, it is an opportunity to have an easy championship to chase with good competition, some fun publicity to go with it, and definitely some bragging rights.
It's not that hard to do, you just need two or three competitors who are willing to talk it up with the people they know and then create a sense of community and you pretty much have the problem solved.  Our experience has shown that you will see incremental growth for a while, and we are betting that the stronger the class becomes, more people will be drawn to the class and it will come to a tipping point where the number of entries takes a really big jump.  One thing is for sure:  as a driver, I can tell you that it is very cool to exit the pits and drive onto the track and see several hundred people lining the fence to watch your race!  And yes, I know what you're thinking, they are not there to watch me bring up the rear!
So, if you are running in a class with low participation numbers at your local track or series, I challenge you to take matters into your own hands and help grow your own class; you'll have way more fun when you have more people to race, with more competition you'll improve as a driver and a tuner, and you're probably going to wind up making a bunch of new friends who share your passion for karting.  What's not to like?