Seven Double at AKRA Road Race at Nelson Ledges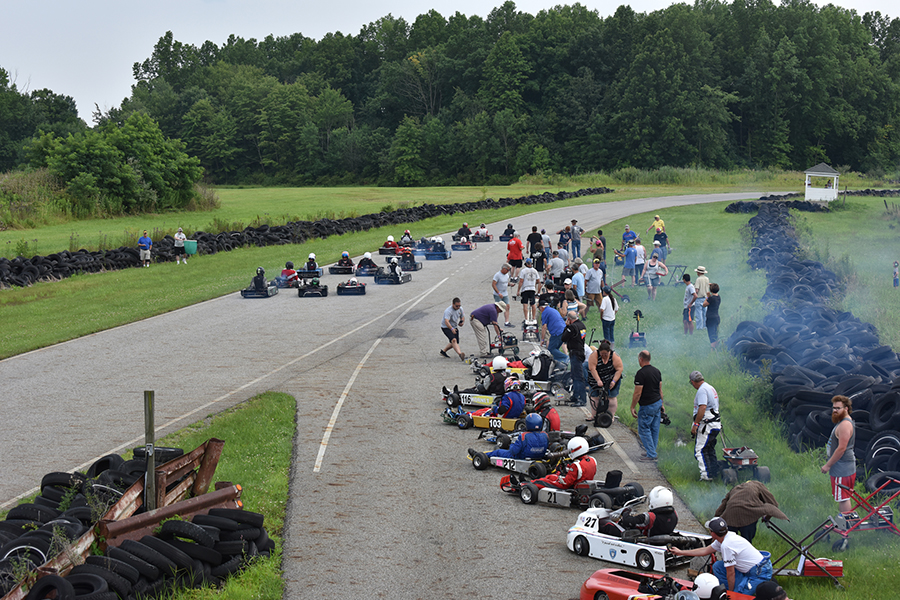 According to American Kart Racing Association President/CEO Bill McCutcheon, there were more pre-race entries for this year's AKRA Sanctioned/Dart Kart Club hosted/ Nelson Ledges Racing Circuit sponsored national then last year's total entry count.  This year 293 turned out for the annual competition.
Since the 2021AKRA /DKC Road Racing Series season began back in June at Mid Ohio, entry counts have steadily risen.  Among those entries seven were double Final winners and many single Final winners for whom their wins had special meaning.
That Saturday morning (July 7/24) racers woke to rain showers passing over Garrettsville, Ohio. The storms subsided later that morning, but AKRA officials were forced to cancel the scheduled practice sessions and reduce Finals to 30 and 25 minutes respectively.
Seventeen-year-old karting veteran Clare Tracy had a decent weekend.  Tracy, who has been competing in karts for 7-years, scored a win and a second place in TaG Sprint Lite Final 1 and 2. Saturday she chassed Rochester, NY racer Noland Ruocco to the stripe.  After 15-laps on the 2-mile track, that is having a celebratory 60th anniversary season, Tracy fell short as they crossed under the checkered flag.
Rod Williams was third across the stripe followed by Arlan
Brady and Dana Kimble for the top five.
Sunday Tracy took Final 2 by storm. This time it was Williams doing the chasing as she slipped under the final flag with a 31.729-seconds advantage over William.  Brady and Ruocco were fourth and fifth.
As he has all season, NASCAR, Indy car and sports car champion Anthony Lazzaro has dominated the Super Karts 250 fields. Saturday Brad Bereisman was second when the checkered flag flew.  Ian Algle was third across the stripe, but he flailed to cross the scales and was disqualified. That moved Paul Gatto to third followed by Jeremy Baldi in fourth and Lamar Hillard fifth.