EKN Driver Diary: Caleb Gafrarar – FIA Karting Academy Trophy – Germany
North Carolina driver represents USA against the world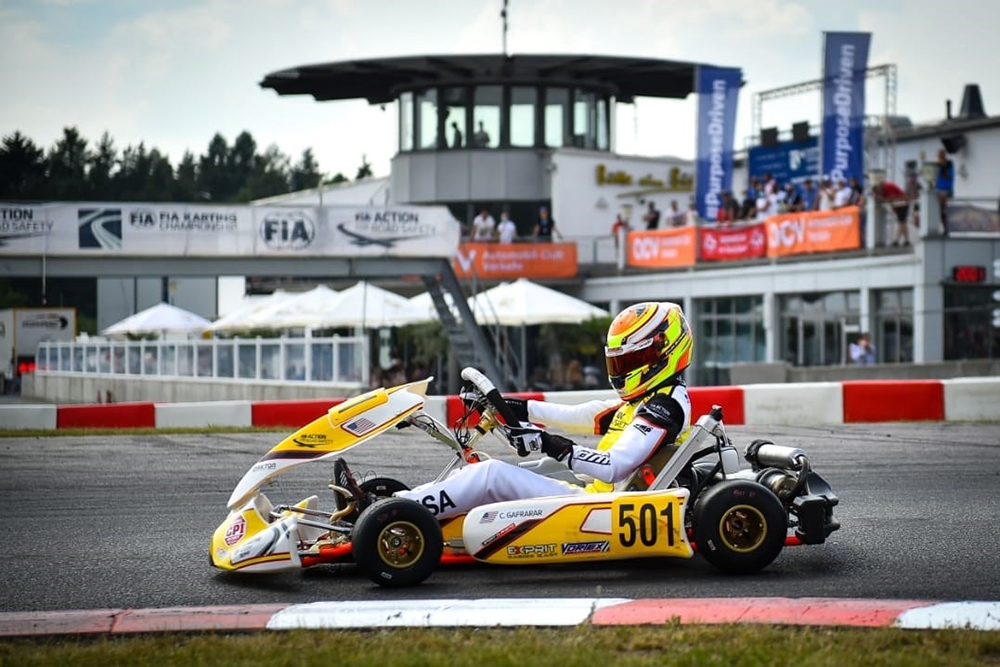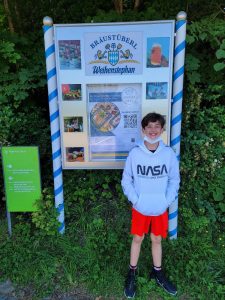 The EKN Driver Diary returns in 2021 for the first time as we once again follow the progress of the United States representative at the FIA Karting Academy Trophy. The program is in its ninth season, welcoming drivers from all over the world to compete in the three-race program alongside the KZ/KZ2 European Championship and World Cup events.
Representing the USA in 2021 is North Carolina driver Caleb Gafrarar. The now 13-year-old is into his rookie Junior season having found success in both the Kid Kart and Cadet levels since he began karting in 2014. Gafrarar has victories and championships in WKA, USPKS, ROK Cup USA and SKUSA competition over the eight-year career. Caleb will represent the USA at the three FIA Academy Trophy events in Germany, Italy and Sweden.
Gafrarar is providing eKartingNews.com with a look into his travels and weekends competing at the FIA Karting Academy Trophy. His first entry of the Driver Diary was from the opening event at Pro Kart Raceland facility in Wackersdorf, Germany.
---
Monday, June 14, 2021: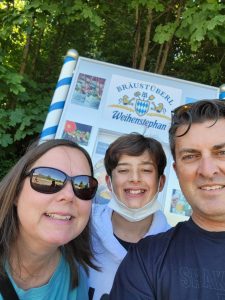 After competing in the WSK Euro Series race at Adria International Raceway in Adria, Italy, my mom and I departed from the Venice, Italy airport for Munich, Germany for the first round of the FIA Karting Academy Trophy.  This race will be held at the ProKart Raceland in Wackersdorf, Germany.
The flight was short, just an hour and my dad picked us up.  His flight to Italy was cancelled so he missed my 13th birthday celebration on June 12.  So instead, he traveled direct to Germany.  He is the entrant license holder for the FIA Karting Academy Trophy races, so he is required to attend.  That's why you also see his name in the entry list and results.
After picking us up at the airport, we went back to his hotel room so he and mom could do a little work and I connected my Xbox to the TV and played COD.  Once we checked out, we headed to a Biergarten.  I had a Fanta, pork, potatoes and a pretzel while my parents had pretzels and beer.  They said the beer was good!
We then set off for our 1.5 hour drive to Schwansdorf.  This town is about 10 minutes from Wackersdorf and where we stayed for the week.  It was an apartment, with NO AIR CONDITIONER!  But no other places around had air conditioning either, not even the hotel where the Lennox Team stayed.  So off to the ReWe grocery store to buy a couple of fans since Lidl didn't have any.  If you're ever in Germany, go to a ReWe, it's a big store.
For dinner, we settled on a Greek restaurant that was a block from our apartment.  It was good, and something new.  I had never eaten Greek food before.
Tuesday, June 15, 2021:
On Tuesday morning, I slept in as there wasn't any track activity.  We went to the track that day just to check it out and see the facility.  There wasn't a lot going on yet, since the racing action doesn't start until Thursday.
This was also clothes washing day.  If you ever travel to Europe and need a laundromat, ask my mom or me, we can probably tell you!  Funny thing, the place we found, it was either a laundromat with a bar or a bar with a laundromat.  Whichever it was, we got our laundry done and my parents had a beer.
More COD and a relaxing evening to rest up for the week of racing.
Wednesday, June 16, 2021: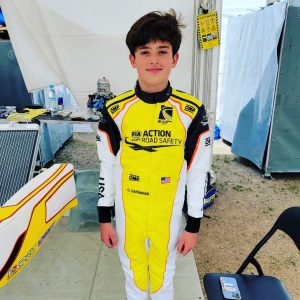 Today was check in day at the track.  If you didn't have a COVID test, weren't vaccinated or hadn't previously been diagnosed and then recovered, they offered COVID testing at the track.  While the line was long, we were done quickly and received our armbands.
I have a new mechanic for the 3 races in the Academy and met him first thing that morning.  Danny Drew is from the UK, was a previous mechanic for the Lennox Racing Team and now is the mechanic for Kart Republic and Alex Powell.  Fortunately, he is available to work with me for these 3 races.  We hit it off quickly and got going with the day's tasks…deposits paid, chassis pick up and kart assembly.  Thanks to Connor Zilisch for winning for the USA in 2020, I am assigned the first number, 501.  That means I am first to pick up the chassis and can get started quicker than the rest.  Thanks Connor!!
It was also new suit delivery day!  My mom did measurements for this suit back in February when we were in Italy…she used a metal, metric tape measure too.  Between that tape measure and my growth spurt, for the suit to fit me, it was a miracle!  It should make it through all 3 races!
We returned from the track around 5 p.m. and because it's close and the food is good, we went back to the Greek restaurant for dinner.  The sunset is late in Germany, so it's daylight until almost 10 p.m.  It definitely throws off bedtime.
Thursday, June 17, 2021: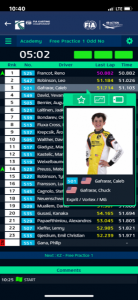 Thursday kicked off the first round of practice sessions.  We arrived at the track and Danny had my kart ready to go.  It was also photo shoot day, where every driver had their photo taken.  It was pretty cool when you click on a driver name in the timing app, the photo pops up.
We got three 20-minute practice sessions.  No transponder for session one, but was P9 in session two and P4 in session three.
Our plan was getting track time and tuning the carb setting on the motor. The chassis was also something I had to get used to, but found it very easy. So putting in laps and reviewing video with Danny and Jordon was important. You can only run a camera on this practice day. They have to be removed Friday morning. Also, you cannot look at 'Data'. OTK engineers look at it to make sure all the motors are performing correctly. So, tuner and driver have to communicate.
While my dad and Danny had an Aperol Spritz, I cleaned my kart.  Thankfully my mom picked a great spot for dinner and I enjoyed a delicious steak!
Another hot day and night…so thankful for the fans we bought.
Friday, June 18, 2021:
Friday brought three more practice sessions and qualifying.  Here are my results:
Session 1: P5
Session 2: P7
Session 3: P7
Qualifying: P5 in group / P9 overall
Changes to the kart were minimal. We made slight caster/camber changes. For Friday dinner, we got take out – pizza and pasta.
Saturday, June 20, 2021:
On Saturday, we had a warm up and 2 heat races.  I was in the A group and started every heat in P5.  In the first heat versus group D, I finished P4.  In the second heat versus group C, I finished P4.  With those 2 finishes, that had me in P5 going into Sunday.
Chassis set up was pretty set, just tire pressure and motor tuning. Motor tuning would be done during morning practice, tweaking the adjustment screw a little to see on track gain or loss. With the FIA Karting Academy Trophy, you get a motor issued to you on opening day, and used this through qualifying and Heat Race 1, then the 'motor swap' started.
We again had a steak dinner from the same restaurant, Gasthof Baier.  If you're ever in Schwansdorf, Germany, check it out.
Sunday, June 21, 2021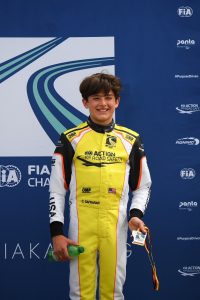 Today's the day!  One more heat and it determines the 34 competitors for the final.  This final heat was against group B.  I finished P6 in this one, and that put me in P5 to start the final.
Motors got swapped again after the last heat race. We didn't particularly like our engine that we were having to run for the final, but you have to run with what you are dealt.
The opening ceremonies were pretty cool.  The mechanics pushed the karts to the grid, then all of us drivers walked down the track with umbrellas and were introduced.  We were also given a medal for being a participant in the final.
Here's how the final went down…I had a great start and was running P3.  I was able to hold on for several laps, but the motor wouldn't get off the corner.  Remember, the motors are by lottery and then traded out top-5 for bottom 5.  Unfortunately, this last motor wasn't the best one.  After doing my best at battling, I finished the 21-lap final in P7, but was bumped up to P6 due someone else's penalty. I am now P5 in the championship standings with two more races to go.
After cleaning and tearing down the kart, we returned everything to the FIA team and headed back toward Munich for the night as my mom and I fly back to Italy for the next WSK Euro Series race in Sarno and my dad flies back home on Monday.
Thanks for following along on my journey! I'd like to thank USAC Karting – Keith Freber and Mike Burrell for selecting me to represent the USA at the 2021 FIA Karting Academy Trophy program. You can catch more information on my social channels at Caleb G Racer.
To be continued after round 2 in Adria…