Spartan Mid-Atlantic Kart Series Set for Three-Weekend Fall Schedule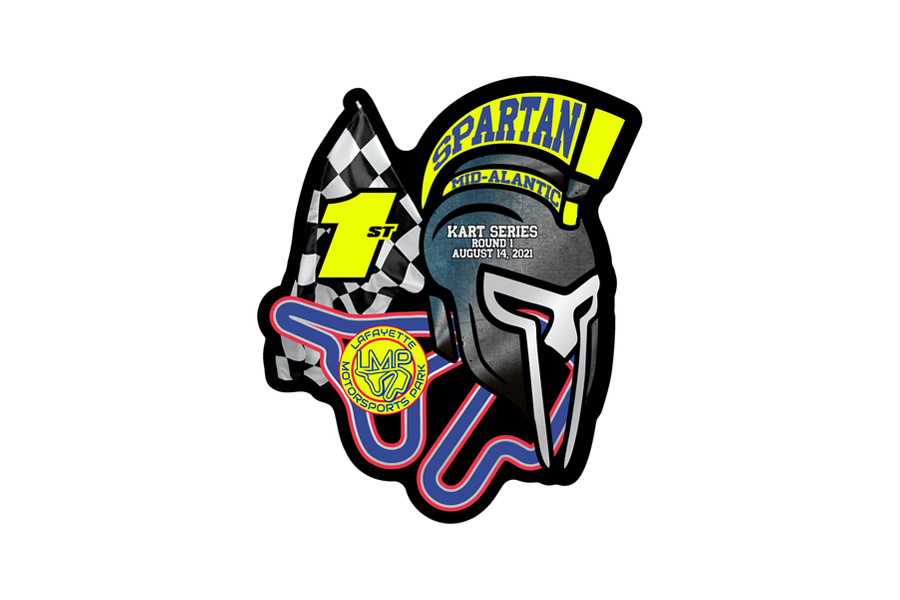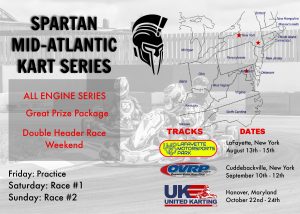 The Spartan Mid-Atlantic Kart Series is a collaborative effort between three of the Northeast regions premier karting facilities to provide an exciting late season racing series with common rules, a multi-engine platform, common MG tires and an abundance of racing with as little travel as possible.
Each race weekend is a double-header format, providing two full race days per weekend each day offering practice, qualifying, Prefinal and Final followed by podiums. All three facilities will also provide a full Friday practice day.
Trophies will be awarded at the end of each individual round, offering two chances to win trophies each race weekend. Championship winner trophies will also be awarded for the top three series finishers in each class at the end of the final Round #6 at United Karting.
Prize packages are still coming in from various suppliers and vendors to each track including full sets of MG tires for each class champion.  Stay tuned for a full list of prizes as it's developed…but it'll be big…even a ticket to the 2022 IAME USA Grand National Championship for the KA100 Senior class. Series representatives stated that seeing as this is a multi-engine format series, they have gone out to represented engine builders to support the series with prize packages.
Classes cover all the way from Kid Kart through Masters.  Being a multi-engine format, all kart motors will be run in their respective classes based on proven weights and other specs. to keep things even and competitive between motor types. A full list of classes and structure can be found on the LaFayette Motorsports Park website.
2021 Spartan Mid-Atlantic Kart Series
August 13-15: Round #1 & Round #2 – LaFayette Motorsports Park – LaFayette, NY
September 11-13: Round #3 & Round #4 – Oakland Valley Raceway Park – Cuddebackville, NY
October 22-24: Round #5 & Round #6 – United Karting – Hanover, MD
For additional information, contact:
LaFayette Motorsports Park: 4930 US Route 20 LaFayette, NY 13084 – (315) 960-2723 – tony@lafayettemp.com
Oakland Valley Race Park: 305 Oakland Valley Road Cuddebackville, NY 12729 – (845) 754-8500 – Lauren@ovrp.net
United Karting: 7206 Ridge Rd Hanover, MD 21076 – (833) 4GOKART – daniel@unitedkarting.com