Kosmic Kart Is European Champion in Zuera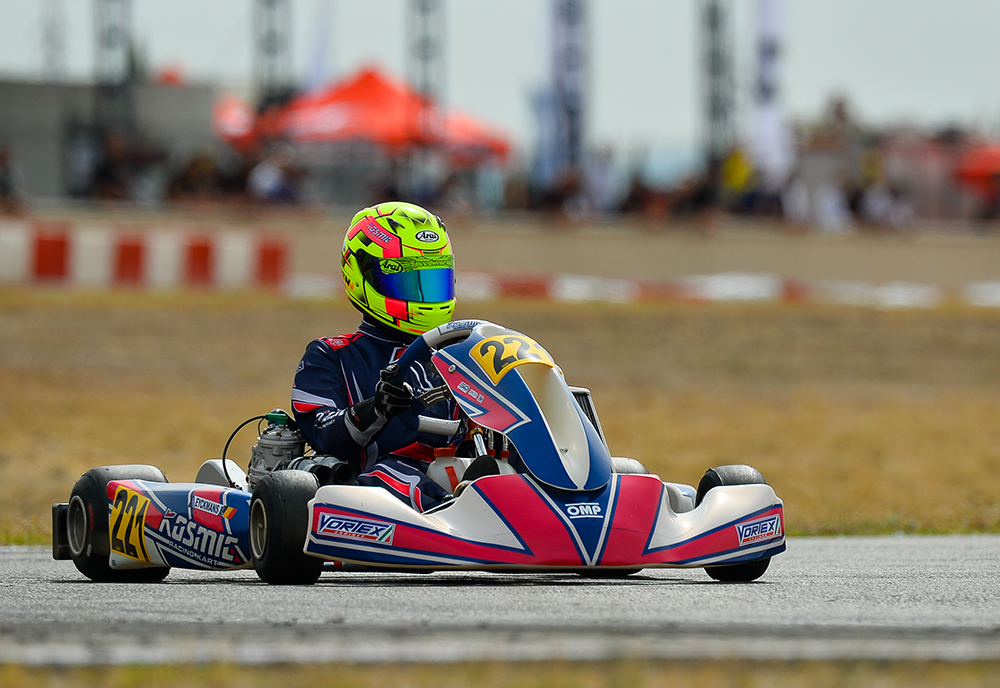 Our Kosmic Mercury R chassis wins the title of the FIA Karting European Championship in the OKJ class, now at its fourth and final round in Spain, with Freddie Slater. Our Ean Eyckmans completes the double win in second place.
Fabulous triumph for Kosmic Kart on the occasion of the last round of Zuera, in Spain, of the FIA Karting European Championship 2021. Our Kosmic Mercury R chassis becomes the European champion in the OKJ class and, as a confirmation of the performances it is able to offer, it also signs a double win in the final, with an official driver of our Kosmic Racing Department in second position. All this, of course, also thanks to Vortex engines.
In OKJ, Ean Eyckmans starts the Spanish weekend quietly, but grows more and more during the qualifying heats, so much so that he collects two second places and a fast lap in the last two heats. From the sixth position on the starting grid of the final, the Belgian driver makes his way through his rivals and reaches the first position at half race. Eyckmans is the leader of a thrilling last lap, where he fights with Freddie Slater until the finishing line. The Ricky Flynn Motorsport's driver, at the wheel of our Kosmic Mercury R chassis, not only wins the final, but also the title of the "Junior" class, while our Eyckmans is third in the championship. Difficult and full of obstacles is the path taken by the other drivers of our Racing Department. Joël Bergström shows a good improvement, but this is not enough to get a pass for the final on Sunday. Arthur Poulain, Menyhért Krózser and Hugo Herrouin do not improve their ranking situation, on a track which is however insidious for those who face it for the first time like our drivers.
In OK class, Luigi Coluccio is ready to get a place among the best top ten drivers of the category, but a collision at the starting grid caused by another driver and the consequent off-track, irreparably damaging the Kosmic Mercury R chassis of the Italian driver. So, Sebastian Gravlund inherits the leader of our racing team and recovers 8 positions compared to the starting grid, also improving the position obtained in the qualifying heat. Jakub Rajski collects two heavy stops during the qualifying heats that prevent him from going on in the final, while Ruiqi Liu makes his debut with our colours and shows a lot of potential in view of future appointments.
The Kosmic Racing Department can now enjoy the deserved summer break with the aim of going back on track on September 15th-19th when it will be engaged in the first out of the two rounds of the WSK Open Cup at South Garda Karting track.