MRFKC 2021 at Canadian Mini Indy – Sunday Recap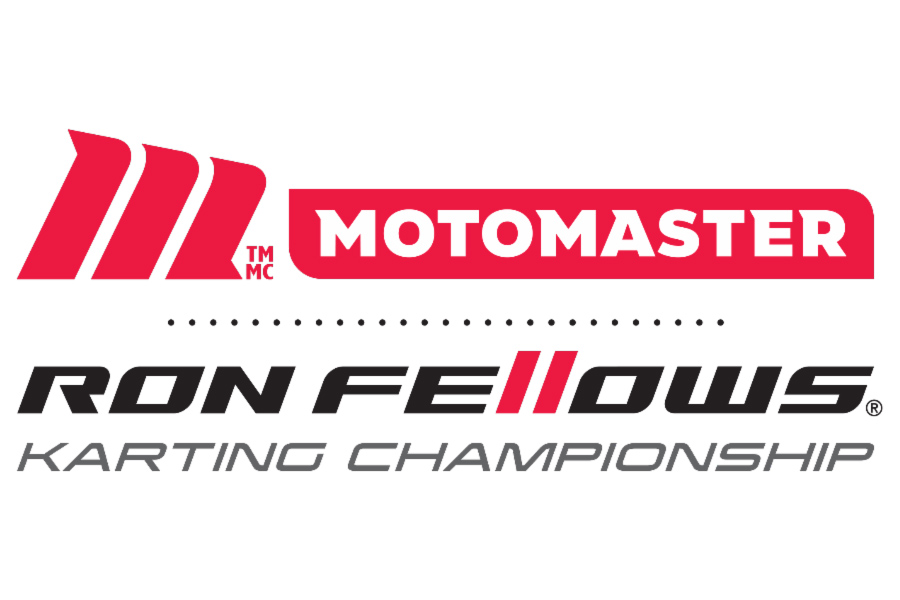 The second day of Motomaster Ron Fellows Karting Championship (MRFKC) competition at Canadian Mini Indy in Hamilton, ON went green today in hot and humid conditions. Approximately 125 karts were registered in the two-day national event as of Saturday morning. A total of nine classes competed throughout the weekend.
Woods-Toth Sweeps Weekend for Prime
Prime Powerteam's Patrick Woods-Toth was unstoppable on the team's home turf this weekend in the ROK Senior class, with the driver sweeping both races and dominating Sunday with the top honours in every session. The 30l-lap Sunday final was an exciting one, but uneventful for Woods-Toth who got out to an early lead and went unchallenged while a huge battle raged behind him. Second to fifth place drivers Robert Soroka, Daniel Fellows, Marco Filice, and Ryan MacDermid all swapped positions throughout the exciting race.
At the checkered flag it was Woods-Toth followed by Soroka and Daniel Fellows, American-born nephew of series namesake Ron, who earned his first ever podium in MRFKC competition.
"We're really happy to win the first two races of the year, it's really important it gives us a lot of confidence and of course an advantage in the championship," said Woods-Toth.
Looking ahead to Mosport Karting Centre Woods-Toth said, "we have speed at Mosport and I have confidence in myself and the team so we'll try again for more good results and see what happens."
With two wins in two races to start the season, Woods-Toth is carrying the momentum again on his campaign to defend the class title in 2021. For his dominant performance on Sunday, Patrick Woods-Toth was awarded the $350.00 Pfaff High Performer Award for Senior drivers.
Prior Doubles Up in Briggs Senior
Sweeping a weekend is never easy, and even more so in the always chaotic Briggs & Stratton Senior class. Jordan Prior had to work at it both days to get the win. On Sunday it was a start to finish battle with Logan Ploder, the two swapped the lead multiple times but it was Prior who got to the checkers first.
"It was really tough we had a pretty good kart all weekend but we had to work real hard to get things going and there was some hard racing in the class, but good respect all around from the drivers and it was a great weekend," said Prior.
The Prime Powerteam driver will now have the championship lead heading towards Event 2 at Mosport Karting Centre.
"I just take every race as it comes and I don't like to think about points too much," joked Prior. "We're going to have some fun at Mosport and see if we can repeat our success here."
"I'd like to thank Prime Powerteam, Trevor Wickens, Rev Motorsports, my parents and everyone that supports me."
Other Storylines on the Day
Prime Powerteam racked up multiple wins on the day and also walked away with both Pfaff High Performer Awards. Much like Woods-Toth, ROK Junior driver Frankie Esposito was dominant on Sunday. Esposito took the pole, won the pre-final, and found the top step in the final as well. Saturday ROK Junior winner Logan Pacza was involved in an incident on Sunday and did not finish.
The $500.00 for the Champion Fine Tuned Award was given to Racing Edge Motorsports driver Callum Baxter who won the class on Saturday but was forced to start last on Sunday due to a penalty. Baxter and team bounced back with fantastic preparation and a great drive that saw the driver carve his way through the field and take the win on the final corner of the last lap. There were a lot of excited people wearing purple on pit lane after that one.
Joey Lecce was the winner of the $300.00 Motul Smooth Move award after battling all race with podium finishers Brandon Large and Ethan Sikma in the Briggs & Stratton Junior Lite class. Joey made decisive moves to regain the lead and eventually take the win on the day.
Finally, the Chevrolet Team Spirit Award – a $500.00 cheque as well – is awarded at each race to a driver and team that show exemplary sportsmanship, presentation, and performance. But also important is showing dedication and commitment to racing, and that was exemplified by the TRT racing team which travelled from Quebec to compete in multiple classes this weekend in Hamilton. Alexis Baillargeon and teammate Edward Kennedy were both successful on the weekend, but it was Baillargeon who was given the award after finishing second in ROK Mini and winning the Briggs & Stratton Cadet class.
The MRFKC now looks ahead towards Event 2 at Mosport Karting Centre on August 7th and 8th for Races 3 and 4 of the season championship. See you then!
The complete list of Sunday Race 2 podium finishers is as follows:
Briggs & Stratton Cadet
Alexis Baillargeon
Jackson Morley
Edward Kennedy
ROK Mini
Jensen Burnett
Alexis Baillargeon
Major Makovskis
Briggs & Stratton Junior Lite
Joey Lecce
Brandon Large
Ethan Sikma
Briggs & Stratton Junior
Callum Baxter
Jordan West
Joseph Launi
ROK Junior
Frankie Esposito
Marcello Paniccia
Yuchen Ye
ROK Senior
Patrick Woods-Toth
Robert Soroka
Daniel Fellows
Briggs & Stratton Senior
Jordan Prior
Logan Ploder
Adam Ali
Briggs & Stratton Masters
Rich Folino
Eli Yanko
Andres Lopez
Open Shifter
Lucio Masini
Gianluca Savaglio
Josh Conquer