Evagoras Papasavvas Completes USPKS Weekend with Trinity Karting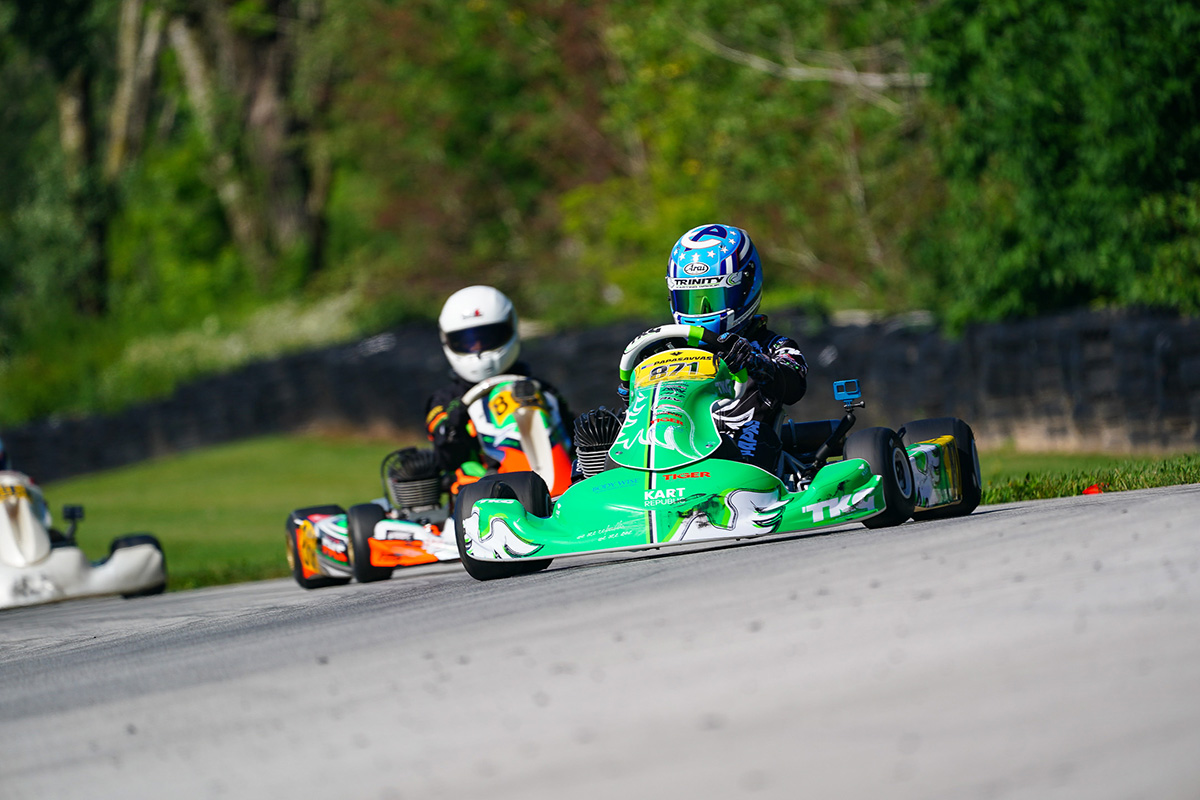 Evagoras Papasavvas had a trying weekend in his first visit
to the CTech Manufacturing Motorplex at Road America
(Photo: Studio 52)
In a season that is seeing the young Evagoras Papasavvas compete in the highest level of karting while training in junior open wheel, the young Ohio native rejoined Trinity Karting this past weekend for rounds five and six of the United States Pro Kart Series. Switching to the Kart Republic chassis brand and visiting the CTech Manufacturing Motorplex on the grounds of the famed Road America for the first time, Evagoras was aiming to add to his results and experience gained in the 2021 season.
After completing two test days on Thursday and Friday, the first race day of the weekend would take place on Saturday, but not until Evagoras qualified his #871 Trinity Karting machine. Competing in the KA100 Junior class, that featured one of the largest grids of the weekend with forty-eight drivers, Papasavvas qualified in the 13th position. Moving forward in the prefinal with a ninth-place result after post-race penalties, the goal was to maintain or improve in the day's main event.
"We just did not have the speed to get up front. I was shuffled out of line and could not get back in dropping a few positions," explained Papasavvas. "Definitely a good learning experience and we have another chance tomorrow to improve on today."
Back to the track on Sunday for the second event day and sixth race in the series, Papasavvas had a trying day as engine issues were the story of the day that resulted in the youngster competing further down the running order. Dealing with lack of speed, two on track incidents in both the prefinal and main events sealed a challenging weekend for the young driver.
Evagoras added, "Tough weekend overall. I am so thankful to my team and my mechanic for working tirelessly to support me. We will bounce back! Next weekend we will be back at our local track in Cincinnati for our next club event. The goal is to sort out all of our engine issues this week and see if we can add another win at MCC Pro Am Karting Championship."
Back to their home state of Ohio, Evagoras will compete at the Motorsports Club of Cincinnati event. With multiple wins to his credit already this season, the Trinity Karting Group driver will aim to add another trophy and win to his racing resume.
Evagoras Papasavvas would like to thank Trinity Karting Group, Tiger Natural Gas, Body Wise International and Jay Howard Driver Development for their continued support in the 2021 race season.
For more information on Evagoras Papasavvas please contact Nektarios Papasavvas via email to evagoras71p@gmail.com or visit him online at www.EvagorasRacing.com. Be sure to follow Evagoras Papasavvas on Facebook, Twitter, and Instagram for news, results, information, and photos from the event. Find us by searching "Evagoras Papasavvas".