Kosmic Kart Once Again on the European Podium in Sarno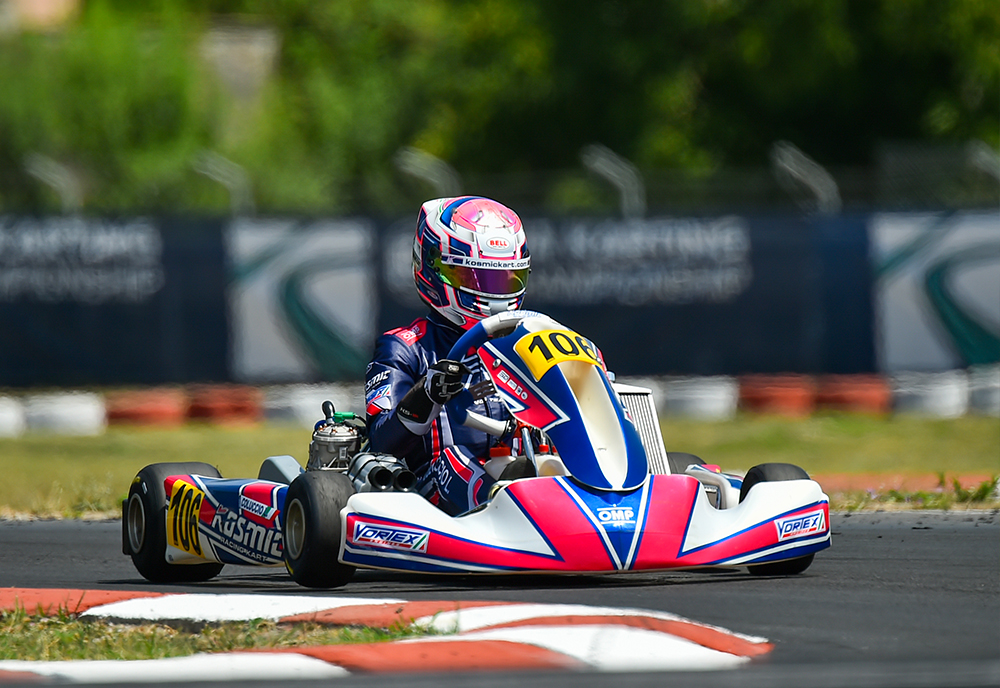 At the Naples International Circuit, seat of the third round of the FIA Karting European Championship, our Mercury R chassis achieves a second place in OKJ class thus staying at the top positions of the championship.
The Kosmic Racing Department also files the third round of the FIA Karting European Championship. Our sports division, on the Naples International Circuit, runs the finals with the chance to get important placings thanks to the Kosmic Mercury R chassis powered by the DST (OK) and DJT (OKJ) Vortex engines, the "engine division" of OTK Kart Group.
In OK class, Luigi Coluccio arrives at the Sarno track after the positive weekend lived a fortnight ago in the WSK Euro Series, when he entered the Top 10 and collected the fifth final place in the championship. The Italian driver does not shine in the qualifying, but constantly gains positions during the qualifying heats, even signing a fast lap. Only an unlucky stop in the first heat prevents Coluccio's comeback, who gets, however, the pass for the final of Sunday afternoon.
On the Italian circuit, the path of Sebastian Gravlund and Jakub Rajski is complicated. The Danish driver Gravlund also gets a seventh place as best result in the qualifying heat, but a stop in the first heat prevents him from entering the final by just one position, not even reached by the Polish driver Rajski.
In OKJ class, Ean Eyckmans is in a good position in the championship standings after the podium he got in Genk and his good performance in Essay. The Belgian driver records an excellent performance during the qualifying heats and collects, among others, two Top 5s. Eyckmans, at the starting grid of the final, has many chances of achieving a good result, but a difficult start and the following penalty for the incorrect position of the front fairing prevents him from achieving his goal. Nevertheless, Eyckmans still remains among the top five drivers in the European ranking.
Arthur Poulain narrowly misses the qualifying for Sunday's final, despite a good recovery in the eliminatory heats. On the other hand, a stop and a penalty in the first two Saturday races slow down Joël Bergström's path.
Kosmic Kart is close to obtain a second victory in the FIA Karting European Championship of this season. Freddie Slater, bearer of Ricky Flynn Motorsport, closes the final in the second position by 2 thousandths, after an incredible comeback, and strengthens his leadership in the Championship, waiting for the last round in Zuera.
Spain is the next appointment of the Kosmic Racing Department. Before facing the fourth and last round of the European Championship, our team is running the second appointment of the Champions of the Future from August 15th to 18th, on the Zuera International Circuit.