Top Five in the WSK Euro Series for Kosmic Kart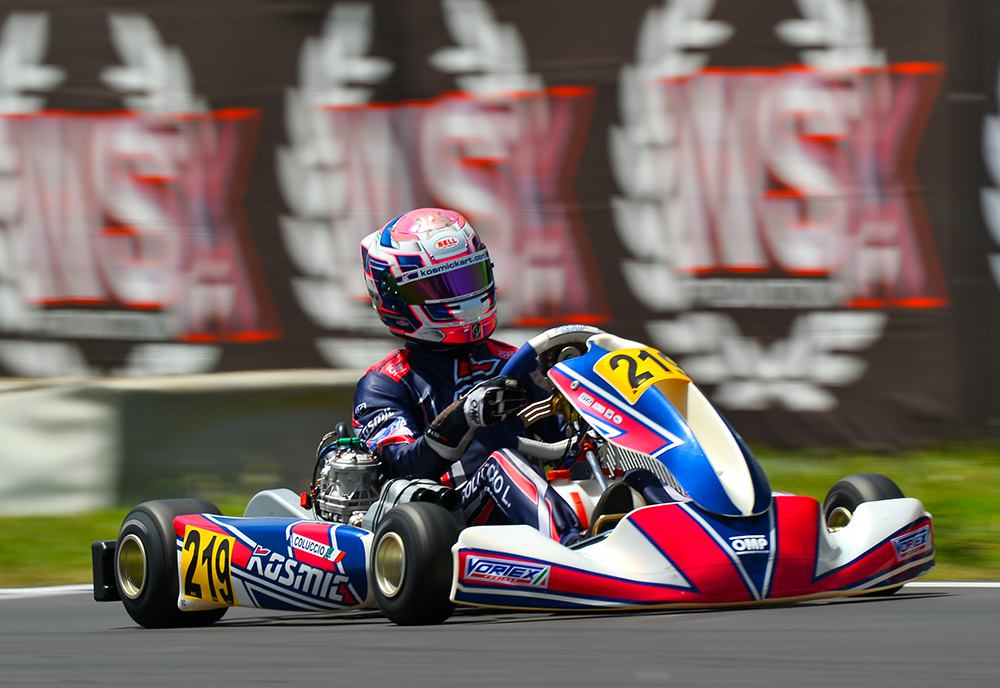 In the last round of the championship on the Naples International Circuit, our Luigi Coluccio grabs the fifth place in the overall OK class ranking after a good performance in the final.
Also the adventure in the WSK Euro Series ends for our Kosmic Racing Department in this 2021 season. On the Naples International Circuit, third and final round of the championship, our sports division is fast and reliable with the Kosmic Mercury R chassis, equipped as usual with DST (OK) and DJT (OKJ) Vortex engines.
In OK class, Luigi Coluccio is one of the best interpreters of the Sarno track since the qualifying heat thus obtaining a third and two fourth places, always climbing several positions compared to the starting grid one. The Italian driver enters the Top 5 at the end of the eliminatory heats and, with a third place in the pre-final, heads towards the final as one of the favourites for victory. The last race of the weekend is full of fights and twists: Coluccio loses some positions during the early stages, but then recovers and makes his the eighth place, which result gives him, despite he missed the second round, the fifth place in the championship.
Jakub Rajski and Sebastian Gravlund have a difficult path during the weekend: the Polish driver improves his position in the standings at the end of the eliminatory heats, while the Danish driver slows down due to a stop. Unfortunately, both of them leave the pre-final prematurely, but all their attentions are already turned to the next seasonal commitments.
After two excellent European races at Genk and Aunay-les-Bois, Ean Eyckmans is once again among our fastest drivers in the OKJ class. The Belgian driver enters the final with ease and climbs 5 positions over the 13 scheduled laps, until he reaches the Top 15. A different matter for Arthur Poulain: the French driver unfortunately retires in the qualifying heats and, despite some overtaking in the pre-final, he cannot reach a useful position to qualify for the final. Life is not easy also for our newcomer Krozser Menyhert: growing results during the eliminatory heats are not enough for the Hungarian driver to go on to the pre-final, but the experience gained is precious for the next appointments.
The Kosmic Racing Department remains at the Naples International Circuit: in two weeks, from July 8th to 11th, the third round of the FIA Karting European Championship for OK and OKJ classes will be staged.