New Era for Karting Australia Tyres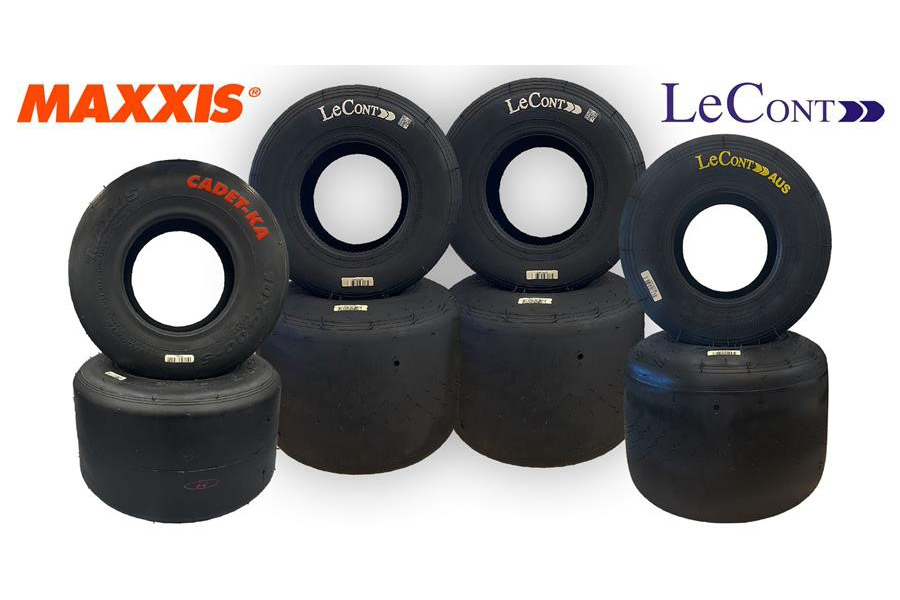 The Karting Australia Board has selected the LeCont and Maxxis tyre brands as the successful tenderers to supply tyres for the Karting Australia sanctioned karting for the period 1st January 2022 – 31st December 2026.
The selection of both companies follows a lengthy and very rigorous tender process that, because of COVID, has run for an additional 12 months. Tenders were received in December 2019.
A total of 20 different tyres from five different manufacturers were put forward in the tender. All tyres met the minimum performance, durability and value for money requirements for their competition groups established in the invitation to tender – some better than others.
Collectively, the Board, management and test team have looked at these tyres, hundreds of pages of specifications, manufacturer supplied supporting data, including their own testing results, from every angle. Prior to making its decision, the Board took extensive presentations and supplementary submissions from the tyre manufacturers Australian representatives.
On-track testing and performance evaluation of all tendered tyres involved two separate stages.
Stage 1 – Manufacturer evaluation of tyre suitability for Australian competition across a variety of Australian circuits.
Stage 2 – Independent testing of the tyres on identical karts using factory set-up and tyre pressures as per manufacturers recommendations managed by Karting Australia's Chief Operating Officer Lee Hanatschek and highly credentialled, independent karting industry member Troy Hunt. Multiple days of on-track testing and validation of the manufacturer test data that involved running the tyres well past the required durability levels.
The following tyres for the respective Class Groups have been selected and will be eligible for use in Karting Australia competition from January 1, 2022. The Australian suppliers are expected to announce pricing in the coming weeks.
Maxxis
Distributed for Karting Australia competition by St George Karts, the Maxxis M190D tyre to be known locally as the CADET-KA tyre has been developed over many years and will provide Cadet 9 and 12 drivers with a great driving experience and  a low wear rate. After 200 kilometres of testing, much of which was on one of Australia's most abrasive tracks, more than 60% of useable rubber remained.
LeCont
The LeCont brand is new to Australian karting competition and will be distributed in Australia by Patrizicorse.  Established in 1993, LeCont has grown to become one of the world's leading tyre manufacturers and on multiple occasions has been the chosen tyre for the FIA World and European Karting Championships.
The LeCont LH03 tyre is designed to suit Australian conditions and respective classes while the LeCont SVB and SVC are the Italian manufacturer's FIA homologated tyre.
QUOTEBOARD
KARTING AUSTRALIA – Kelvin O'Reilly, Chief Executive Officer
"As an Organisation, we're delighted to welcome the Maxxis and LeCont brands into Karting Australia sanctioned competition. It was an extremely competitive tender and to have such high-quality tyres from a variety of brands to select from was an incredibly hard decision for the Board."
"I am confident that we have selected great tyres that are really appropriate for each competition group. We wanted to get a group of tyres that provide great value for money, and I think that we have done that.
"From all the data provided and testing that we have done, I firmly believe that we have an outstanding group of tyres for the respective classes for the next five years. I look forward to seeing Licence Holders across the country enjoy the new tyres in competition from January next year."
TYRE TENDER EVALUATION TEST MANAGER – Troy Hunt
"I've been involved in the on-track testing for several tyre tenders for the sport across the past 18 years and I believe the products that were tested as a part of this tender were the highest quality that I've ever seen," said Hunt.
"It was an extremely thorough evaluation test ensuring that the tyres met the criteria set out by the Board and one that I believe will certainly benefit the sport for the long term."