EKN Trackside: 2021 Superkarts! USA Pro Tour SpringNationals – Preview
Midway point of championship chase heads to Salt Lake City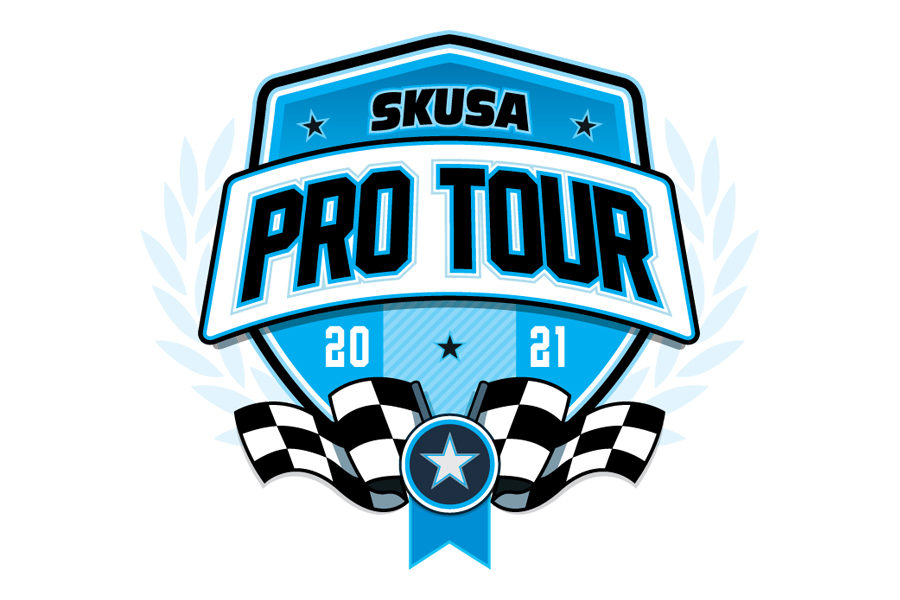 The 2021 Superkarts! USA Pro Tour resumes this weekend with the 11th running of the SpringNationals. Competitors will converge on the Utah Motorsports Campus to continue this year's SKUSA Pro Tour championship program, which began back in March at the NOLA Motorsports facility for the WinterNationals. The May 21-23 event in Grantsville, Utah will host Rounds Three and Four as the 12th season for the longest running national series program continues.
The inaugural SKUSA Pro Tour event was back in 2010 with the first SpringNationals at the Sonoma Raceway facility. The SpringNats was the opening event to the SKUSA Pro Tour until 2017 with the introduction of the WinterNationals. With last year's program held all at the New Castle Motorsports Park for the Summer Festival, this marks the 11th running of the SpringNationals. The Utah Motorsports Campus opened in 2006, known then as the Miller Motorsports Park. SKUSA has visited twice before, once in 2012 for the SummerNationals and lastly in 2019 for the SpringNationals. The Star Trek layout at 9/10-mile with 18 turns in the clockwise direction is the circuit for the weekend, with temps set to be at the mid 60s all weekend.
eKartingNews.com is proud to be the official media partner for all 12 seasons of the Superkarts! USA Pro Tour, providing Trackside Live for every event. SKUSA announcer and EKN's own Rob Howden will be calling the action all weekend from Utah. Those unable to attend can listen in to the live broadcast – presented this weekend by Franklin Kart, Parolin USA and Trinity Karting Group. Bookmark www.ekartingnews.com/live and follow the EKN social media channels for more throughout the weekend in Grantsville, Utah.
The championship in the X30 Senior division is now wide open. Point leader and Round One winner Diego Ramos (REM / Kosmic) is unable to attend the SpringNationals with his team unable to cross the Canada/USA border due to the COVID-19 guidelines. That positions Round Two victor and class rookie Connor Zilisch (Nitro / Redspeed) into the point lead by a slim nine-point margin ahead of four-time SKUSA Pro Tour champion Ryan Norberg (RPG / Kosmic). Norberg dominated both rounds last time in Utah in 2019, but Zilisch is certainly on a roll winning at every event he has attended in 2021. Branyon Tiner is right in the hunt, only 20 points back of Zilisch with Hannah Greenemeier putting three Rolison Performance Group / Kosmic drivers in the early hunt for the title. Notable names that could contend that were not at NOLA include Brit Oliver Hodgson (J3/ CompKart) and Macy Williams (CB / EOS).
Two-time SKUSA Pro Tour champion AJ Myers (Magik Kart USA) has put himself in a strong position to be able to win a third, following his strong performance at the WinterNationals. Myers has a 120-point advantage over former champion Jake French (PSL / Birel ART) entering the weekend. A driver that could play spoiler on the weekend includes Jacob Gulick (GFC), who has made a strong transition from one-speed to six-speed karting. Gulick is among the rising stars of 2021 in the shifterkart ranks, sitting P8 in the EKN Driver Rankings.
KA100 Senior is the largest class of the weekend at 48 driver who have pre-entered. In NOLA, Cole Morgan (MR / Tony Kart) was able to come away with both victories and a sizable lead in the championship. The lead is a bit extra as second place Leonardo Colavita (MDR / Kosmic) will not be in Utah, moving 2019 champion Austin Osborne (IRM / Tony Kart) to second, trailing by 155 points. The event that year was swept by local drivers with Joshua Fine (RFR / Kosmic) and Walker Hess (MSquared / Tony Kart) taking the wins, returning for the 2021 event this weekend. A number of drivers will be in the hunt, including those making their 2021 debuts; Stepanova Nekeel (Crosslink / Exprit), Macy Williams (CB / EOS), Jenson Altzman (Ruthless / Exprit) and Tyler Wettengel (TKG / Kart Republic).
Both Junior categories in NOLA saw one driver with each of the main events. In X30 Junior, Jeremy Fletcher (TF / Tony Kart) was able to come away with the victories to leave the WinterNats as the championship leader. The gap is tight, only 33 points ahead of defending champion Carson Morgan (MR / Tony Kart) with Noah Baker (Supertune / Tony Kart) in third. A handful of drivers will be making their 2021 SKUSA Pro Tour debuts, including Junior rookie Caleb Gafrarar (PSL / Birel ART) who is coming off his first victory at the USPKS in New Castle.
Noah Baker (Supertune / Tony Kart) doubled up in the KA100 Junior class at NOLA. His two wins helped to pad a 100-point advantage after the opening two rounds of the SKUSA Pro Tour championship. Junior rookie Parker DeLong (RPM / Tony Kart) is second with Austin Jurs (FMS / Redspeed) a distant third. Names in the 29-driver field to watch that could contend on the weekend include Fletcher, USPKS winner Chase Hand (RPG / Kosmic), Graham Trammell (RPG / Kosmic), and COTA champion Lanie Benjamin (SF / Redspeed).
No growth in terms of numbers for the Master divisions, however the competition level is there. In Master Shifter, NOLA winners Skitchy Barnes (HMG / CompKart) and Jordon Musser (PSL / Birel ART) resume their bid for the 2021 championship. Barnes leads by 14 over the three-time SKUSA champion with Vincent Cossard (SRR / CRG) in third. Ben Schermerhorn (PSL / Birel ART) should be a contender all weekend for the podium.
Jess Peterson (PGR / Ricciardo) is on a quest to secure that elusive SKUSA Pro Tour championship. A win in Round One has Peterson leading by 60 points over USPKS winner Mario Barrios (RPG / Kosmic). While they are focused on points, a handful are in Utah for hardware and the top step. Former SuperNationals winners Billy Cleavelin (RPG / Kosmic) and Travis Irving (GFC) along with 2019 champion Matt Johnson (Nash / EOS) make their 2021 debut along with Ian Koentges (FDM / CompKart).
The Mini Swift category grew to 33 drivers set to battle in Utah. Those in the title chase are hunting down Enzo Vidmontiene (Benik), who won both main events in NOLA, leads the point standings by 65 points over 2020 Micro Swift champion Jack Iliffe (IRM / Tony Kart) with Diego Ardiles (Supertune / Tony Kart) in third. Ben Maier (Nitro Kart) has the most experience in the field, sitting fourth and needing a solid weekend to get back into the chase. Several drivers are making their 2021 SKUSA Pro Tour debut, including Sarah Bradley (Nitro Kart), Canadian Jensen Burnett (Parolin USA), Rocky Moran (Kart Republic), Tyler Roberts (Parolin USA), Nico Sarphati (GFC), Gavin Whitt (FDM / CompKart) and more.
The Micro Swift title chase could be down to just two drivers already. Gianmatteo Rousseau (Nitro Kart) won both main events in NOLA and holds a 136-point advantage in the standings ahead of Augustus Toniolo (RPG / Kosmic). The Brazilian swept the USPKS event two weeks ago, and needs a performance like that to close the gap on Rousseau. Third place in the standings Isaac Malcuit (AKT / Kart Republic) and Keelan Harvick (Nitro Kart) are not competing in Utah. That means the rest of the field will be wildcards, including Rhys Bowman (FDM / CompKart) making his 2021 SKUSA Pro Tour debut.
Be sure to follow EKN all weekend long for complete coverage from the SKUSA Pro Tour SpringNationals at the Utah Motorsports Campus. Listen LIVE all day Saturday and Sunday and follow the social media network for updates, photos and videos.