Wisconsin Cheesehead Challenge Kicks Off This Weekend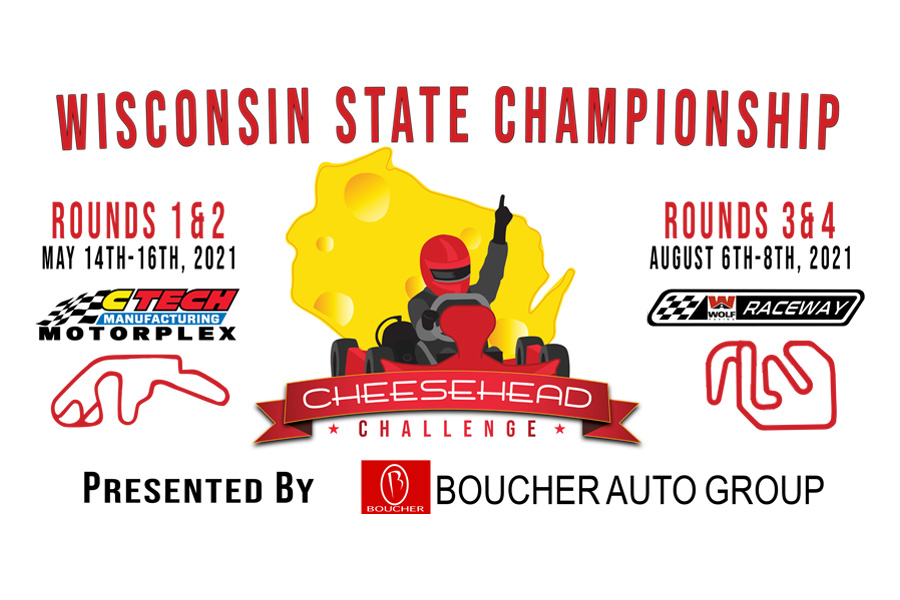 The Wisconsin Cheesehead Challenge state championship, presented by Boucher Automotive Group and MG Tires is set to open its inaugural season at CTECH Manufacturing Motorplex on the famous Road America grounds. A 4 round, two weekend championship will determine the best karters in Wisconsin for 2 cycle and 4 cycle classes.
Bringing the cheddar! Cheesehead Challenge is offering a minimum $3,000 is cash prizes to the top finishers in the inaugural championship season for the TaG 100 Senior and the LO206 Senior classes! Additional prizes are up for grabs in all other classes with more being added daily! The Cheesehead Challenge series prides itself on giving 100% of all sponsorship money and donations back to the competitors. The series is always accepting sponsorships and this great opportunity to tie your company/personal brand to the best karters and up and coming drivers of the Wisconsin area, a circle track and road racing driver hot bed, is a perfect chance to do so!
Top racers from the Midwest and beyond have already signed up.
Come see the best TaG 100 drivers, such as, Brandon Lemke, Nick Terlecki, Zach Collins, Lucas Smalec, Camrin Cass, Stephen Dial, Josh Hotz and many more compete for coveted class championship belt and growing payout!
Up and coming stars of karting in the Mini Swift category are Ethan Tovo, Jackson Tovo, Brady Schad, Cash Perkins, and a growing list of the best young rising talents join us for a race that will be fiercely contested until the checkered flag drops!
The growing list of entries is being updated daily, if you think you have what it takes to be the best karter in Wisconsin, don't miss out and sign up today as https://www.cheese-head-challenge.com/ ! Practice starts Friday, May 14th at 12pm central!
All series information can be found at https://badgerkartclub.com/cheesehead-challenge .
Please see series timeline!
https://badgerkartclub.com/assets/uploads/2021/05/Challenge%20Timeline2.pdf