Triple Podium for Tony Kart in Genk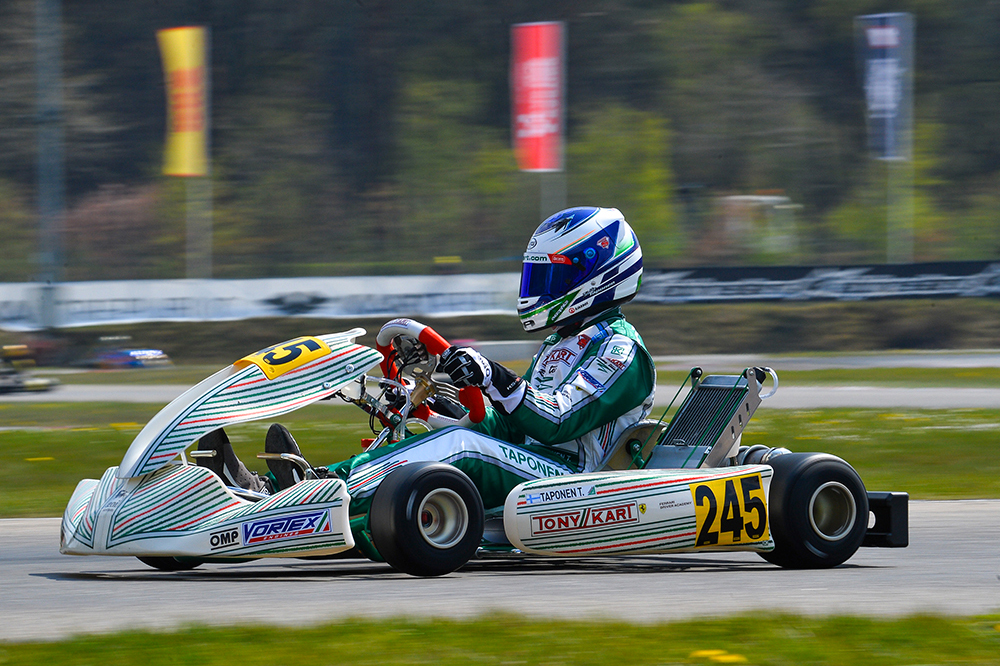 Our Racing Team hits the top 3, with three drivers, in the OK and OKJ category's finals of the first round of the Champions of the Future. Tuukka Taponen and Joseph Turney are 2nd and 3rd positions respectively in the "major" class, Harley Keeble is 2nd place in the Junior.
The Tony Kart Racing Team is among the protagonists for the victory on the occasion of the first round of the Champions of the Future, held on the Belgian track of Genk. Our Tony Kart Racer 401R chassis, equipped with Vortex DST and DJT engines, for the two categories OK and OKJ attending the event, collect a total of three podiums in the two finals of Sunday.
In OK class, Tuukka Taponen and Joseph Turney played their cards at best during the final. Turney perfectly jumps from the first row and remains firmly close to the leader of the race, while Taponen quickly climbs from 5th to 3rd place. The final stage of the races sees Taponen finishing in 2nd place ahead of Turney in 3rd. The two Racing Team's leaders this way gain a great result for our colours after a weekend constantly run among the top ten drivers of the class.
Bruno Del Pino is the author of several excellent comebacks during the eliminatory heats, but a stop forces the Spanish driver to start the final from the last rows of the grid: a condition that also affects his position on the finishing line.
In OKJ, Harley Keeble continues his positive streak of results of this season. After the podiums obtained in the first round of the WSK Euro Series and in the last round of the WSK Super Master Series, the British driver collects an excellent 2nd place in the final of Genk. Keeble perfectly jumps from the 5th position of the starting grid, threatens the winner until the chequered flag and finishes with a few tenths of a second of gap; in addition, to complete his excellent weekend, there are also two victories and a 2nd position in the eliminatory heats.
Alexander Gubenko constantly fights in the top 20 during the whole weekend and shows great potential also during the final: not by chance, in the qualifying heats he is able to collect a 2nd place as best result. Our Racing Team succeeds in the final also with James Egozi and Jan Przyrowski: in the final the American driver recovers six positions compared to the starting grid, while the Polish driver (at his debut with our colours) scores a fast lap and a 4th position as best result in the heats.
Genk will still be the stage where the Tony Kart Racing Team will run: in two weeks (13th – 16th May) the first appointment for the OK and OKJ categories valid for the FIA Karting European Championship will be held.