Evagoras Papasavvas Shows Pace with New Team but Lacks Luck in USPKS Action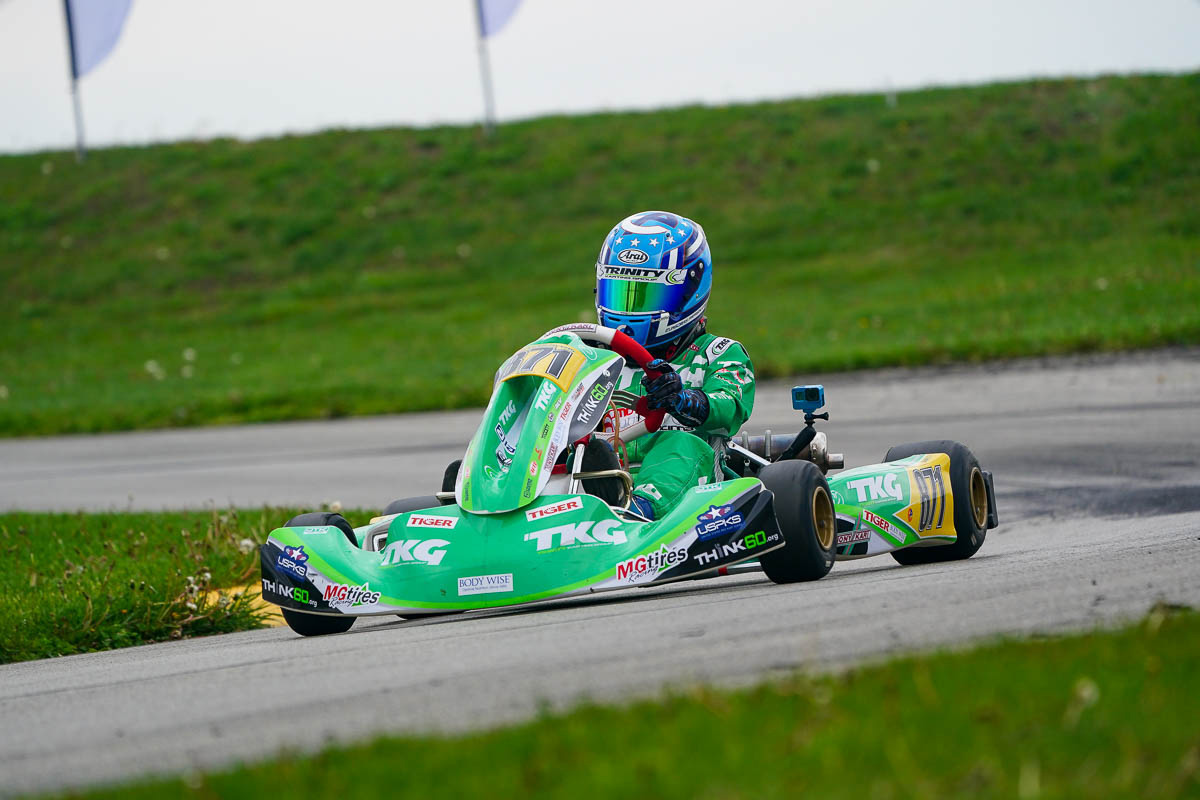 Evagoras Papasavvas showed great pace in practice, but issues
on race days forced him down the running order
(Photo: Studio 52)
Making the switch to the Trinity Karting Group, Evagoras Papasavvas competed in his first national event with his new team this past weekend. Taking on the New Castle Motorsports Park facility and the United States Pro Kart Series, the Tony Kart driver showed great pace leading up to the weekend as hopes were set high. However, as it is in racing, the highs are high and the lows are low, and it became a difficult weekend once the wheel-to-wheel racing action began.
Leading up to the weekend, Papasavvas showed great pace in official practice topping the charts on Friday morning and finishing third at the last "Happy Hour" practice of the day. Primed, focused and ready for the race weekend, Evagoras was looking to carry that momentum into the first wheel-to-wheel action on Saturday. Anxious and excited to see what he could do with his new race program, Evagoras qualified in the top-ten on both Saturday and Sunday but finished well down the running order when the main events concluded.
"Nothing went right for us this weekend. On Saturday, we started having fuel issues during the morning warmup. In qualifying, low tire temperatures prevented us from qualifying higher than tenth. Not too bad in a field of 43 drivers, but still, this meant a lot of hard work with no margin of error was needed for us to climb a few spots during the race. Unfortunately, low grip issues and some on track contact forced me to lose the draft and drop down the running order," explained Papasavvas, who finished in the 22nd position, after been handed a few penalties. "Sunday was much of the same for us. Qualified in the ninth position, but in the main event I was working my way forward before contact with two other drivers damaged my kart and forced me to the sidelines. It was a difficult weekend, but I will take the positives and move towards the next one."
Since joining Trinity Karting, Evagoras has been able to increase his track time by competing with a team that is closer to his residence. With no plans to compete in the USPKS program in 2021, a change in team allowed him to alter his race schedule to get some more time behind the wheel at a national level event.
Evagoras continued, "I think we proved that we have the pace, and we can compete for podium with the top junior drivers in the country. We just need to be able to maintain the pace on race day and get through the races without contact. We have to keep learning, building on positives and keep moving forward."
Evagoras Papasavvas would like to thank Trinity Karting Group, Tiger Natural Gas, and Body Wise International.
For more information on Evagoras Papasavvas please contact Nektarios Papasavvas via email to evagoras71p@gmail.com or visit him online at www.EvagorasRacing.com. Be sure to follow Evagoras Papasavvas on Facebook, Twitter, and Instagram for news, results, information, and photos from the event. Find us by searching "Evagoras Papasavvas".