CalSpeed Summer Shootout Announced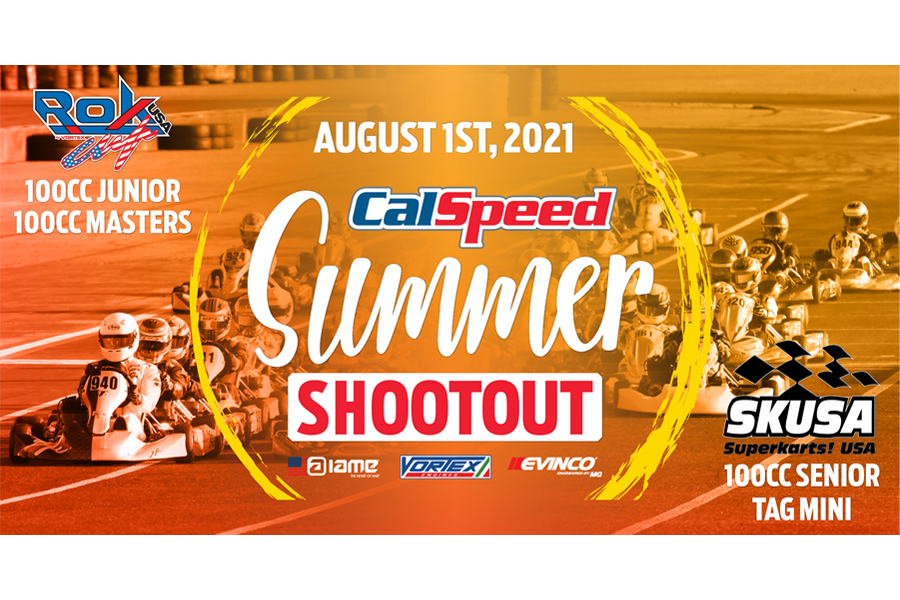 Announced as part of the 2021 schedule reveal back in December of last year, the CalSpeed Summer Shootout is a competition karting event that aims to crown the best of the best in air-cooled karting across 4 classes: Tag Mini, 100cc Junior, Senior, and Masters. On their 'CalSpeed Live!' broadcast on Facebook this past Wednesday, CalSpeed announced not only the tire and engine packages for the event, but also what drivers will be vying for come August 1st.
"We are extremely excited about this event, and what it aims to do", stated CalSpeed General Manager Mike Smith, "a one-off, marquee event with a focused class structure, and a carrot that I think will be hard to pass up: Tickets to Vegas. But it wouldn't be possible without the cooperation and support of both SKUSA's Tom Kutscher, and ROK Cup USA's Garret Potter. Both of these guys have really stepped up to help make this an awesome event, with SKUSA SuperNationals tickets up for grabs in both Tag Mini and 100cc Senior, and ROK Vegas tickets on offer for both 100cc Junior, and 100cc Masters!"
Both the Mini Rok and Mini Swift engines will be legal in the Tag Mini category, both Vortex VLR and the Iame KA engine packages will be legal for both the 100cc Senior and Masters classes, while the 100cc Junior class will be VLR only. All classes will be astride the Evinco Blue tire, with a set of tires being included with the entry.
"With just 4 classes on the day, we have a great opportunity to really showcase the talent at each level of karting," Smith continued. "Drivers will be tested via green-white-checkered qualifying, as well as the long run with laps in the Pre-Final and the Final that would match that of a typical SKUSA or ROK event in So-Cal. And they all do it on the .75 mile long Grande circuit at CalSpeed, which can accommodate the expected full fields of top competitors."
Registration for the event will open on June 1st, with pricing and sponsorship opportunities being announced in the coming weeks. For more information, or if you have any questions about the event, reach out to Mike Smith at 951-506-9363, or via email at Mike@ calspeedkarting.com