Win for Kosmic Kart in Genk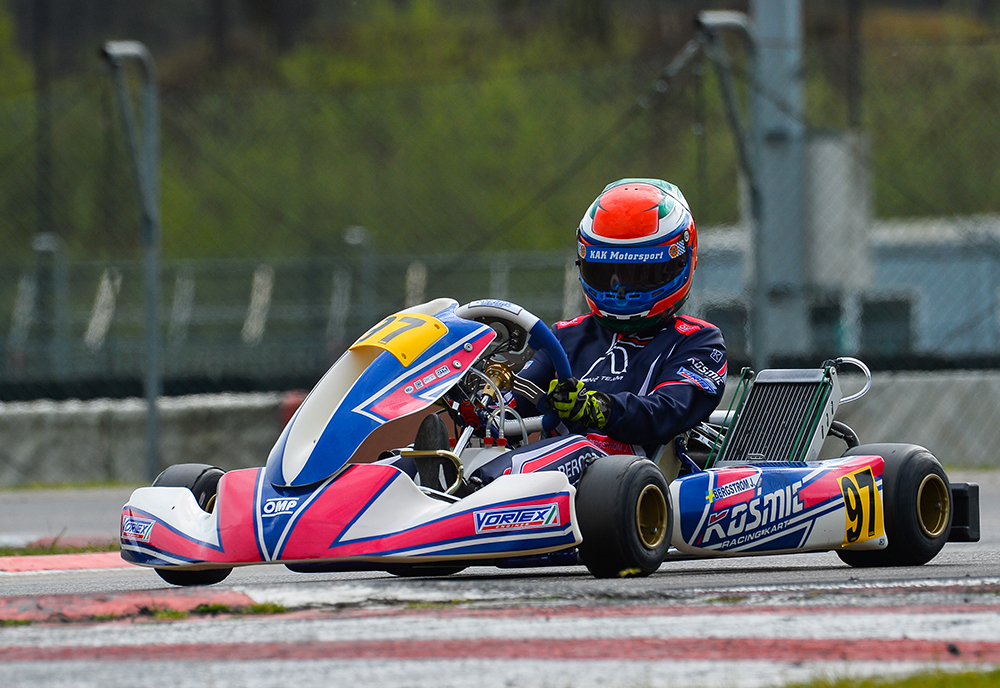 Our Racing Department attends in the first round of the Champions of the Future in Belgium. Luigi Coluccio, our official driver, gets the access to the top 10 in OK while Freddie Slater, with our materials, wins the OKJ class.
Other outstanding results for Kosmic Kart in Genk, where the first round of the Champions of the Future took place. Our Racing Department answers "present" to the trip to Belgium with the Kosmic Mercury R chassis, equipped with our Vortex DST and DJT engines ("engine division" of OTK Kart Group), and with a total of six official drivers in the entry list of the OK and OKJ categories.
Having achieved a podium in the OK class a week ago at Lonato on the occasion of the last round of the WSK Super Master Series, Luigi Coluccio shows to be fast in Belgium, too. The Italian driver achieves three third places in the eliminatory heats, but, due to his front fairing placed in an incorrect position in the pre-final, he jumps late from the starting grid of the final. Nevertheless, Coluccio does not give up: he makes his way to the start and finishes among the best ten drivers of the category.
Sebastian Gravlund's recovery from the bottom is difficult in the final, due to an unlucky stop in the pre-final; however, the Danish driver is able to gain experience in view of the next appointments with our team. Jakub Rajski performs a dull weekend but it turns out to be a fundamental test bench for the FIA Karting European Championship which will be held in 15 days.
In OKJ, Joël Bergström shows excellent speed skills on the occasion of his first appearance with our Racing Department. The Swedish driver obtains a top 10 result in the eliminatory heats, climbs not less than nine positions in the pre-final and relentlessly fights during the final to improve his ranking.
Hugo Herrouin always runs in the wake of the top ten during the qualifying heats, but an unlucky stop in the third heat does not allow the French driver to have good chances to enter the pre-final. Physical problems force Ean Eyckmans to end his race prematurely. The Belgian driver therefore prefers to remain at rest in view of the upcoming events.
It is worth mentioning Freddie Slater's victory with our Kosmic Kart – Vortex materials. In the final of the OKJ category, the Ricky Flynn Motorsport's driver is leader from the start to the chequered flag.
The Kosmic Kart Racing Department stays in Genk: in fact, in two weeks (May 13th-16th) the first round of the FIA Karting European Championship, valid for OK and OKJ classes, will be held.