Podium for the Exprit Kart in Genk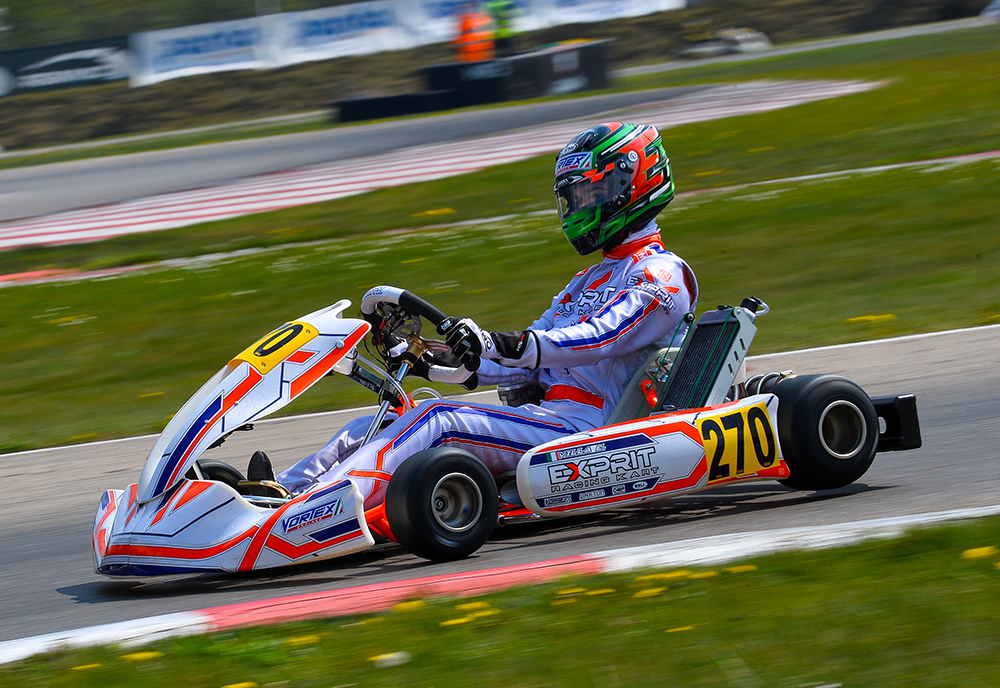 Our Racing Team finishes in the top 10 in the OK class on the occasion of the first round of the Champions of the Future, held on the Belgian track. The Exprit Kart also collects a podium in the OKJ category.
Positive trend for the Exprit Racing Team on the Belgian track of Genk, on the occasion of the first appointment of the Champions of the Future 2021. Our Exprit Noesis R, with the Vortex DST (OK) and DJT (OKJ) engines, do their best in the OK and OKJ categories obtaining a positive top 10.
After his recent debut with our colours in OK category on the occasion of the WSK Super Master Series, Edoardo Ludovico Villa is fast throughout the weekend. The Italian driver plays all his cards on the occasion of the pre-final: a comeback of not less than 16 positions (second best "climber" of the race) takes him up to the top 10, useful to start from the first rows of the grid of the final. In the final race of the weekend, Villa is able to face his rivals with much experience, thus finishing 8th in the Belgian event.
In OKJ, Reno Francot attends his first event as our official driver. The young Dutch driver wonders with an excellent series of results during the eliminatory heats where he obtains a 3rd place, two 4th positions and a 5th one. A collision in the pre-final forces Francot to jump from the last rows in the final but, despite this, he is able to climb not less than 11 positions to achieve a positive top 15. Oscar Wurz's performance over the weekend improves by 9 positions both in the eliminatory and the qualifying heats: a result that gives him the chance to enter the Sunday's final.
The two Finnish drivers Alvar Siimesvaara and Benjamin Sylvestersson, with our team, record some interesting results and several recoveries, in a growth context and familiarization with our materials.
In OKJ category, on the podium of the final, there is an Exprit Kart chassis: it is Sonny Smith's, 3rd place after a recovery of 3 positions than the starting grid.
Belgium will still be the "Exprit Racing Team's" house for the next two weeks: actually, after the event of the Champions of the Future, Genk will still host the OK and OKJ categories for the FIA Karting European Championship, from May 13th to 16th