Kosmic Racing Department On the Podium of Lonato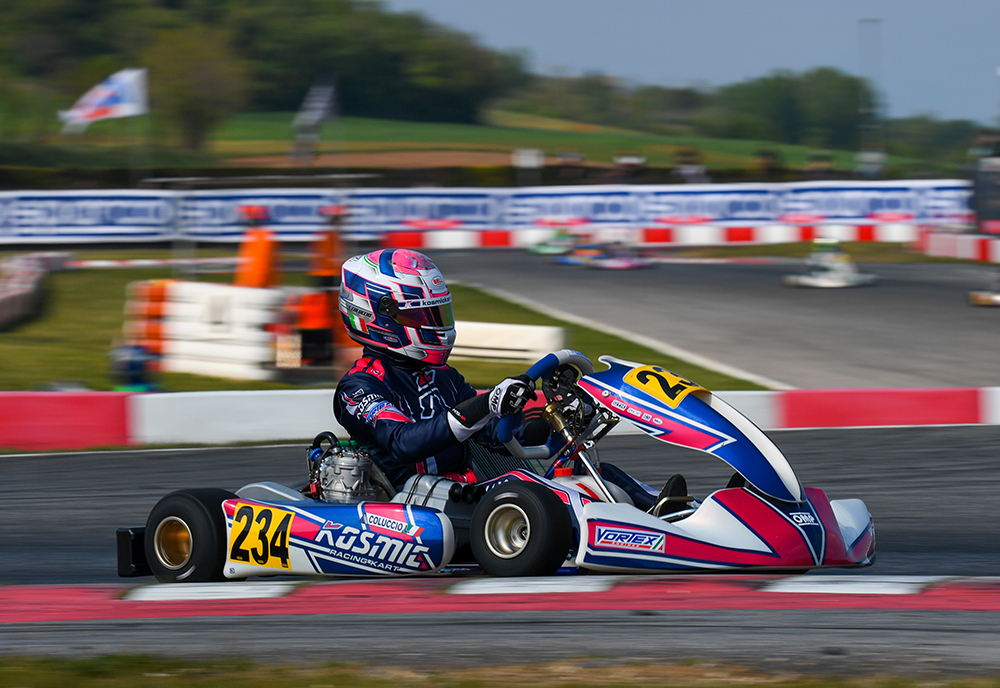 Third place for Luigi Coluccio with our Racing Department in the final of the OK category, on the occasion of the fourth and final round of the WSK Super Master Series 2021.
The South Garda Karting gives a podium to our Kosmic Kart Racing Department. On the stage of the last seasonal round of the WSK Super Master Series in Lonato, our Kosmic Mercury R chassis, equipped with the DST Vortex engine, is constantly among the top positions of the OK class during the whole weekend.
After the excellent performances of two weeks ago, Luigi Coluccio put his skills into practice at best achieving his first podium of the season in the final of the OK category. The Italian driver achieves the 3rd position in the final race of the event, preceded by another third position in the pre-final. In the qualifying heats already Coluccio shows to be among the best three fastest drivers, then continuing the weekend with a victory in the first eliminatory heat and a 2nd position in the third one. Concrete path for Sebastian Gravlund during the whole weekend at South Garda Karting, with his attendance in the final sealing it all; the Danish driver also improves his ranking by 10 positions in the Friday's qualifyings and the three eliminatory heats. Jakub Rajski continues his growing path within our Racing Department, with enthusiasm and commitment throughout the fourth round.
In OKJ, Freddie Slater of the Ricky Flynn Motorsport, finishes among the first positions in the name of Kosmic Kart. With our chassis, the British driver fights since the first lap for gaining the podium in the final of the "Junior" category, and finishes close to the best five drivers. Slater also gains a victory in the eliminatory heats and a fast lap as side dish.
The Kosmic Kart Racing Department's commitments continue: the next weekend of competitions is scheduled from 29th April to 2nd May with the first round of RGMMC Champions of the Future in Genk, Belgium.