Kosmic Almost Reaches the Podium in Lonato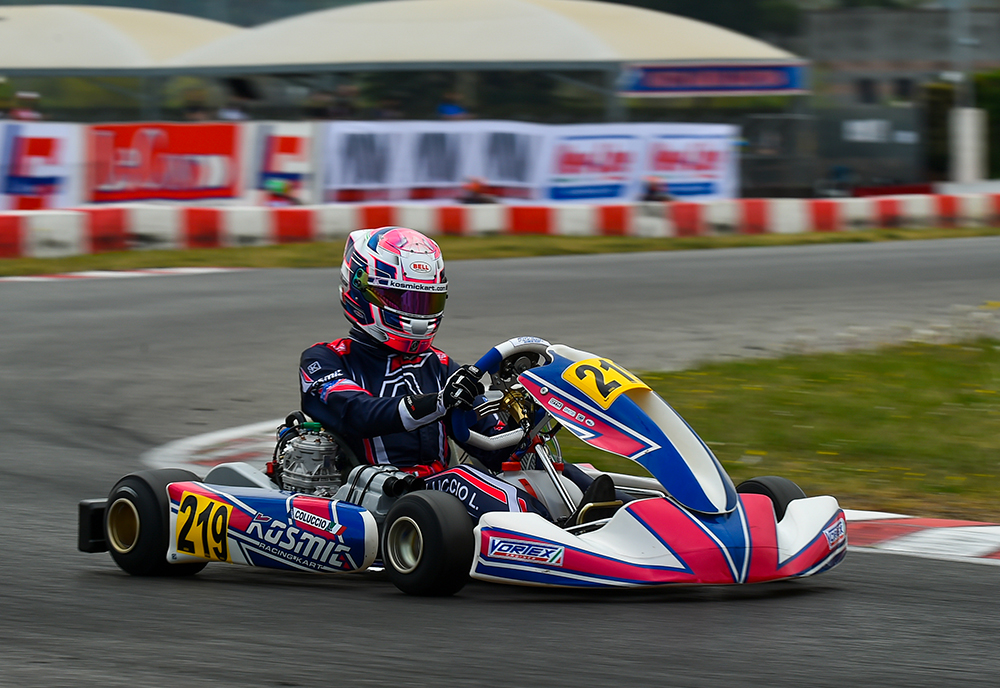 On the occasion of the first round of the WSK Euro Series, Luigi Coluccio, running with our Racing Department, is among the fastest drivers in the OK category and fights for the podium in the Sunday's final, under the rainy weather.
The performance of the Kosmic Kart Racing Department in the 2021 season is growing more and more. Our team couldn't miss the first round of the WSK Euro Series, held at the South Garda Karting in Lonato, which attended with the Kosmic Mercury R chassis in OK and OKJ categories, equipped with DST (OK) and DJT (OKJ) engines by Vortex, the "engine division" of OTK Kart Group.
In OK class, Luigi Coluccio obtains since the beginning of the weekend a 2nd place in the Friday's qualifying session, confirming his performance also in the following eliminatory heats: a 4th and a 2nd position which anticipate the victory in the third heat. Considerable results that assign the pole position for the B pre-final to the Italian driver. No mistakes for Coluccio in the race that assigns the access to the final, with a perfect start and control of his vehicle on a slippery track due to the rain: which is enough to win the race. Coluccio goes on this way also in the decisive final and fights for the victory and the podium, missed because of a penalty of 5 seconds due to the wrong position of the front fairing. Thus he has to be content with his 4th position.
Clear improvements for Sebastian Gravlund, more and more familiar with our materials. The Danish driver constantly run in the top 10 during all the qualifying heats (where he also got an 8th position), improving his ranking in the pre-final with a 6th position and a recovery of three positions compared to his placement at the starting grid. A few collisions in the final prevent Gravlund from being among the top ten drivers of the weekend, but this does not affect the growth shown by our driver.
In OKJ, Hugo Herrouin's growth continues within our team after his positive debut in the WSK Champions Cup held in Adria. The French driver overtakes several times in the pre-final and fights relentlessly against his rivals, giving good signals for the next races.
Maxim Rehm, with the Kosmic Kart of Ricky Flynn Motorsport, jumps from the second row in the final and misses the podium due to a 5-second penalty for the incorrect front fairing position: he thus finishes 4th.
In two weeks, the Kosmic Kart Racing Department will still be on the South Garda Karting track of Lonato, for the last and eagerly awaited appointment of the WSK Super Master Series (April 22nd – 25th).