John Motley: 1938 – 2021
American karting loses long-time industry member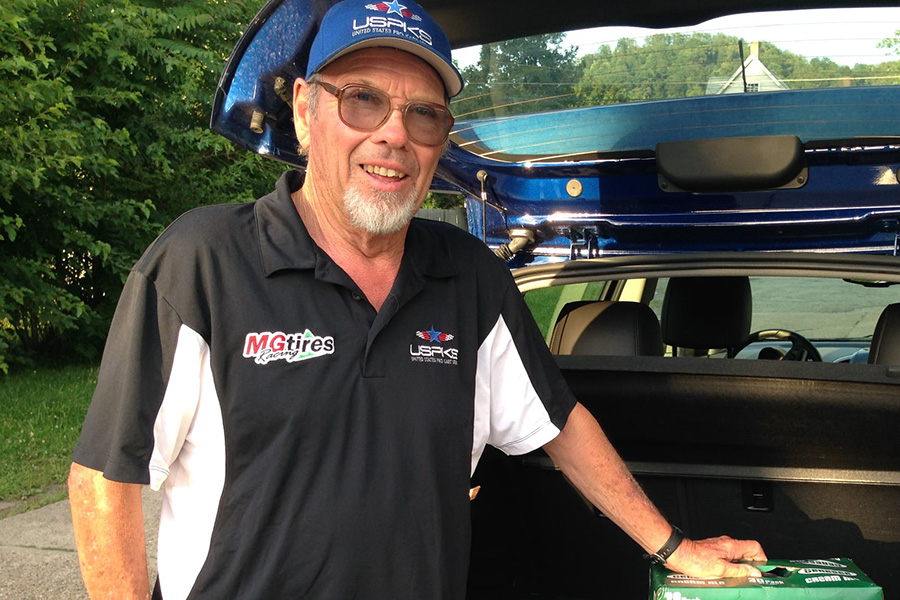 As the 2021 Superkarts! USA Pro Tour officially gets underway at NOLA Motorsports Park today, it does so without one of its core individuals and personalities. We want to take time to honor our friend John Motley, who passed away earlier this month. John had been with Tom and Patti Kutscher since the first launch of their Pro Kart Challenge series in 2004, and his absence will be felt by so many in the paddock. EKN extends its sincerest condolences to John's family and friends. – Rob Howden, EKN Publisher
The American karting community sadly lost one of its longtime supporters when Superkarts! USA National Tech Director John Motley passed away at the age of 82, at his daughter's home, on March 4, 2021.
A native of Tonawanda, NY, John was a life-long gearhead who became an off-road motorcycle enthusiast and desert rider after moving with his wife to Long Beach, California in 1961. His love of motorized vehicles extended to enjoying hydroplane boat racing, drag racing and off road racing of both buggies and motorcycles. John moved north in 1971 when he purchased Yamaha of San Luis Obispo with a partner, and enduro trail riding became a family past time. Yamaha's introduction of their own kart package opened a new door for John. When karts hit the showroom floor of his motorcycle shop, a new chapter of his life began.
John established Race Kart Engineering in 1978 as a subsidiary of his Yamaha motorcycle dealership, building two-cycle engines and importing the Australian-made Arrow chassis in the late 90s and early 2000s. His efforts earned him national championships in everything from cadet to shifter kart competition. Among these accolades, John's daughter Kelley Coons raced with her father as he said, "as her head tire wiper." In 1985, with her Dad as her coach, Kelley driving, and Charlie Mitchell and Randy Coons as part of the team, they would earn two Duffys at Willow Springs.
Over the past 15+ years, Motley has been the National Tech Director for Superkarts! USA. He worked closely with the Kutscher family from the very start of their Pro Kart Challenge in 2004 through their purchase of SKUSA and the launch of the Pro Tour in 2010. In addition to his position with SKUSA, John has worked with tech teams at events for the International Kart Federation and the United States Pro Kart Series, among others. He was also a member of the IKF Board of Directors.
Racing organizations are an extremely close-knit bunch, and John will be intensely missed by all of those who have had the privilege of working with him. John's colleagues speak of a man who loved racing, people and who was the king of trivia and practical jokes. He passed on his knowledge to the next generation of technical inspectors and race officials as not only a technical director and inspector, but as an educator of his craft.
He had a sincere impact on those around him. Outside of the racing world, John was a voracious reader and lover of Paso Robles wine. He loved talking about going to different races with his daughters Kelley and Michelle and his life-long friends, Charlie Mitchell, Don Durbin, Frank Jimenez and Jeff Farber, as well as many others.
The staff of eKartingNews.com joins with the karting community in remembering our friend, John, and we send condolences to his family.