EKN Trackside: 2021 Superkarts! USA Pro Tour WinterNationals – Preview
12th season of Pro Tour kicks off in the 'Big Easy'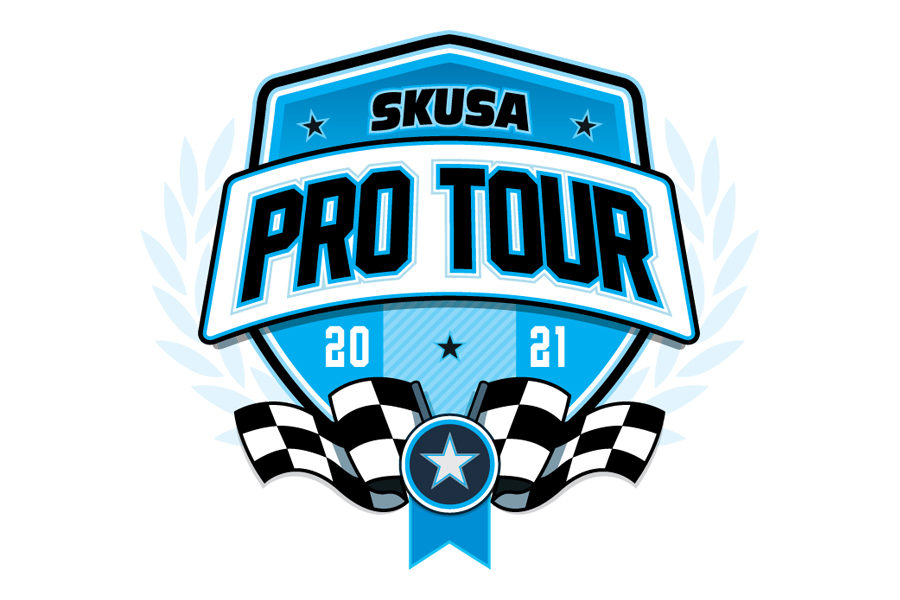 The 2021 version of the Superkarts! USA Pro Tour will begin this weekend at the NOLA Motorsports facility. The fourth edition of the WinterNationals is set to take place on the March 26-28 weekend at the Avondale, Louisiana facility, roughly one year after the 2020 version was shut down due to the COVID-19 pandemic. This season marks the 12th year for the SKUSA Pro Tour, as it continues to be among the longest running national series programs in North America. Following the Summer Festival in August 2020 to make up the six rounds of racing, SKUSA is looking forward to a more standard three event, six rounds of competition in 2021.
The SKUSA WinterNationals was established in 2017, as the SKUSA Pro Tour expanded to a three event, six-round format. The opening two years were held at NOLA Motorsports before moving to CalSpeed Karting in 2019. The fourth edition returns to New Orleans, and the 1.1-mile, 17-turn circuit in the counter-clockwise direction. Over 200 pre-entries are in for the nine categories set to compete over the three days.
eKartingNews.com is proud to be the official media partner for all 12 seasons of the Superkarts! USA Pro Tour, providing Trackside Live for every event. SKUSA announcer and EKN's own Rob Howden will be calling the action all weekend from NOLA. Those unable to attend can listen in to the live broadcast – presented this weekend by Alan Rudolph Racing Academy, Parolin USA and Trinity Karting Group. Bookmark www.ekartingnews.com/live and follow the EKN social media channels for more throughout the weekend in New Orleans.
X30 Senior has many of the same heavy hitters you would expect to see in the 38-driver list. They begin with defending champion Bryson Morris (RPG / Kosmic) set to make his 2021 debut. Morris sat out the end of 2020 nursing a rib injury. Now as part of the Mazda Factory Club Race Team for Spec MX-5 in 2021, Morris has limited his karting to just defending the SKUSA crown. He took the title away from four-time SKUSA champion Ryan Norberg (RPG / Kosmic), who is back for a try at a record fifth championship in the category.
All eyes will be on rookie and February EKN Driver of the Month Connor Zilisch (Nitro / Redspeed). The 2020 FIA Academy Trophy champion won in WKA, SKUSA, ROK Cup USA and USPKS competition over the last four months, eyeing a debut victory in the X30 Senior category. Zilisch leads a large group of rookies that may make an impact in 2021, including Alex Stanfield (Crosslink / Exprit), John Burke (PSL / Birel ART), Jace Park (TKG / Tony Kart), Max Opalski (RPM / Tony Kart) and Thomas Annunziata (MDR / Tony Kart). Add in quick drivers like Hannah Greenemeier (RPG / Kosmic), Thomas Nepveu (PSL / Birel ART), Luke Lange (Crosslink / Exprit) and co-#1 for EKN Driver Rankings Luca Mars (TKG / Tony Kart) – who finished second in the Pro Tour standings. Missing from the field is the other half of the #1 for EKN Driver Rankings with Arias Deukmedjian (Zanella / Kart Republic) committed to F4 this year, and longtime Pro Tour contender Brandon Jarsocrak (MDR / Kosmic).
The Pro Shifter category is racing for a $2,500 check to the winner for each round in 2021, and it has brought on the heavy hitters. Defending champion AJ Myers (Magik) begins his bid for a third series championship in the headline shifterkart division, having won in 2018 for S1. 2017 and 2016 title winners will be in the field as well with Jake French (PSL / Birel ART) and Danny Formal (ANSA / Formula K). They finished fifth and fourth respectively last year. Add in four-time SKUSA SuperNationals winner Billy Musgrave (Factory Kart), who has yet to win at NOLA during his Pro Tour campaigns among the contenders in the 14-driver field. Missing are #2 Rory van der Steur (Magik) and #3 Andrew Bujdoso (Magik).
The KA100 Senior class is set to make its debut at NOLA Motorsports with last year's cancellation. Defending series champion Bryson Morris (RPG / Kosmic) is focusing on the X30 Senior class, opening it up for any driver to step up to the championship role. Brandon Lemke is familiar with being a SKUSA champion, winning the 2015 Junior title. Lemke (FMS / Merlin) comes into the weekend as the 2020 USPKS champion and SKUSA vice-champion. A driver with similar experience is 2019 series champ Austin Osborne (IRM / Tony Kart). Osborne won the series finale last year, hoping to carry that momentum into 2021. New faces we could see at the front of the field that were quick this winter include Nolan Allison (RPG / Komsic) from the SKUSA Winter Series and Blake Nash (Nash / EOS), a two-time COTA winner. Gavin Bayliff and Jace Park under the Trinity Karting Group could be factors on the weekend, along with Reilly Cann (Crosslink / Exprit) and Connor Ferris (TFR / Kart Republic).
The KA100 Junior category is also making its NOLA debut for the SKUSA Pro Tour WinterNationals with a young 29-driver field looking to make a mark. Carson Morgan has already done that, winning last year's championship and returning to defend the crown. Morgan (MR / Tony Kart) is making his 2021 debut, having opted out of SKUSA Winter Series program. That was won by Chase Hand (RPG / Kosmic), opening up his first national season with the title. Luke Welcome (VM / Tony Kart), rookie Parker DeLong (RPM / Tony Kart), and Collin Lloyd (T1D / Tony Kart) all won at the SKUSA Winter Series. Jeremy Fletcher (TF / EOS) is coming off two victories at USPKS, while Alexander Gonzalez (Nash / EOS) won out west at COTA. Junior rookies include Cameron Brinkman (FMS / Merlin), Sebastian Wheldon (JC / Kosmic), G3 Argyros (SCR / Redspeed), along with Helio Meza and Cooper Shipman of Iron Rock Motorsports.
Morgan will be the first driver to defend two titles in the same season, having won the X30 Junior crown in 2020 as well. A field of 28 drivers begin the attack in NOLA to dethrone him. Among them are Junior veterans Paul Bocuse (Parolin USA), Jack Jeffers (SCR / Redspeed) and Frankie Mossman (J3 / CompKart). Along with Brinkman, Wheldon and 2020 Mini champion DeLong, former Micro champion Max Garcia (AKT / Will Power Kart) join a solid class of Junior rookies in X30.
Along with Pro, the Master Shifter class is racing for a purse of $4,000 per round with $2,500 to the winner each day. That and the IAME SSE incentives have helped to boost the entry total to 13 for the WinterNats. 2020 G1 champion Scott 'Skitchy' Barnes (HMG / CompKart) returns for a chance to repeat, going up against four-time SKUSA champion Jordon Musser (PSL / Birel ART). After racing Pro 2 last year, Musser returns to the Master ranks. Terry Lawrence (CKR USA) and Ben Schmerhorn (PSL / Birel ART) lead the remainder of the drivers in experience to go after the two former champs.
Eight drivers will compete in the X30 Master class, none of which are former SKUSA champions. Jess Peterson (PGR / Birel ART) has won at NOLA the last time for the WinterNats in 2018, making him a leading contender heading into the weekend. Eric Molinatti (CKR USA) is among those on the watch list, along with Danillo Ramalho (REM / Kosmic).
The Mini Swift division is at 23 drivers set to battle, with the field featuring no former SKUSA Pro Tour winners in the class. It does feature a number of former Micro winners, including three-year Mini driver Ben Maier (Nitro Kart). Maier comes in as one of the more experienced drivers, having won at NOLA in Micro back in 2018. Enzo Vidmontiene (Benik) and Diego Ardiles (Supertune / Tony Kart) were able to beat out Maier in photo finishes at the recent USPKS race. Oliver Wheldon (JC / Kosmic), Ragan Saville (Speedsportz / Birel ART) and Oscar Iliffe (IRM / Tony Kart) should be among those toward the front. The 2021 rookie class includes last year's Micro Swift champion Jack Iliffe (IRM / Tony Kart), vice-champion Asher Ochstein (Benik) and Carson Weinberg (Parolin USA).
Similar to Mini, the 23-driver Micro Swift class has no former Pro Tour winners in the field. It does feature a new and young rivalry between Keelan Harvick (Nitro Kart) and Isaac Malcuit (AKT / Kart Republic). Harvick scored the SKUSA Winter Series championship with the two splitting wins at the recent USPKS opener. They will not be the only drivers fighting for the victories, with Gianmatteo Rousseau (Nitro Kart), Augustus Toniolo (RPG / Kosmic) and Alessandro Truchot (Parolin USA) among the contenders.
Make sure to catch all the action on EKN Live all weekend and follow EKN on all the social media platforms for updates, images and videos.