First Round of WSK Super Master Series Done for Kosmic Team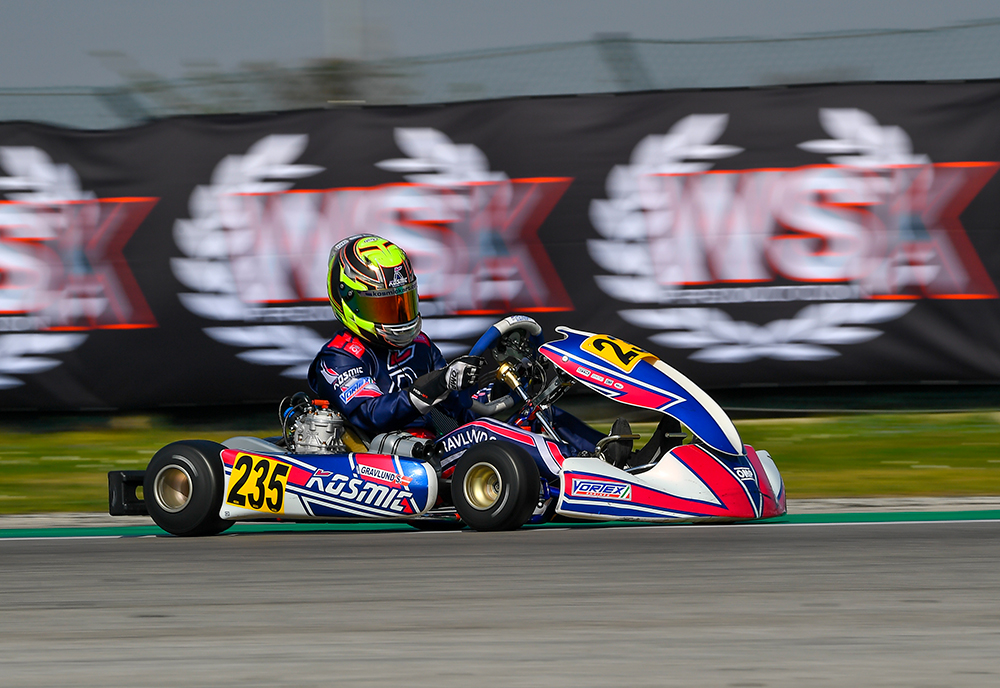 On the occasion of the first round at the Adria Karting Raceway, our Racing Department stands out with several comebacks in the OK and OKJ categories.
After the WSK Champions Cup of last week, the Adria Karting Raceway hosts again the international karting with the first round of the WSK Super Master Series; here the Kosmic Kart Racing Department will attend the race with the usual technical setup made up by the Kosmic Mercury R equipped with the DST and DJT Vortex engines.
In OK class, Luigi Coluccio is still the best of our drivers, repeating his success of the WSK Champions Cup in the Sunday final. Jumped from the bottom of the starting grid, the Italian driver makes his way among his rivals despite the few opportunities to overtake, recovering not less than 12 positions which gives him the 17th place in the final. Coluccio ends a weekend where he always enters the top ten in the qualifying heats (tenth, second and fifth). Sebastian Gravlund is more and more familiar with our materials thus becoming one of the best climbers of the general ranking: he gains 22 positions between the qualifyings and the heats, followed by another eight positions recovered in the pre-final allowing him to reach the 11th place and the pass for entering the final, where he finishes in the top twenty.
Unlucky is Tommaso Chiappini, at his second competition with our Racing Department who had to stop in the pre-final for a collision with another competitor. At the starting grid we also find Kuba Rajski, another newcomer in our team: the Polish driver grinds kilometers in view of the next important appointments of the season.
In OKJ category, Alexander Gubenko makes the most of his experience and recovers seats in every race, so much as to gain a +21 in the general ranking at the end of the heats compared to the qualifyings. So, the Russian plays the final with a six-position climb. Also Ean Eyckmans climbs up the ranking, gaining 22 positions after the qualifying heats and gaining access to the final after a good performance in the pre-final.
With the Kosmic Kart chassis, Freddie Slater almost reaches the podium with Ricky Flynn Motorsport, which also places Maxim Rehm in sixth position.
First little break for the Kosmic Kart Racing Department: in two weeks (March 11th–14th), at the International La Conca Circuit, the second round of the WSK Super Master Series will take place.