Luke Lange Shows Speed at His First ROK Cup USA Event of 2021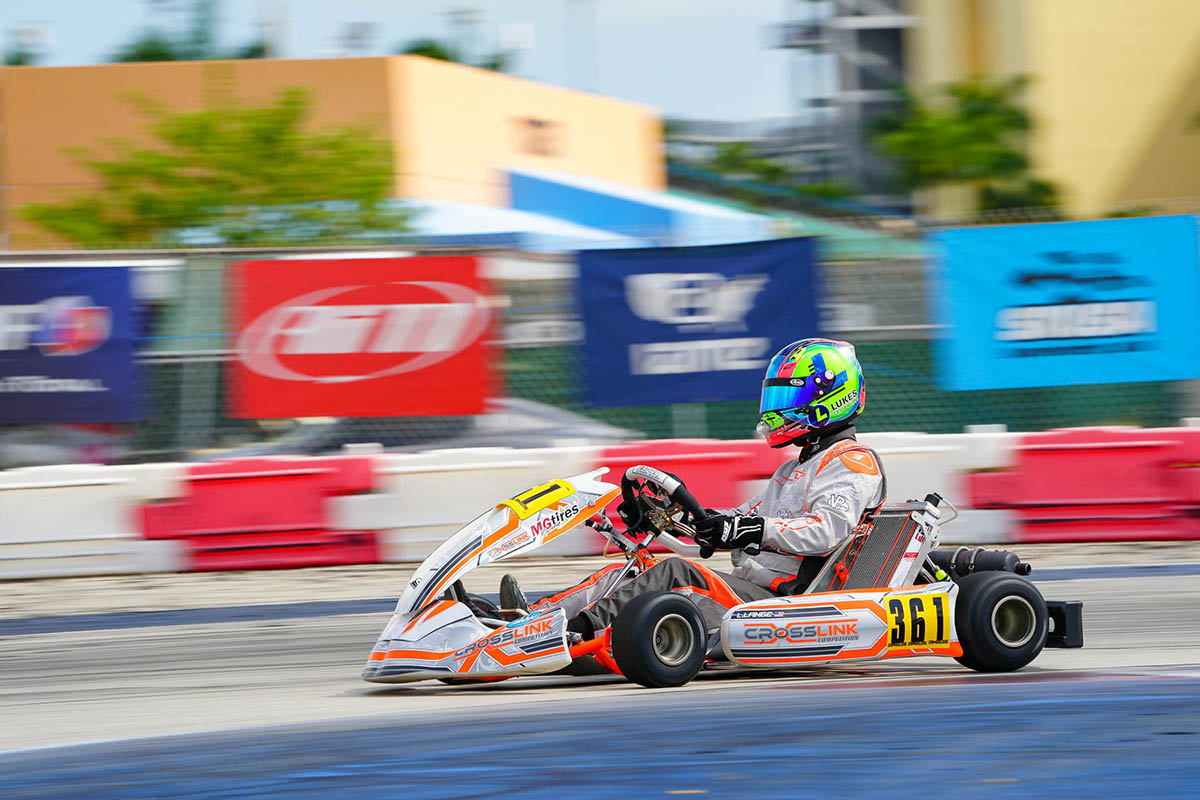 Luke Lange garnered an 11th place result in the ROK Senior final
after early contact pushed him down the running order
(Photo: CKN)
It was a full four seasons of weather at the ROK Cup USA Florida Winter Tour event at Ocala Gran Prix this past weekend as the second round of the popular winter karting program went off without a hitch. With rain, wind, cold, sun and warmth over four days of on track action, Luke Lange was able to show speed through the heat races which included a second-place result in heat three and eventually drove from P18 to 11th in the Senior ROK main event.
With a solid fourth place qualifying effort on Friday afternoon in the rain, Lange had a tough go in the first of three heat races but was able to improve in heats two and three. After starting on the outside of row two and finishing 17th in heat one, Lange was able to cross the line sixth and second in heats two and three to earn a seventh place starting spot for Saturday afternoon's prefinal. With a great start that saw the Team Crosslink driver move into the top-five, a racy field of Senior drivers attacked Lange pushing him back to ninth by the time the final checkered flag had flown.
"It was an intense prefinal with a lot of side-by-side racing," explained Lange. "Unfortunately, I was in the wrong place at the wrong time and lost several positions mid-race. Starting ninth in the final tomorrow, I will look to work my way back forward and challenge for the win."
It was a difficult opening lap for during the ROK Senior main event on Sunday as contact relegated Lange down the order to the 18th position. Working the entire race to salvage a good result, the Team Crosslink driver was able to climb the running order back to 11th.
Lange added, "It definitely wasn't the result we were looking for based on the speed that we had in the heat races, but to come into my only second race of the season and first ROK Cup USA event, I can't complain. A huge thank you to all involved in getting me to Ocala and I look forward to upcoming events in March."
Luke Lange would like to thank his partners for their continued support. A huge thanks to LukesFastBreaks.org, America's Auto Auction, and Team Crosslink. Be sure to follow and stay tuned to the Luke Lange Racing social media pages for news, information, photos, and results from future events.
For more information on Luke Lange, please visit him online at www.LukeLangeRacing.com or www.LukesFastBreaks.org or contact RTD Media & Management via email to Info@RaceTechDevelopment.com.