Podium for the Exprit Kar at the WSK Champions Cup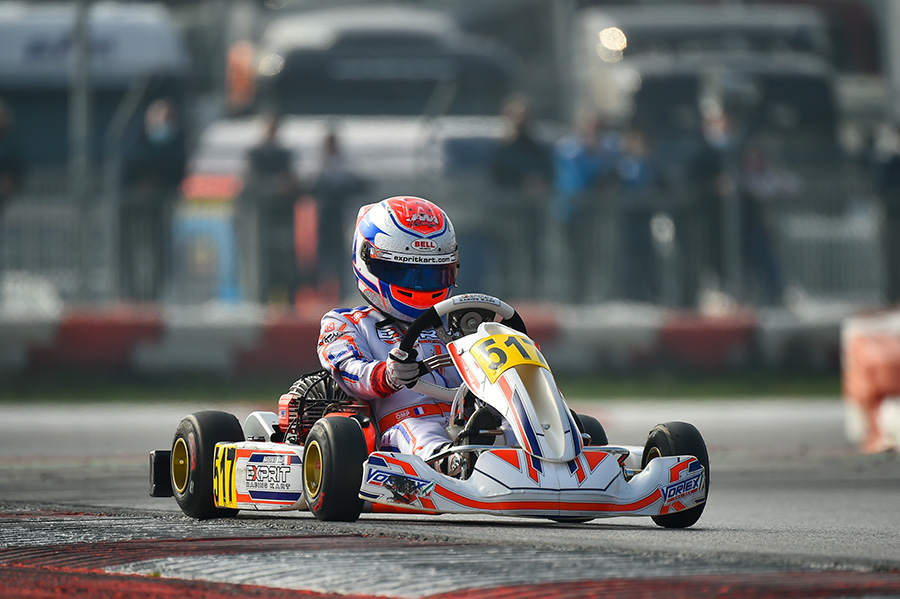 Our Noesis R chassis achieves an excellent second place on the occasion of the opening event of the season, at the Adria Karting Raceway circuit
The Exprit Racing Team, at its second year of activity in the international karting scene, but with all the decades of technical and sporting experience of OTK Kart Group behind it, attends the WSK Champions Cup at the Adria Karting Raceway for the first international karting event of the 2021 season. Our official drivers of the OK and OKJ categories are back at the wheel of the Exprit Noesis R, next to the Exprit Rookie 2020, for the MINI class. The two chassis are obviously equipped with DST (OK), DJT (OKJ) and MCX (MINI) Vortex engines.
As far as our Racing Team is concerned, in OK class Charlie Wurz stands out with interesting performances in view of the WSK Super Master Series, getting a fifth place as best result in the heats, after a comeback of eight positions.
The value of Exprit Kart material is then confirmed by Nikolas Pirttilahti. The Finnish driver ended the weekend with a third place in the qualifyings, followed by a victory in the first qualifying heat and a ninth place in the pre-final. Unfortunately, he has to stop in the final, just when he was fighting for a significant result.
In OKJ category, our official Racing Team's drivers, Oscar Wurz and Jules Caranta, make their way through the heats, gaining several positions and increasing their experience in the category.
And just in OK-Junior class there is the podium for the Exprit Kart: Kean Nakamura-Berta gets a second place in the final and stands out for his speed throughout the weekend, with two victories in the heats and a fast lap.
Mateo Moni made his debut in the MINI category, quickly getting familiar into an international event. The young French driver could not exploit the full potential of the material at his disposal due to some withdrawals in the qualifying heats, but the season has just begun and the growth has certainly not been lacking in these days.
The Exprit Racing Team is still at the Adria Karting Raceway because, from February 24th to 28th, the first round of the WSK Super Master Series will take place.