Champion and Fresh Faces Find the Podium in Ipswich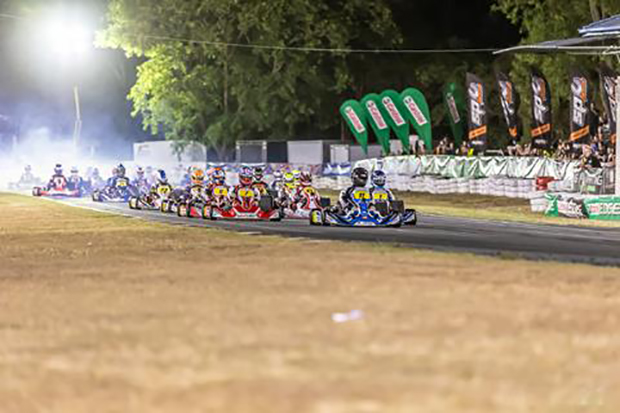 Troy Loeskow's defence of his SP Tools Australian Kart Championship, presented by Castrol EDGE could not have got underway in better fashion at the first round under lights in Ipswich on Saturday night taking a dominant win in the KZ2 Final.
After Zac Zamprogno got the best of the start int he 25-lap final, it took little time for Loeskow to charge into the lead on the young Sydney-sider, who has joined the Patrizicorse Ricciardo Kart team this year.
Loeskow was ecstatic with the 2.5 second win, which saw him beat home Porsche Sprint Challenge regular Ryan Suhle. Inaugural Australian Ladies Trophy winner, Taylah Agius crossed the line third, which would have been her first KZ2 podium, however a post race bodywork infringement dropped her to fifth behind Zamprogno and youngster Oscar Targett.  SodiKart's John Grother took out the KZ2 Trophy honours on his Championship return.
In the premier junior category, KA2, Carter Mobbs put in a storming drive in his PCR entry to take his first KA2 win after starting from 11th position in the final. The Emerald (Queensland) product started the race 11th on the grid and charged forward to claim the win aboard his PCR entry ahead of Championship debutant, Elliott Cleary and Zane Rinaldi, who had arguably his best KA2 weekend. The event featured new Championship round winners as well.
In what was one of the best finals in some time held at an Australian Kart Championship round, Joel Jamieson took his maiden win after a hard fought KA3 final with a last lap pass for the win on Jace Matthews – who was later relegated a further two places post race for a yellow flag infringement.  Matthews' relegation elevated his younger brother Declan to second ahead of Kurtis Tennant.
Hamish Fitzsimmons won the TaG 125 Final after rounding out the qualifying heats with a pair of victories. In a good night for the Tyler Greenbury Racing team, Luke Thomas grabbed the quinella for the outfit, sneaking through to second late in the race, while multiple-time TaG 125 Australian Champion, Brendan Nelson got his Championship underway strongly with a third placed finish.
In X30, Jace Matthews made up for the KA3 disappointment by taking a solid win over Harrison Hoey and Marc Tulloch.
Alex Ninovic got his KA4 Junior campaign underway in fine style by winning comfortably after a dominant weekend in his PCR chassis. The New South Welshman took the win over Luke Trost and Ryan Macmillan, with the race for the final steps of the podium coming down to a last lap, last corner charge also involving Benjamin Munro and Isaac McNeill.
Sebastian Eskandari-Marandi was victorious in Cadet 9 after a spirited fight. The Queenslander got home in front of the Energy Corse pair of Alaster Flack and Caylen Burke – the latter two in their first ever Australian Kart Championship event.
In Cadet 12, reigning Cadet 9 Champion, Ky Burke made a successful transition to Cadet 12, winning that final comfortably. The Energy Corse driver got to the line ahead of two Parolin racers, Victorian Lewis Francis and Gold Coaster Jaxson Burns.
The opening round attracted over 260 competitors from across Australia to the Ipswich, within the Willowbank Motorsport Precinct outside Brisbane.
The next round of the SP Tools Australian Kart Championship presented by Castrol EDGE is scheduled to take place in March 12-14.
RESULTS – ROUND 1 SP TOOLS AUSTRALIAN KART CHAMPIONSHIP, PRESENTED BY Castrol EDGE (Ipswich, QLD)
Cadet 9
1. Sebastian Eskandari-Marandi
2. Alaster Flack
3. Caylen Burke
Cadet 12
1. Ky Burke
2. Lewis Francis
3. Jaxson Burns
KA4 Junior
1. Alex Ninovic
2. Luke Trost
3. Ryan Macmillan
KA3 Senior:
1. Joel Jamieson
2. Declan Matthews
3. Kurtis Tennant
TaG 125
1. Hamish Fitzsimmons
2. Luke Thomas
3. Brendan Nelson
X30
1. Jace Matthews
2. Harrison Hoey
3. Marc Tulloch
KA2
1. Carter Mobbs
2. Elliott Cleary
3. Zane Rinaldi
KZ2
1. Troy Loeskow
2. Ryan Suhle
3. Zac Zamprogno
Trophy Class: John Grother
For the Full Results: https://speedhive.mylaps.com/Events/1837024