Six Top-Ten Results for Birel ART North America to Close SKUSA Winter Series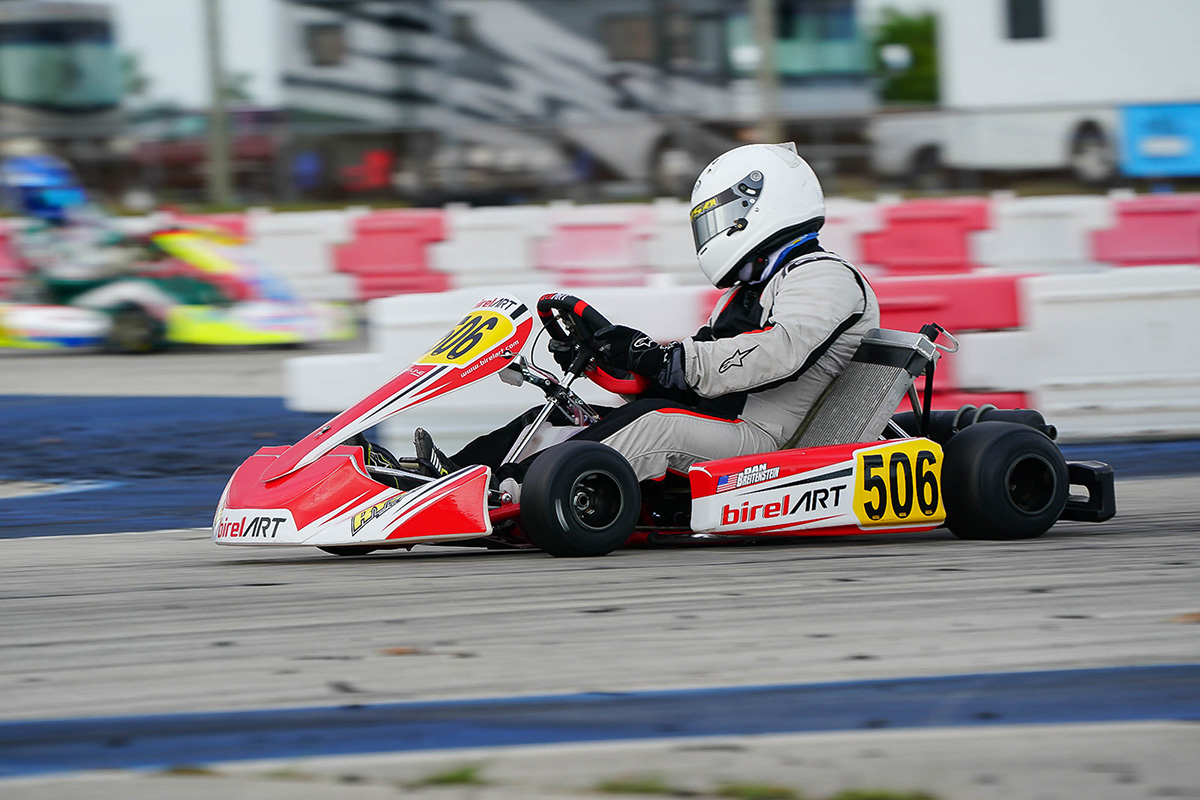 It was the final event weekend in the Superkarts! USA (SKUSA) Winter Series and Birel ART North America closed the popular winter karting program with six top-ten results. Though held from the top step of the podium during the third and fourth rounds of the series, the Red Army showed speed, strength and poise as team drivers battled near the front of the field at the AMR Motorplex in Homestead, Florida.
"We always want to win, but when we can't, the goal is to attain the best results possible and that is what we did in Homestead," explained Birel ART North America's Dominic Labrecque. "We will now quickly change our focus as we look forward to this weekend's ROK Cup USA Florida Winter Tour at Ocala Gran Prix."
Four of Birel ART North America's top-ten results came on Saturday during round three and were scattered across four separate classes. Jesus Vasquez Jr. turned his tenth-place qualifying effort into a tenth-place result in KA100 Junior while Jack Jeffers earned a seventh-place finish in X30 Junior after qualifying in the ninth position. X30 Senior driver Tyler McIntyre was rewarded with a seventh-place finish matching that of Jeffers in Junior while Dan Breintenstein finished seventh in X30 Masters.
Returning to the track on Sunday for the fourth and final round of the SKUSA Winter Series, it was Breintenstein who would return to the top-ten adding another seventh-place finish after qualifying sixth. McIntyre qualified his Birel ART in the top-ten to eventually be classified in the 13th position when the day ended while perennial frontrunner Thomas Nepveu was able to convert his ninth-place effort into a seventh-place result to close the series with another top-ten finish for the potent Birel ART North America program. Mini Swift driver Jackson Glendenning showed top-ten pace in both Saturday and Sunday's competition claiming ninth-place qualifying efforts in one of the toughest fields in karting.
Labrecque continued, "We have no time off as the guys have already travelled to Ocala and have begun setup and preparation for this weekend. We have a strong contingent of drivers and will be aiming to return to the top step of the podium in ROK competition."
Birel ART North America drivers will hit the track this week for unofficial practice before qualifying and the first of three heats for the second round of the ROK Cup USA Florida Winter Tour go green Friday afternoon. Heats two, three and the weekend prefinal for all classes will take place on Saturday with round two race winners being crowned Sunday.
For more information to become part of the Birel ART, Ricciardo or Charles Leclerc dealer networks or information on how to join the PSL Karting / Birel ART North America Race Team for the 2021 season, please contact Dominic@PSLKarting.com.
Birel ART North America (PSL Karting) is the National Importer and Distributor of Birel ART products and accessories, including Ricciardo Kart, Kubica Kart, the Charles Leclerc chassis line and Freeline accessories. Visit www.pslkarting.com to find a retailer near you. Follow our racing team and product updates via our social media @pslkartingofficial.