Luke Lange Makes 2021 Debut at SKUSA Winter Series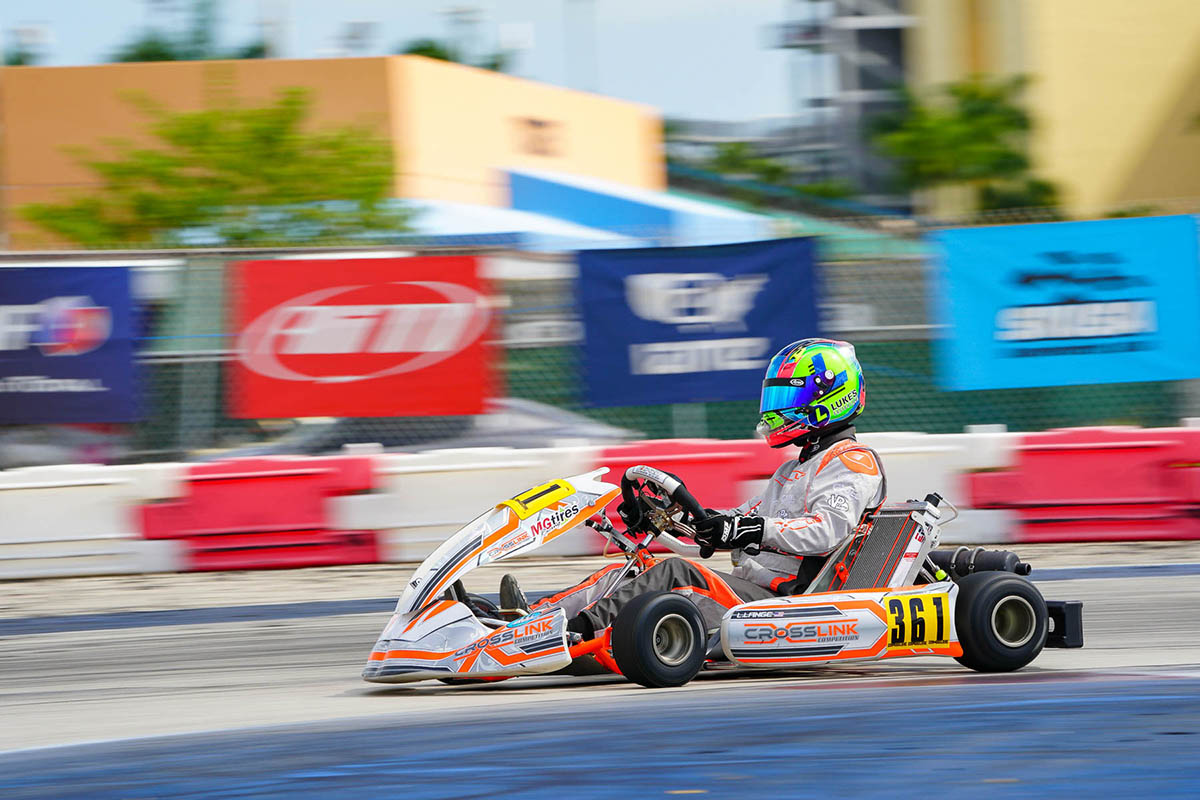 Luke Lange completed his first event of 2021 with a new team
and chassis this past weekend in Homestead
(Photo: On Track Promotions)
In his first event of the 2021 season, Luke Lange joined his new team in South Florida. Taking on the AMR Motorplex in the shadows of the Homestead-Miami Speedway, Lange piloted a Team Crosslink prepared Exprit chassis in the X30 Senior class at the final round of the Superkarts! USA (SKUSA) Winter Series.
"It is not easy coming back into the toughest class in karting during the second month of the year when your competition has a couple of events and test days under their belts," explained Lange. "A huge thanks to Team Crosslink and all my supporters for making everything possible. I now feel much more prepared to enter the heart of the karting season and can't wait to get back on track."
With the goal to claim the best results possible, but also get back into racing shape, consistent improvement on Saturday, a 17th position was earned in qualifying before Lange battled hard in the prefinal. Shuffled around on occasion with close racing and the competitiveness of the X30 Senior field, the young Texan would eventually be classified in the 18th position after the final results were tallied. With hopes of improvement in the 35-driver field in the day's main event, Lange was able to break into the front half of the field and nearly cracked a top-ten finish earning a 13th place result.
Returning to the AMR Motorplex on Sunday, Lange started opened the morning with a little more speed and qualified in the 16th position. Though an improvement from the day prior, the Team Crosslink driver was not satisfied with the result and proved his capabilities in the prefinal advancing forward to finish 12th, only to receive a post-race time penalty of three seconds for a bumper infraction that relegated him back to 16th and an outside row eight starting spot for the main event. Determined to work his way forward, Lange leveled up five positions to earn an 11th place result in his first weekend back in competition in 2021.
Luke Lange would like to thank his partners for their continued support. A huge thanks to LukesFastBreaks.org, America's Auto Auction, and Team Crosslink. Be sure to follow and stay tuned to the Luke Lange Racing social media pages for news, information, photos, and results from future events.
For more information on Luke Lange, please visit him online at www.LukeLangeRacing.com or www.LukesFastBreaks.org or contact RTD Media & Management via email to Info@RaceTechDevelopment.com.