Caleb Gafrarar Readies for Round Two of ROK Cup USA Florida Winter Tour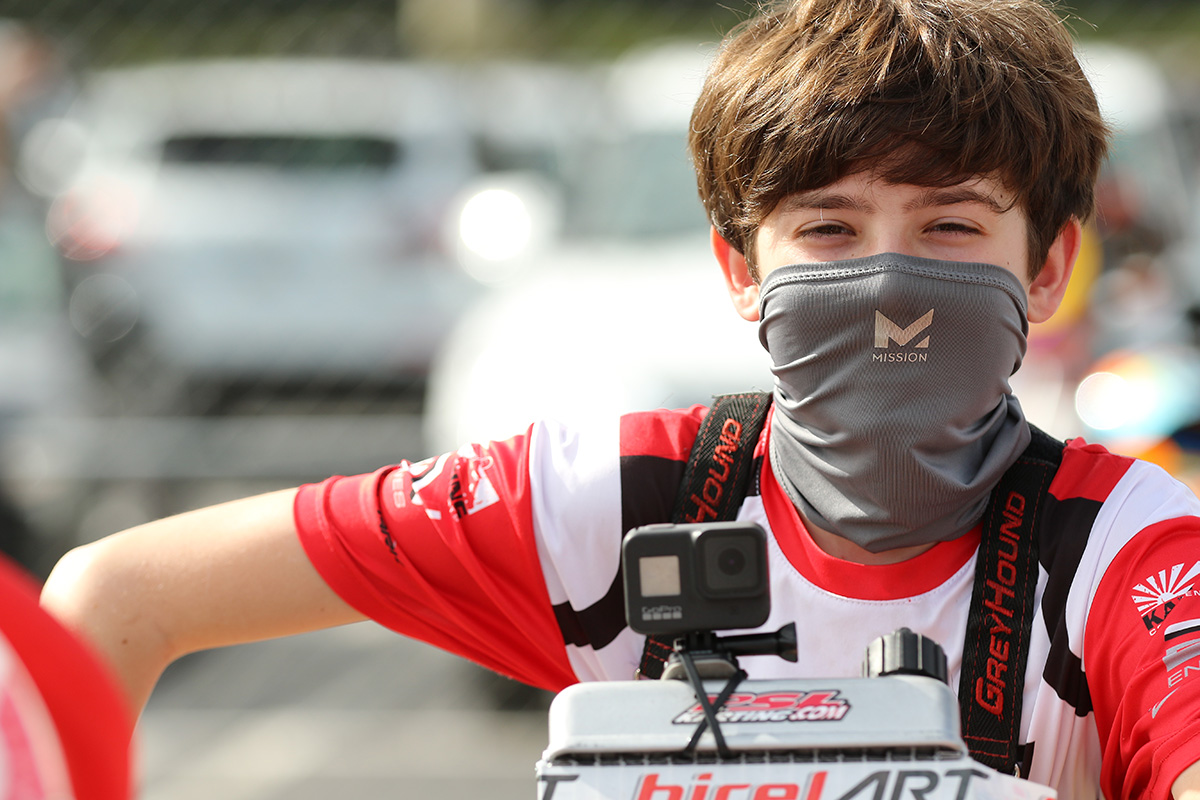 The reigning Florida Winter Tour Mini ROK class champion, Caleb Gafrarar is looking to turn up the speed this weekend in Ocala in the potent ROK Junior category
(Photo: CKN)
With the first event of the ROK Cup USA Florida Winter Tour now behind him, Birel ART North America driver Caleb Gafrarar is primed and ready for round two. Taking place at the Ocala Gran Prix (OGP) facility in Ocala, Florida, Gafrarar will look to turn his speed from round one into a race winning performance in round two over the February 15-18 weekend.
"I am looking forward to getting back to the track here in North America before my next overseas trip," explained Caleb G. "I had a good opening round, but the overall results were hindered by a penalty. Taking the positives from the weekend, we have the speed to compete."
During his first event of the 2021 season at the Isle Casino in Pompano Beach, Florida, Gafrarar qualified in the fourth position before going 11th, fourth and fifth through the three-heat race format. Lining up fifth for his first career Junior ROK prefinal, the rookie driver fell to P8 when the checkered flag flew. Returning to the track Sunday for the weekend's main event, the Birel ART North America driver drove forward to finish seventh but incurred a ten second time penalty post-race.
Looking to fight his way forward in round two, Gafrarar has had success at the Ocala Gran Prix facility in the past. As the reigning Mini ROK Champion, the multi-time race winner will work hard to put his #244 machine at the front of the field.
Gafrarar continued, "The goal of every driver is to win and that is mine as well, but I also understand that I am new to the class, one of the toughest in karting, so while I will aim to score the best results possible, I am also focused on gaining experience and building for the future."
Caleb and his Birel ART North America race team will hit the track on Thursday for practice before progressing through qualifying and the first of three heat races on Friday. Saturday will be the home of heat two, three and the prefinal with main events coming on Sunday. Stay tuned to the Caleb G social media pages for news, information, photos and results from the event weekend.
In European karting news, Caleb Gafrarar was announced last week as a Team Driver for Lennox Racing. Piloting a Charles LeClerc Kart designed and manufactured by Birel ART, Gafrarar has a full schedule on his plate in 2021 as he will jet set his way around the world. Read the full story HERE.