Begin Again: Where Did Everybody Go?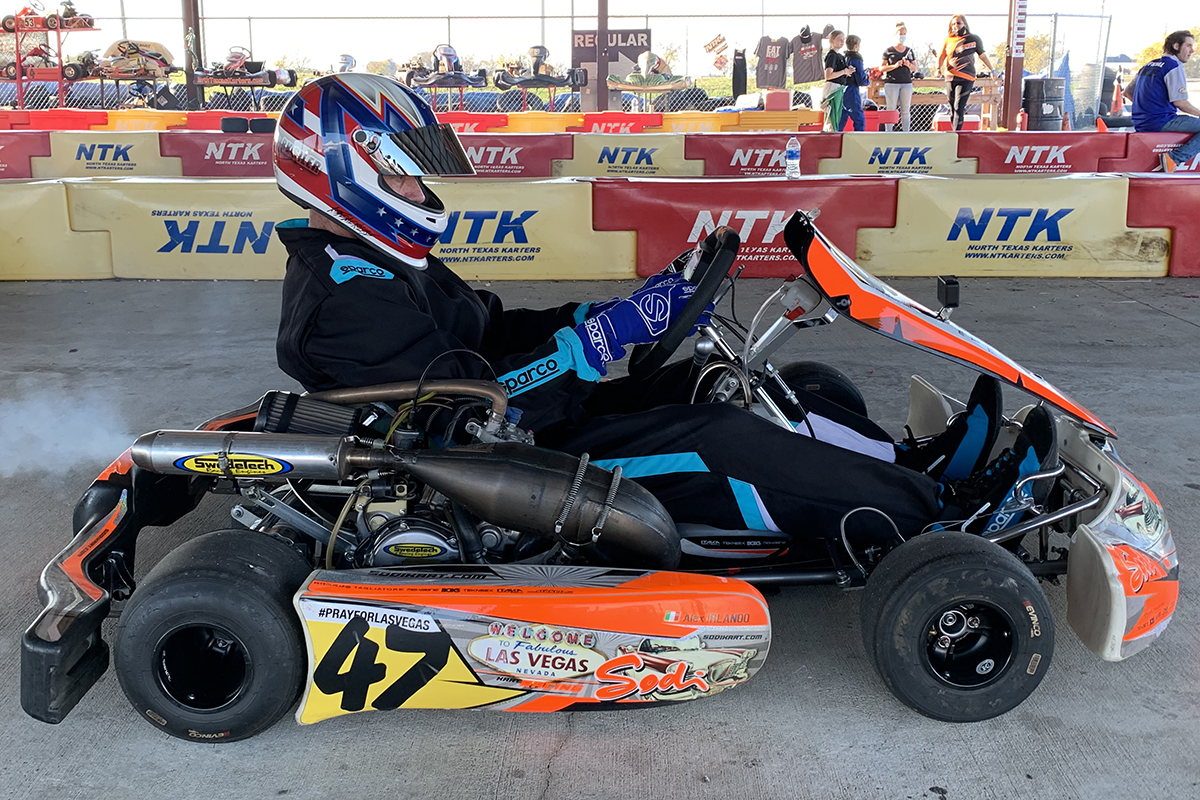 R.K. Siler behind the wheel for his first race in over 30 years.
The following is a continuing series 'Begin Again' written by R.K. Siler. The series began with Going Back to My Karting Roots in early 2020, followed by Strains, Rains and Pandemics in April. The third column was offered in October 2020 with Support Your Local Kartshop. The following is his next edition to the series.
Thirty-one years is not a long time-that is, if you are a tree.  If you are trying to compete in a sport, a layoff of 31 years (half my lifetime-YIKES!) may as well be an eternity.  That's exactly what I have been facing as I've been working through my comeback into auto racing via karting.
I didn't know it at the time, but in August of 1989, I drove in what was to be my last race for three decades.  At that time, I was convinced I would make a career out of motorsports, so the plan was to wrap up my Formula Ford championship and then move into Sports 2000 racing in 1990 – that move eventually happened (sort of…), but not in the way that I intended, which is a story for another day.
On that day in August, I was racing at Houston Raceway Park, the dragstrip located in Baytown, Texas just southeast of Houston.  The Houston Region of the Sports Club of America had laid a track out at the facility that utilized the drag strip, the return road for the drag strip, and most of the paddock area for the drag cars. The track featured multiple unprotected drainage ditches, culverts, narrow gates between chain link fences, and best of all, a quick chicane (flat in third gear in a Formula Ford!) that snaked between two cinder-block buildings. The Baytown layout was dangerous (the SCCA only ran there once for that reason), challenging, and honestly, very satisfying to drive when you got it right.  I brought my 1984 Reynard home fourth, good enough to wrap up the Formula Ford Championship for the Southwest Division.  Despite the fourth-place finish, I will always rate that race as one of my best ever.
Fast forward thirty-one years, two and one-half months later, and I was waking up on a Saturday morning (November 7, 2020) to contest my first-ever shifter kart race.  I would be competing at North Texas Kartways (NTK), one of my two "home tracks", and honestly, I was dreading that race.  Don't get me wrong, I was glad to be racing again, but despite having practiced at the track many times, I was still way off the pace, so I left that morning for the track certain that I was going to get my head handed to me that day (nothing like having a positive attitude, right?).  I had decided to enter the race because I figured that maybe I needed to be chasing somebody in order for me to improve. There is nothing quite like having a "rabbit" to go chase.
I left for the track in a very foul mood because I knew I was going to be uncompetitive, but since I had told quite a few people that I was racing that day, my ego told me I had no choice but to be a man and do what I said I was going to do.  My terrible mood changed the moment I pulled up to the track.  The weather was perfect, there were tons of entries competing in the various classes, the line at registration was friendly, swift and efficient, and before I knew it, I had my kart unloaded and my paddock space laid out.  I was enjoying just being at a race again as a competitor, and just soaked up the atmosphere.  One thing that was different for me was that I had absolutely no butterflies; I mean, why get nervous when you already know you're going to get destroyed?  I only get nervous when I know I have a shot at winning, so I was as cool as a cucumber!
I made a quick guess and set the tire pressures, fueled up the kart and then pre-warmed it on the stand.  After suiting up, it was time to push up to the hot pits and get ready for controlled practice.  At NTK, you practice with your class, so I was looking at a 10 minute "Controlled" practice session followed by another 5-minute practice session, and then it would be time to qualify.  With the limited practice time on a race day, you had best have your setup close to optimal when you set the kart on the ground, or you will be chasing yourself all day.
My mindset for this race meeting was to treat it as if it was just another practice day, so with that in mind, I had a couple of driving techniques that I wanted to focus on and nothing else.  First, data analysis off of the MyChron 5 had shown that I have a terrible habit of short-shifting on my upshifts; instead of shifting at around 12,500 rpm, I was shifting at around 11,800 rpm, so I was leaving a lot of performance on the table, especially when you consider how peaky the Honda Stock Moto engine is.  Second, I wanted to make sure I was blipping the throttle on my downshifts, as I learned that when you get the downshifts timed right with the throttle blip, the chassis is much more stable under the brakes and in corner entry, so it is easier to hustle the kart a bit.  An added benefit to blipping the throttle on downshifts is that sounds really cool!
As I headed out on track, I quickly realized that all the pre-warming I had done in the paddock prior to heading up to the hots pits was pretty much a waste of time, as the ambient air temperature was low enough that the engine had already cooled off almost entirely, so the first few laps were spent gently warming up the engine again (note to self:  on cold days, start the engine up long before you go on track so it has a chance to warm up BEFORE you start driving!), trying to get some heat in the tires and also jumping on the brakes to get them heated up.  Towards the end of the session, things had warmed up enough that I managed to get in 3 or 4 "quick" laps and then the session was checkered, so it was back to the hot pits, load the kart up on the stand and head back to my paddock space.
A quick check of my tire pressures showed that I had completely missed the mark on how much I thought the tires would grow, as the tires never grew to where I typically want to run them.  In retrospect, my guess is that I would build some heat into the tires thru the twisty sections of the track, and then the tires would quickly cool off due to the cool ambient air temperature as soon as I headed down the two longest straightaways (which are fairly short).  The turns at the end of each straight were pretty exciting because I would turn the steering wheel into the corner and because the tires had no heat in them, there was nobody home when I needed grip.
So, I bumped the tire pressures up some, lubed the chain, did a quick "nut and bolt" to make sure nothing had rattled loose, and it was then time for the second, and last, controlled practice session.  This time, I went out with a much warmer engine, scrubbed the tires like crazy to get some heat in them, and honestly, I felt like the session went much better.  My upshifts were better, not great, and the downshifts were virtually on the money.  The increased tire pressures helped the handling, so I was feeling pretty good about the upcoming qualifying.
Qualifying was a bit of letdown, to be honest with you.  I didn't have high expectations going into the session, mind you, but I was expecting to see some more improvement.  As it turns out, I did not improve at all, and in fact, I went backwards.  Having just a little bit of confidence, I immediately started trying too hard, and so I never put together a clean lap.  Since I tend to be a really slow learner, I decided to try to take the last turn that leads onto the main straight flat out in second gear, something that I had never tried before.  For those of you who are unfamiliar with NTK, the last two turns on the track comprise a very tight right-left chicane.  My brilliant idea was that if I could take the second corner faster than I have in the past, then I would have a faster exit speed, which translates to a higher top speed down the straight and thus a quicker lap time.
On that lap, I had pieced together a clean, tidy run, with no missed apexes, grabbing the right gears, etc.  Coming into the final chicane, I braked hard, grabbed second gear, got a great rotation into the turn, hit the inside curbing perfectly, and, keeping the throttle buried, I turned to the left to take the last turn and suddenly I had massive understeer and went straight off the track.  There was no damage to the kart or driver, but the lap was ruined.  Cursing under my breath, I eased the kart back on the track as a couple of my competitors streamed past.  That was the end of my qualifying, and predictably, I would grid last. Clearly, everything was going to plan!
After scaling the kart, Bob Schabel, who is one of the Vice Presidents at NTK and a pretty fair shifter kart pilot in his own right, came up to me to and said, "I saw you go off in turn 10.  What happened?"  I kind of shrugged my shoulders and mumbled something about running out of talent midway through the corner.  That pretty much summed it up-if I had to guess, when I attempted to rotate the kart into the left-handed turn 10, I didn't get any lift on the left (inside) rear tire because it was still heavily loaded in the right hand turn 9, and so there was no way I was going to get anything other than massive understeer off the track.  Lesson learned…
Heading on track for the race was a new and seriously cool moment.  In all my years of racing, I had never done a standing start, so this was a whole new experience for me.  On the pre-grid, I got some tips from my fellow competitors, and then it was time to see if I could pull it off.  I pulled up to my spot on the starting grid and found myself thinking that this looked a whole lot like what I have seen from the onboard cameras at the start of a Formula One race…the lights started coming on, I brought the revs up to a level that sounded about right, the lights went out, I dumped the clutch and of course, I darn near stalled the engine.  I caught the engine just in time by grabbing the clutch, and in the meantime, the rest of the field was disappearing into the distance.  By the time I got rolling, the rest of the field was already exiting Turn One and I was nowhere close to the turn's entrance.  From there, the race was very anti-climactic.  I drove a very lonely race to dead last, with the only bright spot being that I didn't get lapped.
All that said, there were absolutely no negatives to my day.  First of all, I actually got to race, Honestly, just being there and participating was a victory for me, regardless of what the result sheet said.  Second, I was reminded about just how great the karting "family" is.  I met lots of very nice folks, people supported each other while still managing to race each other hard and of course, there were a lot of families participating, which is so cool to see.  My kart ran well all day long with good reliability, which is huge.  Most of all, I was made to feel welcome, and while that is not a priority for me, it was greatly appreciated, so a huge thanks to North Texas Karters for putting together a very well-run event!
One more race for 2020 remains on my calendar, and that is a story that will be coming to you soon!