Arizona's Cooper O'Clair Joins WH Sports Driver Performance Programme in North America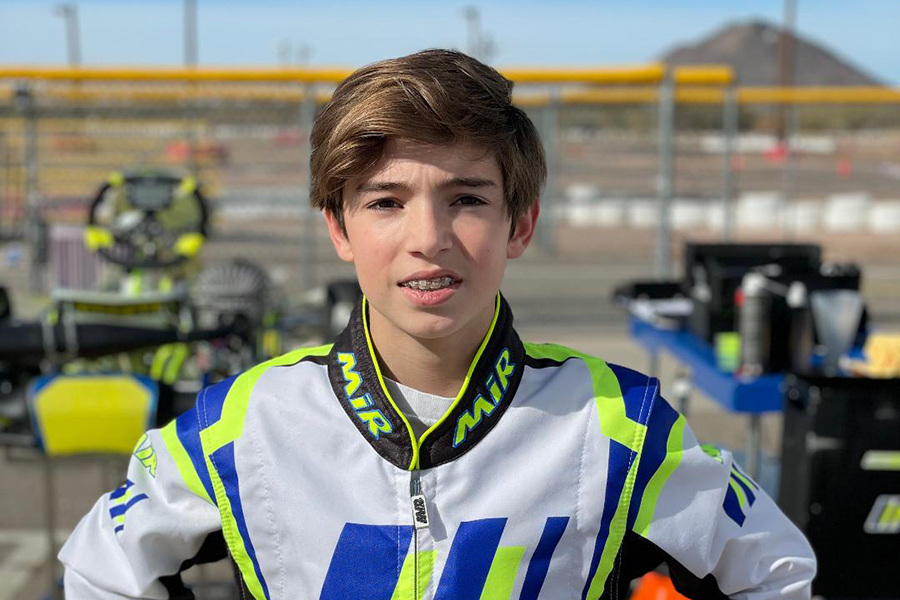 Promising American karter Cooper O'Clair has been signed up as the first member of WH Sports' new Driver Performance Programme in North America, as the multi-faceted sports agency aims to prepare the 12-year-old for success on the international stage.
WH Sports has already carved out an enviable reputation in the industry for spotting and nurturing motorsport stars while simultaneously brokering high-profile sports sponsorship agreements on a global scale, and O'Clair is the latest addition to the organisation's stable of talented athletes.
In just two short years, the Arizonan has made great strides in karting – although his career began in a different discipline. Thrown on a pair of skis at a young age and subsequently motocross bikes, O'Clair quickly learned how to handle a sport that requires high speed and precision. He didn't step into the cockpit of a kart until November, 2018 at the age of ten – but despite his comparatively late start, progress has been swift.
Last year marked his break-out season at regional level, dominating the PKRA Super Showdown in his hometown of Phoenix and winning the California ROK Championship in the fiercely-contested Junior 100cc category.
For 2021, Cooper has been promoted to the J3 Competition/Compkart works team, where he will be supported by veteran team manager Justin Stefani and KZ factory driver Kol Bailey, who recently joined WH Sports' Driver Performance Programme in North America as a driver coach and karting specialist.
O'Clair's target for the forthcoming campaign will be to contest races at the iconic Circuit of The Americas (COTA) and to progress to United States Pro Kart Series (USPKS), ROK Cup and SKUSA Pro Tour rounds throughout the year.
Giacomo Sgarbossa, Athlete Representative, WH Sports, said:
"We are very happy to welcome Cooper as the first member of our WH Sports Driver Performance Programme in North America. Over the past 12 months, we have focussed on creating a grass-roots development model in motorsport, to replicate that which mainstream sports such as football, tennis, golf and rugby successfully provide to their top young sportsmen and sportswomen.
"Whilst enjoyment and love of their sport is paramount, helping a young driver to understand early on the degree of commitment and dedication required to become a professional athlete at international level is something that we feel needs reinforcing.
"Cooper is clearly naturally very fast and eager to learn, and in just his first two years of racing, he has already achieved some very strong results. Driver coaching, mentorship, fitness and mental training are the main areas that we will concentrate on with him, and we look forward to seeing his progress."
Cooper O'Clair, Athlete, WH Sports, added:
"The last two years have been amazing, and I can't express how thankful I am to be where I am now – but we can't stop here! 2021 will be an important year for me as I start racing nationally and eventually move up to the X30 class. My whole life has been devoted to karting since day one, and I plan to continue this and strive for more.
"Motorsport has never been remotely easy, and never will be. Watching the TV when I was little and pretending I was a race car driver is one of my earliest memories, and now that I have grown up and begun racing myself, I appreciate the commitment required not only for the driving part, but also everything behind-the-scenes – from physical fitness to nutrition, mental resilience and media interaction. You need to beat the best if you want to be the best.
"This is something that I couldn't do on my own, so I'm excited to join WH Sports to help me achieve my goals. Their group of trained professionals with experience from Formula 1, IndyCar and other high-profile championships is beyond my wildest dreams. My excitement levels are through the roof!"