Exclusive Club: Norberg and Jarsocrak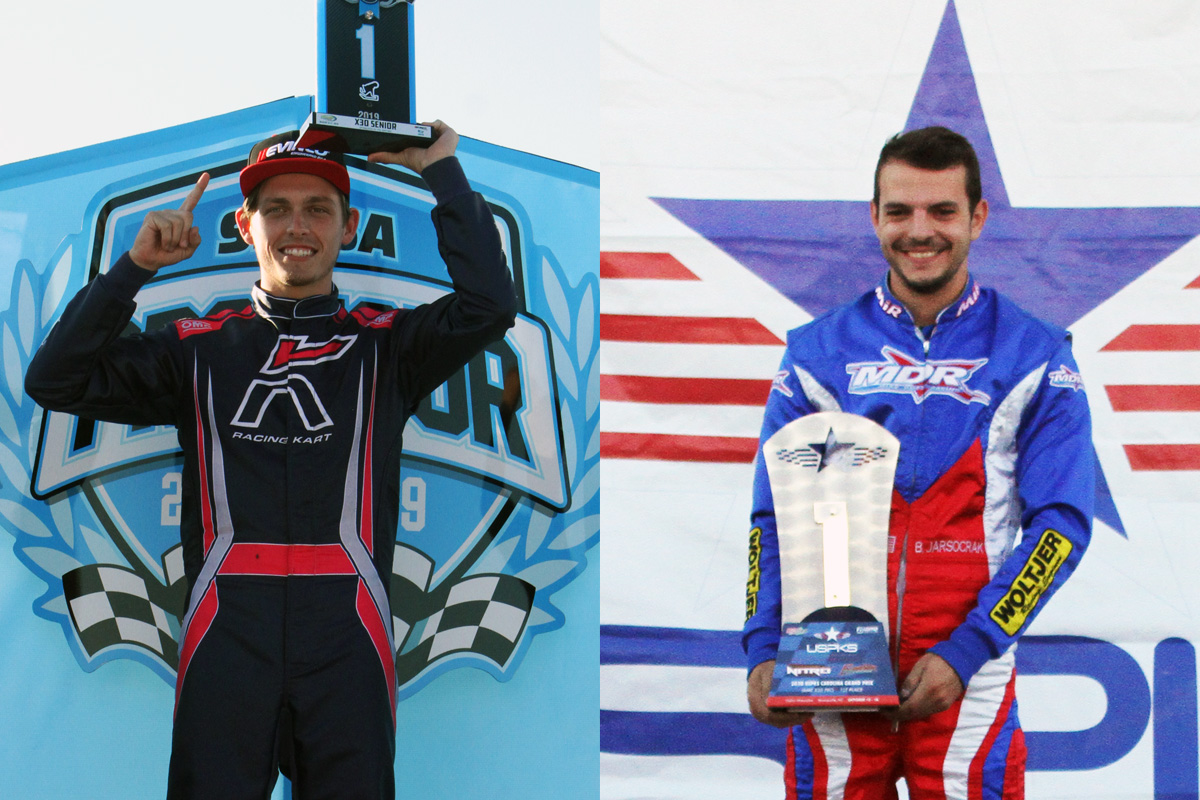 Ryan Norberg and Brandon Jarsocrak (Photo: EKN)
-An article by Blake Hunt
TaG Senior has arguably been the most fiercely contested class in karting over the past decade. In anything this competitive, the cream rises to the top, and it has become clear the cream of the crop is none other than Ryan Norberg and Brandon Jarsocrak. These two men have dominated the national karting scene in recent years. Both have managed to achieve the remarkable feat of winning four back-to-back titles. Norberg has done so in Superkarts! USA Pro Tour national competition (2016-2019) and Jarsocrak at United States Pro Kart Series program (2017-2020), the elite travel series in the eastern half of the USA. The two have proven to be fierce adversaries in head-to-head competition, with it often being a toss-up as to which will come out on top. What does it take to not only reach the top, but stay there?
Where it Began
Every local legend has to go see if they have what it takes on the big stage at some point, and that was no different for these two men.
"I started racing nationals back at the 2008 WKA Daytona KartWeek with Mike Doty Racing. Mike said that we needed to try a national race because I was making good progress at our local races," says Jarsocrak of his path to the national scene. Mike Doty was right, as Brandon had what it took to get a podium in his first ever national.
Ryan Norberg had a similar path to national competition, debuting at the 2013 US Rotax Grand Nationals on a ride with AM Engines, a ride he got based on the merit of his regional performances. "I got the opportunity to race because of Ariel Castro with AM Engines lending me a chassis and engine," Ryan says. "Most of my racing budget at the time went into racing the Florida Winter Tour, so we didn't have much money to race nationally."
Both would go on to not only match the high mark they set initially, but go on to be the faces of a generation of American karters.
The First Championship Trophy
It's often the first hurdle that's the hardest to jump, a sentiment echoed by Ryan Norberg about his first SKUSA Pro Tour championship. Having frequently featured at the pointy end of national competition, Ryan viewed himself as a contender, but didn't have any big wins to his name.
"Not many people would even pick me for their stopwatch," says Ryan of how his competitors viewed him prior to his rise to the top. This changed for him however, at the start of the 2016 season. "I saw other drivers pointing me out to their mechanic at every race. It made me feel like I was the one to beat," notes Norberg. He cites this newfound respect within the paddock as what gave him the confidence to approach a team such as PSL about driving for them.
Jarsocrak had been a USPKS contender for some time before he stamped his authority on the field with a top-level championship winning run, but just like Norberg he remembers his first fondly. He had already won two Yamaha championships with the United States Pro Kart Series, though he remarks that, "the TaG championships were more rewarding as they were more challenging." Not only was his 2017 USPKS championship his first in TaG, but his first with KartSport North America. "The first championship back in 2017 was pretty special because it was the first championship that I won with KartSport North America, and we won every final except for two finals in the eight rounds."
Staying on Top
Consistency. It is one thing to be consistent, but to consistently be at the top of your game is a talent possessed by a rare few. Championships are won every year, but the ability to go back-to-back makes a different kind of statement, winning multiple championships solidifies the fact that someone is undoubtedly the best at their craft. For Norberg and Jarsocrak, going back-to-back wasn't enough.
"The second championship was definitely harder than the first championship," says Norberg of his first successful title defense. A year in which he edged out Jake Craig for the title by a mere four points, a margin which appears even narrower when you consider he had beaten Jarsocrak the year before by over 200 points for his first Pro Tour championship. The switch in 2017 to PSL Karting / Birel ART after driving an OTK for so long "definitely made the season more difficult" in Norberg's eyes. Seeing as he still managed to come out with the championship, the adjustment clearly didn't set him back too much.
After racking up championships two and three with PSL in 2017 and 2018, Norberg was on the move again, this time to the formidable Rolison Performance Group squad.
"Mike is one of the hardest workers I have seen. I would always show up after them and leave before them," he says of Mike Rolison and RPG. Ryan cites one thing as what drew him to RPG, "their work ethic." The admiration he harbored for Mike and his team made the decision to join them an easy one. "When I was fired from PSL, Mike shot me a text, and at that point I almost stopped all negotiations with any team and focus solely on working with RPG." That decision proved to be a fruitful one, as Norberg went on to win the 2019 SKUSA Winter Series, the first series he competed in with the team, before following that up with his fourth SKUSA Pro Tour Championship.
Partway through Norberg's run at the top, all the pieces were coming together for a young man from Pennsylvania to also earn the title of TaG Senior national champion. Jarsocrak's strong run at USPKS in 2016 left enough of an impression upon the head of KartSport North America, Eric Jones, for him to offer Jarsocrak a ride for the 2017 season. That opportunity proved to be just what Jarsocrak needed to step up and assert his dominance in USPKS competition.
"You feel like the rest of the field wants to do everything in their power to make sure that you don't win," says Jarsocrak of being the reigning champion. After battling toward the pointy end of USPKS Pro division races for a few years, he managed to secure his first championship in 2017 during his first year driving for KartSport North America. Since winning that first championship he feels that the "following ones were more difficult because there is more of a target on your back."
While he hasn't been as active in the driver market as Norberg, he's faced just as many changes. During his time with KartSport he started out driving the Praga chassis before switching to the Kart Republic. Jarsocrak admits that "racing all these different karts has definitely made it harder." Though Jarsocrak adapted to whatever he was racing, as he's proud of the fact that he had success with every chassis he drove. Success for Jarsocrak meant three USPKS championships as well as maintaining a SKUSA national number plate for most of his tenure with KartSport North America.
Coincidentally, both drivers switched teams part-way through their run of success, and both picked up right where they left off after the move. For Jarsocrak, this decision wasn't so daunting, as he was returning to a familiar home in Mike Doty Racing. Brandon says, "I thought that there was no better place to go than where I started." This certainly proved to be true for him, as he kept the ball rolling in terms of his domination.
"The switch back was definitely easy because I was so familiar with all the people and how things worked under the tent. We came right out of the gate at our first race back together with 2nd and 4th place finishes at the SKUSA Pro Tour."
After his strong initial outing at the SKUSA Pro Tour Jarsocrak went on to be a force to be reckoned with during the USPKS season and claimed his third straight title in the series. The 2020 season was no different, as Jarsocrak managed to claim his fourth USPKS championship in a row, and his second with the Mike Doty Racing squad.
The Methodology
While both drivers have certainly racked up quite a few wins en route to their championships, they both agree that consistency outranks the outright ability to win when you're racing for titles. Even on their "off-days" their names remain towards the top of the charts, something which has proven key in terms of finishing the season atop the points.
A championship can be won many ways, but it often boils down to whether you choose to take the risks that come with racing for the win or lurk around the front and rake in the points. The two drivers have opposing mindsets when it comes to how they race when the pressure is on.
"I just try to go out and win every race," says Jarsocrak of his approach to winning championships. "I try to not pay attention to the points situation throughout the season, as it just
adds more unneeded pressure."
Norberg isn't quite so aggressive in his approach, "I think everyone that knows me knows that I am not a huge risk taker, and it's something that has hurt me in recent years. I've always believed that finishing races up front will always win you a championship." This conservative mindset has paid dividends in recent years for Norberg, "The best example is the 2020 SKUSA Winter Series. I didn't win a single race, but I still won the championship. It was close, but still a title."
Not every fast driver can always bring the kart home up front, but Jarsocrak and Norberg both manage to be nearly faultless in this regard. Both attribute their clean, and sometimes conservative, approach to racing as what makes the difference.
"I think being less aggressive helps to win championships. Sometimes not being as aggressive allows you to finish more consistently at the front of the field and not on the sidelines," says Jarsocrak. He's certainly put this mentality into practice, as he managed to finish all but one race of his 2020 USPKS campaign on the podium, and that result was a P4.
Head-to-Head
In almost all of Norberg's Pro Tour championships, Jarsocrak has run the whole season, often engaging in a head-to-head battle with Norberg for the championship but coming up just short. Norberg has only run one full season of USPKS competition once during Jarsocrak's reign at the top, but also came up just short of him in the championship.
Jarsocrak has been a name synonymous with USPKS and Norberg with the Pro Tour, but never the other way around. Both have run the other series, but neither has had what it takes to come out the victor. While they might be fierce adversaries on-track, the two agree on what's most important in winning championships: being a complete driver.
"He knows the tracks well, knows how to finish with enough points, and knows how to win," says Norberg of Jarsocrak's dominance year after year at USPKS. Jarsocrak echoed his sentiments when reflecting on why he's always come up short in the Pro Tour, saying that he's "learned now that you need to put the entire day together and not just the final race."
Leaving Their Mark
Despite their similarities, Jarsocrak and Norberg have different views on what they feel are the most valuable lessons to pass on.
"I feel like my head is full of useless information outside of the karting industry and if I don't pass it on, it doesn't matter what I won, I didn't really do anything good for this sport," says Norberg of what he views his as his duty to pass on the lessons karting has taught him not just about racing, but life. Norberg hopes to get the chance to interact more with the youth in the future, adding that he "want(s) anyone to come out and ask questions."
Jarsocrak meanwhile has a different perspective on what the kids that look up to him should learn, a mantra of Mike Doty Racing some might say. "I want the younger generation to see that karting is supposed to be fun and you have to have fun to be successful. It takes a lot of hard work, time and dedication in order to be successful in the sport but if you put in the time and effort you will be able to win races and championships one day. The most important thing is to have fun."
There's no doubt these two will continue to battle for wins across the country for years to come, as both say they're committed to racing TaG for at least the foreseeable future.
EKN would like to thank Brandon Jarsocrak and Ryan Norberg for their contributions to this article.