EKN One-on-One: Jamie Sieracki – Franklin Motorsports
Veteran industry member focused on continuing development in 2021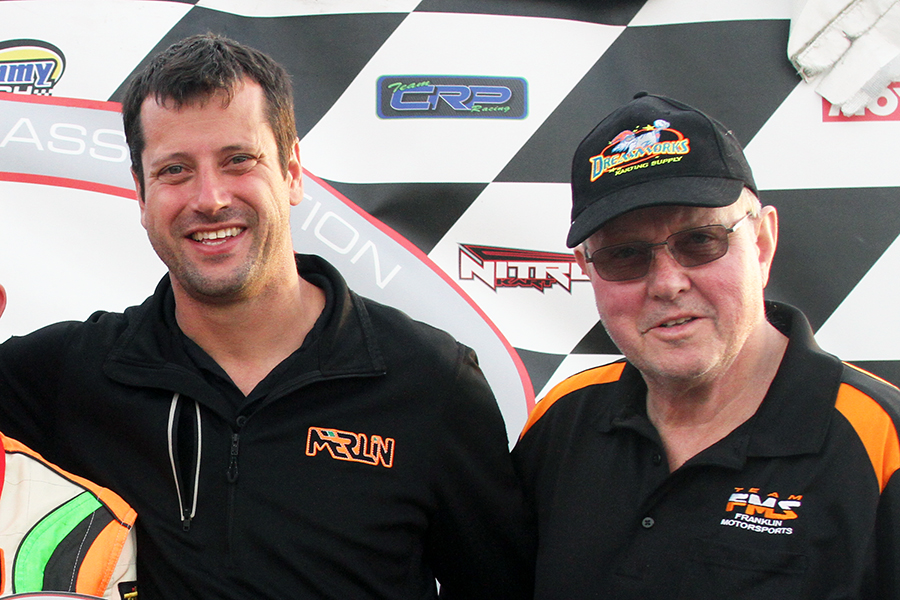 Jamie Sieracki with father George Sieracki (Photo: EKN)
As we close of the end of a surreal calendar year, we're going to fire up a series of off-season Q&As to check in with the sport's industry players and promoters to set the stage for 2021. We begin with one of the truly great guys in karting, Jamie Sieracki from Franklin Motorsports and Team FMS. Jamie's been in the sport for almost 30 years, since starting his own driving career at the age of 11. Sieracki is fully committed to the sport and Franklin Motorsports remains part of the foundation of the industry in the US. From the traveling race team to their online store, to the Merlin chassis importership and expanded engine building program, Jamie plays an integral role in the growth and stability of American karting.  We caught up with Jamie late last week, as he and his staff continued their prep for WKA Daytona KartWeek.
eKartingNews.com: Thanks for taking the time to chat with us, Jamie. WKA Daytona Kartweek is just over a week away, and we know that you're heading south with a number of your customers, so again, thanks for the time. Let's get started by talking about your 2020 season. It was odd for all of us and the industry needed to be flexible. Can you give us some insight into the last eight months at Franklin Motorsports.
Jamie Sieracki:  Thanks for the opportunity, Rob!  2020 was a strange year for all, but once the dust settled in the spring, our region was lucky to get most scheduled events in. Starting at the club level, the Badger Kart Club got the full count of point races in keeping the local scene moving with solid entries.  The Route 66 program, which we followed, ran smoothly with a few tweaks to the schedule, as did the USPKS program.  Following the shutdowns, we made some progress on many 'house cleaning' topics around the shop. We also took the time to put together some future planning ideas.  All in all, we were blessed to have a good year despite the circumstances.  Again, with looser restrictions in our region, track time was still plentiful for many.
EKN: At the end of 2019, Franklin Motorsports expanded its in-house engine program by bringing Scott Kopp from Innovative Performance, which introduced the 'Innovative by FMS' branding. Tell us more about how this program came together and what the focus is for engine work. When we talked to you on an Instagram Live interview back in April, you showed us your new dyno as well. Has the work and development been essentially non-stop since then?
JS: For years, we have offered engine services through the shop, but from 2016-2019 it seemed we were stretched too the limits on what we could take on. There are many facets of our business and it seemed as if all were operational but not to the level I desired. I've known Scott for a long time and we worked together in the past.  I think we both were looking for a little assistance in our karting forays and engine work was an area we both enjoyed. To continue the engine program the way we envisioned at Franklin, we needed to get a dyno in-house. Shortly after that decision, we knew we needed capable hands to work within the program, which led to Scott joining the staff last December.
We both built 2-stroke engines and it was really fun for me early on as we would discuss our approaches to building. His focal points and mine were different, which made it a perfect fit. I feel we both learned a good bit early on and it has made a large improvement in consistency in our work.  Originally. I thought with Scott, I would be more hands off of the engine work. Engine work is still enjoyable to me. so much of my 'shop time' was turned to dyno work, as well as getting the LO206 engine services rolling. Scott worked under the Innovative Performance name for years. We thought it would be a nice touch to re-brand the engine department by incorporating a name he began building years ago with what we had in place at FMS.
EKN: Franklin is the home of Merlin chassis and you guys have a stacked resume of national championships with the brand. What is coming down the pipe with the product line?
JS: We have been with Merlin since 2004 and it really is a product we are proud of.  We are able to give input and Umberto is over the top with his approach to supporting us.  While our workings are simple, they have been consistent for years, which has forged a good relationship.  In late 2018, we went through some major material upgrades which have proven well on-track.  This year, things aren't changing too much. The 2021 cadet will move to a 10mm king pin but other than that adjustment, that's about it as we are very happy with the most recent "tweaks".
EKN: Looking towards 2021, what does the new season look like for Team FMS and Merlin Nation.
JS:  We tend to use the 'Team FMS' term for our trackside support programs and 2021 is beginning a transition into a more dedicated race program for the future. We have always taken on as many people that have looked for support in the past and at certain levels, we have become stretched.  There is always this blending point of those needing 'product support' and those who need a bit more along the lines of coaching and mechanical services.
2021 has a layout more in-line to the future of the actual 'Team FMS'. For 2021, we have a dedicated schedule for the race team, including eight race events between USPKS and Route 66, as well as three test weekends. Eventually, the Team FMS program will only contain drivers competing in the full designated schedule (2022).  With that said, we are committed to still offering customers support for technical advice at race events attended. For the upcoming season, we are still offering one-off type event services and have many events in total available to racers, somewhat mimicking the 2020 season while building the groundwork for 2022.
The race team is a smaller portion of what we do and the biggest upgrade for 2021 will be to our e-commerce platform. We have made slow progress the last few years with this division of Franklin Kart, however, the pandemic showed the value of having a simple outlet for people to fulfil their part needs. There is much planned for the long term on this project, so it was important that we bring in another full-time staff member to get the wheels moving along. Fortunately, I am married to an IT professional (Michelle Sieracki), who is joining us in January on a full-time basis to really transform our online presence and get the wide array of products we have in store available on-line.
EKN: It's truly a family affair now with Michelle coming on full-time, as your father George Sieracki has been a backbone of Franklin Motorsports, both in the shop and trackside in the parts trailer. Can you give us a little of what it means to you to have your family so deeply involved? Like we always say, karting is an incredible family sport.
JS: It's a great opportunity to spend the time together.  We all have our focuses and while they may change from season-to-season, we seem to be able to work on projects we enjoy.  Geo and I have been doing this so long at different levels, there are many memories and experiences we have been able to share.
EKN: Your son Brandon is now the newest Sieracki in the sport. How's the transition been to 'kart dad'? Should we expect to see you screaming from the fences, giving him the 'light steering' signal every lap, and arguing with other fathers at the scale line? In all seriousness, this is a new experience for you. We expect we know the answer, but how are you enjoying it?
JS: Karting is a great family sport as you said and with Brandon taking an interest, it is bringing new energy for me. I really didn't encourage karting early on as to not pressure either of my kids' interests. This may have led to a little later start, but it has been fun watching him compete and improve in his first full season at the club this past season. I am definitely enjoying the ups and downs as a parent in the sport. For me personally, it was always much more focused on competition and now it is more on the fun and social aspect. We have some great friends at our local and regional level in his categories and that is probably one of the best takeaways so far.  So far, I'm OK with him blowing off video and data sessions with dad and I've managed not to get into any 'scale fights', so that's a plus.
EKN: Jamie, you've been in the sport many years. You've been a top national level winning racer and, alongside your father, you've become a vital player in the sport's very foundation. To wrap up, what does the sport mean to you and what's the motivation that keeps you pushing forward with Franklin and coming back to the track year-in and year-out?
JS: It's been 30 years now since the karting journey began and about 26 in some sort of industry-related capacity.  Running your own business, regardless of the type, is pretty exciting as you get to work on all aspects, if desired, which keeps things fresh from activities within; marketing, accounting, and beyond.  There are many times I kind of ponder being a "go-kart guy" for a career, but my wife explained it best that we get to provide "happiness" in a sense to people.  We contribute to something that is of a high-level enjoyment for people and families.  This is something that really provides a lot of motivation, seeing kids working together and spending time with their friends and family is also a great motivator.  I always enjoy competition as well.  I have a lot of great relationships within karting with others whom have made careers out of it.  Any job can be difficult and frustrating at times, but to be able to make a career out of something that is a fun sport or hobby is pretty awesome.
EKN: We couldn't agree more, Jamie. Thanks for taking the time to chat with us and all the best in 2021.
JS: Thanks, guys.