eKartingNews.com Driver of the Month: November 2020 – Ryan Kinnear
2019 ROK the RIO winner defends crown in Las Vegas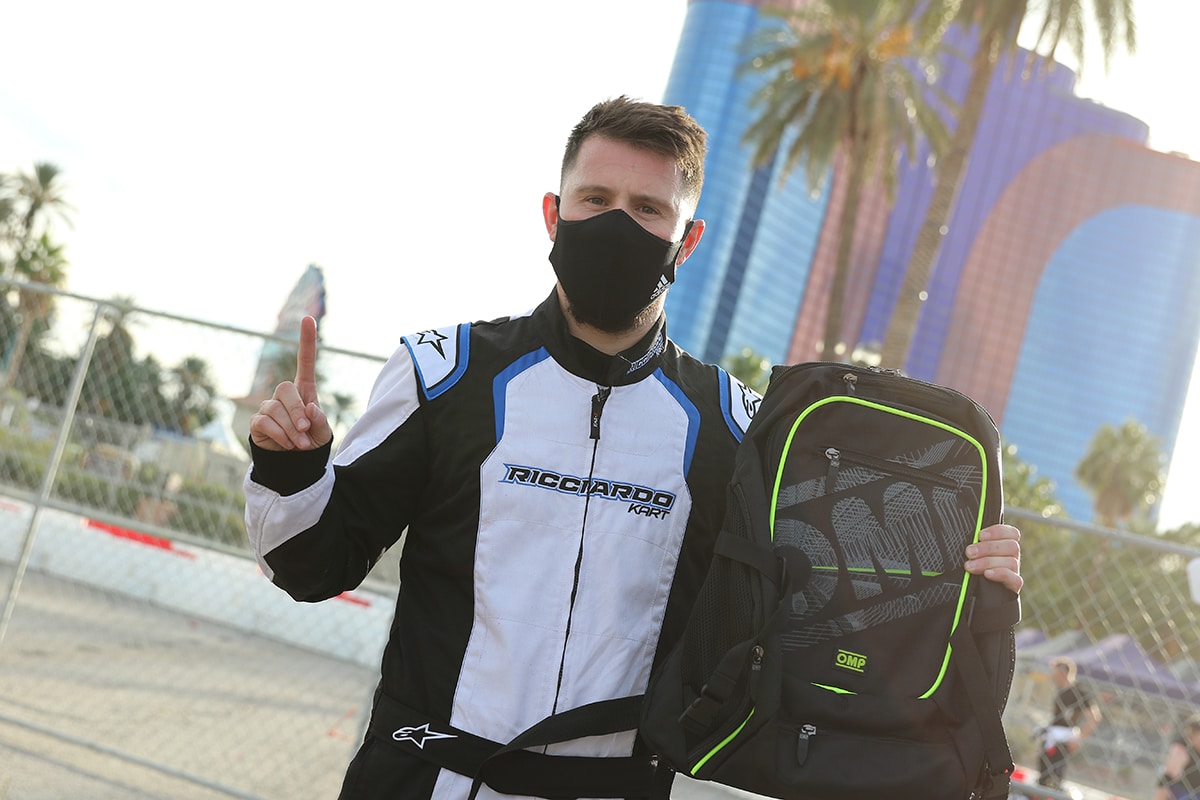 Shifter Master ROK top qualifier Ryan Kinnear (Photo: CKN)
In a continued effort to highlight the many outstanding performances by drivers around the country, eKartingNews.com is proud to introduce the 'Driver of the Month' program. Each month, the staff at EKN will determine the one driver who stood out above the rest and give the viewers a chance to know exactly what they accomplished and who they are.
The last major event for North America in 2020 was the ROK Cup USA ROK the RIO. A challenging season of karting around the COVID-19 pandemic ended with over 300 entries in Las Vegas outside the Rio All-Suites Hotel & Casino during the first week of November. While many around the industry thought the event would be impossible, ROK Promotions pulled off a phenomenal event to complete the year on a high note. Among the highlights of the third edition of ROK the RIO event was the shifterkart numbers with 68 taking to the temporary circuit, including 25 in Shifter Masters ROK.
Last year's event was won by Texan Ryan Kinnear as he held off 2018 winner Jordon Musser. In 2018, Kinnear finished second with Musser ending up third in the 2019 edition. The two Texans battled once again for the third straight year, both racing under the PSL Karting tent with Kinnear racing for Phil Giebler Racing aboard the Ricciardo Kart.
The 2020 event began remarkably similar with Kinnear and Musser going 1-2 in qualifying on Thursday. Kinnear was able to lay down a 46.327-lap to claim the pole position by 16 thousandths of a second. Friday hosted the opening two heat races, with Kinnear leading all 12 laps in both motos for the win. It continued on Saturday with another wire-to-wire win in Heat #3 before the weather changed the conditions for Heat #4. Wet weather rolled into Las Vegas, making for slick conditions for the final heat race. Kinnear fell back early and ended up as far down the order as eighth before recovering back to sixth. With Musser winning the final heat, the two tied for heat points with Kinnear's qualifying breaking it, handing him the pole position for the main event on Sunday.
Kinnear did exactly what he did in 2019. Last year, he led all 25 laps to 1.9-second margin of victory. It was a duplicate this November as Kinnear defended his ROK the RIO crown. Kinnear led all 25 laps of the main event, crossing the line 1.047 seconds ahead of Neil Joseph, the Challenge of the Americas 2020 champion. Ryan Yop completed the podium in third as Musser fell to fourth ahead of Kevin Woods.
What made the performance that much more impressive was the track time Kinnear had in 2020. The ROK the RIO weekend was only the third time Ryan was in a kart since his 2019 victory in Vegas. Finishing fourth at the SKUSA SuperNationals 23 two weeks after his ROK the RIO triumph, Kinnear went 11 months before jumping back behind the wheel. Ryan competed at the Speedsportz Racing Park SuperNats Shootout as a warm-up before heading to Vegas to defend his ROK the RIO victory. As of now, nothing is set for the 35-year-old in terms of racing in 2021, but you can be sure if there is a race in Vegas, Kinnear will be there.
November 2020 EKN Driver of the Month – Ryan Kinnear
Bio
Born: Dundee, Scotland
Hometown: Houston, Texas
Marital Status: Unmarried
Children: No
Height/Weight: 5'9" / 160lbs
Education: High School
Occupation: Global Sales – Oil and Gas well control equipment
Racing Resume
Chassis: Ricciardo Kart
Engine/Engine Builder: SwedeTech Racing Engines / IAME 175 & ROK
Sponsors: Phil Giebler Racing
Series You Compete In: Superkarts! USA Pro Tour and ROK Cup USA
Years Karting: 20+
How did you get started in karting? My dad and his friend Dave Hosie bought a kart for all 3 of us to play on and the bug was caught.
What has been the high point in your racing career?  SKUSA S4 Pro Tour Champion (2016) / SKUSA S4 SuperNationals win (2017).
What are your goals in racing? Have fun and be competitive – this is a hobby
In a few words, how would you describe your driving style? As my good friend Aitor Medina says – "Kinnear style."
Funniest moment at the race track? Too many to narrow down, when you raced with Champion Racing, who had people like Rodney Berryhill and Alain Bordes around you, were cracking up every day.
Likes
Favorite Track: New Castle Motorsports Park (Indiana)
Favorite form of professional motorsports: F1
Favorite karting driver: Jordan Jay Vorrath
Favorite professional driver: Growing up David Coulthard ,now it would probably be Kimi Raikonnen, I feel we have the same vibe.
Favorite website: Autosport
Favorite movie: Big fan of the Marvel movies
Favorite actor/actress: Leonardo Di Caprio
Favorite music/group: Nothing to narrow down, I like a wide variety between Rock, Rap and EDM
Favorite vacation/activity spot: On a nice beach with a beverage
Favorite food: Fajitas, sushi and pizza in no particular order
The Real Deal
What do you do when not at the track? Workout, play recreational soccer and hang out
What are your goals outside of karting? Continue to progress in my career
What type of street car do you drive? Toyota 4Runner TRD Pro
What type of street car would you like to drive? I could see myself driving a Ferrari I think.
What are your pet peeves or things that irritate you?  Since I used to travel so much (thanks COVID), people in airports that are clueless and holding everyone else up at security, check-in and boarding.  Move it or lose it.
What do you think could be done to improve the sport of karting? Too many series out to promote their business rather than the sport itself.  Series need to work together to have 1 package that someone can race in all different series without having to have different equipment.  Also, with me being a Shifter guy for so long there needs to be some sort of junior shifter package to get kids into shifters.  When the only junior classes are single speed it makes sense that they are not going to jump straight into shifter.
What are your favorite aspects about the sport of karting?  The karting community.  I've met so many people because of karting that have become some of my best friends.  There are so many great people involved in this amazing sport that I've been lucky to be apart of for so long.
November 2020 Driver of the Month – Honorable Mention:
* Thomas Annunziata: ROK the RIO – Junior 100cc winner
* Oliver Askew: ROK the RIO – Shifter ROK winner
* Alessandro de Tullio: ROK the RIO – Junior ROK winner
* Jake Drew: ROK the RIO – Senior ROK winner
* Renato Jader-David: ROK the RIO – Master ROK winner
* Miguel Mier: ROK the RIO – Master 100cc winner
* Asher Ochstein: ROK the RIO – Micro ROK winner
* Max Opalski: ROK the RIO – Senior 100cc winner
* Matias Orjuela: ROK the RIO – Mini ROK winner